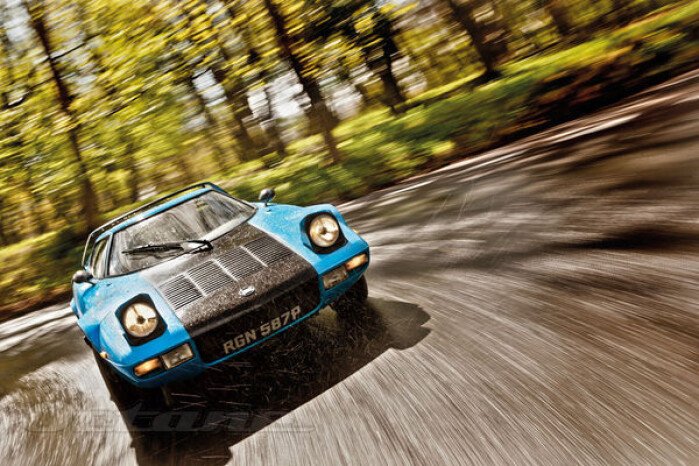 The car pictured here is arguably the most original Lancia Stratos in the world. It hasn't been 'got at'. However, having taken leave of his senses, the photographer is standing in the road behind a large puddle, in the hope of capturing a dramatic water-splash image. The first attempt is met with: 'You missed it completely, you [insert expletive]!' By adopting the Markku Alen 'maximum attack' approach, 
the second run is more successful – if by successful you count one very wet photographer and a journalist having a panic attack. Perhaps a little slower next time.

Let's be honest, it isn't as though you would you ever treat any other supercar in such a cavalier manner, but the Stratos isn't just a supercar. There is no facade of pretence here. 
This is a blunt instrument, built with the singular purpose of winning rallies. That it marries dizzying beauty with an engine note that makes your heart soar is merely a by-product. What is telling is that the Stratos production car is nowhere near as loopy as the car that instigated it.

More sculpture than road car reality, Bertone's Stratos Zero show queen rendered onlookers speechless when unveiled at the 1970 Turin Salon. Stylist Marcello Gandini had conjured a car in which there was just one door, which also handily doubled as the windscreen. Fashioned around parts robbed from a Lancia Fulvia, it was derided by the media, with Road & Track's Cyril Posthumus being among the most caustic. 'The Stratos is beautifully executed – many feel its designer should be likewise!' he opined.

Yet for all the negative ink, some took it seriously. Chief among their number was Cesare Fiorio. Steeped in Lancia lore (his father Sandro was the Turin firm's PR chief), he 
co-created HF Squadra in the early '60s, which morphed into Lancia's official competition division in 1965 (in turn, Lancia was assimilated by Fiat four years later). Fiorio and his crew were enjoying success with the Fulvia but his thoughts had already turned to building a bespoke rally weapon. Bertone's concept car provided the kernel for the Stratos HF as we know it, rallying's first – and greatest – supercar pin-up.

Strictly speaking, it wasn't the first small-series, mid-engined rally car. Ford beat Lancia to the punch with the GT70 but the Blue Oval never really embraced this intriguing device. Fiorio, however, followed through after Lancia chief (and Mille Miglia veteran) Pierugo Gobbato swayed a sceptical Fiat board into backing Fiore's scheme. With that hurdle vaulted, there was then the small matter of prising an engine from the desired supplier. Ever since he'd first evaluated a Dino with a view to rallying one, Fiorio had been smitten by its compact V6 and he wanted it for the Stratos. Enzo Ferrari agreed to supply engines, due in part to his long-standing relationship with Gobbato, but inevitably there was a degree of political friction between departments.

So to the 1971 Turin Salon, and the definitive outline, if not the finished car, was ushered onto the Stile Bertone stand. Finished in a scorching matt orange, this tiny, wedge-shaped projectile was another Gandini masterclass. With its visor-like wraparound windscreen and stubby proportions, it didn't really conform to the perceived image of a rally car.

By February 1972 a mule was being tested, with Gianpaolo Dallara contributing substantially to development. Then came the big reveal. Having battled the suits at Fiat, Fiorio and Gobbato had gambled on the Stratos being a winner and in November '72 the model made its competition debut on the Tour de Corse. The car was quick but Sandro Munari retired with broken rear suspension. He claimed the Stratos's first scalp the following April on the Spanish Firestone Rally.

There was now the small matter of building the car in sufficient volume to appease the rule makers. Stratos production began in October '73, with the frame and fiberglass 'shell being fabricated, painted and trimmed at Bertone's facility in Grugliasco, Turin, before being transported to Lancia's Chivasso factory for final assembly. In July '74, Fiorio wrote to the Italian sporting body, the CSAI, claiming that 500 cars had been built to satisfy homologation requirements (only 150 or so had been completed…), and four months later the car was granted Group 4 status by the FIA. By this time, former Ferrari alumnus Mike Parkes had set about honing the car further.

And, before the Stratos was (cough) 'legal' for the WRC, it had already won six major events that season, including the Targa Florio. Munari claimed the first WRC win at San Remo and the die was cast. Munari and the factory Lancia squad kicked off the '75 season with the first of three consecutive Monte Carlo Rally wins, the Stratos taking honours elsewhere thanks to a roll call of aces such as Bernard Darniche, Björn Waldegård and Markku Alen (although, tellingly, none managed to score in UK forests). There was even time for a few circuit forays; bewinged, turbocharged evolutions tackling the Le Mans 24 Hours.

Yet the Stratos's works career proved shortlived. In the autumn of 1977, it was retired off thanks to Fiat, who reasoned that a Fiat product – something that resembled a production car – making a splash would be more advantageous, and who had just such a car in the 131 Abarth. The Lancia and Fiat competition departments were merged under the same Turin roof at Abarth, as greater emphasis was placed on the box-arched 131. Stratos production had officially ended in May '75 after either 457 or 492 cars had been made, depending on whose estimates you credit.

Yet, predictably, the Stratos didn't stop winning. Works appearances were sporadic, due as much to homologation requirements that insisted on the use of 12-valve heads rather than 24-valve items, as to corporate interference. Alen claimed the final factory Stratos WRC victory on the San Remo in October '78, Darniche's upset win in the following January's Monte Carlo aboard a privateer example proving it still had legs. In October '79, 'Tony' Fassina drove his Jolly Club entry to glory on the San Remo to snatch the model's last-ever WRC prize, although remarkably the Stratos was still in with a shout as late as 1982, when Fabrizio Tabaton won the Elba round of the European Rally Championship.

So mission accomplished then, this beyond-legendary device in time paving the way for the 037 and Delta S4 that carried the Lancia name to further rallying success in the '80s. Yet neither of these cars married other-worldly beauty, sonic intensity and crowd-pleasing magnetism as completely as their template. Even as a road car, the Stratos remains memorable, and mostly for all the right reasons.

The car pictured here spent most of its life in New York, which made it something of a rarity in the US as the Stratos was only officially offered in Italy, Belgium and West Germany. Registered in 1976, it was imported by racer/dealer Bob Grossman who, in turn, sold it to former Lancia Club of America president Armand Giglio. 'I was a naval officer in the '50s and, while visiting my uncle in Milano, I got to drive his Aurelia sedan. My interest in Lancia started there,' he recalls. 'When I left military service I bought an Aurelia, a one-off Paris Show car. Since then I have owned Lambdas, Asturas, Flaminias, the whole gamut.

'I bought the Stratos when it was a year old and managed to get a New York State licence for it. I kept the car until two years ago. Everything on the Stratos is original, right down to the carpets. It was never dinged or repaired. I enjoyed driving it, and did club days at Lime Rock; it was much better once I put some proper tyres on it. I also did some 
time trials, that sort of thing. I had a couple of Dagrada-Lancia Formula Juniors which I raced, so the Stratos was really my fun road car.'

The Stratos arrived in the UK two years ago after being acquired by dealer and Le Mans regular Gregor Fisken. Everything on this car screams patina, from mild crazing on the fiberglass bodywork to the period-awful panel fit. And while you could argue that the Stratos was palpably slapped with the silly stick – even now it appears leftfield – it's that joyous kind of Italian bonkers that pulls off other-worldliness and instant appeal at the same time. It's fabulous.

Inside, it's nowhere near as uncomfortable as history paints it, but the Stratos isn't what you could call ergonomically sound. Adopting the bum-first, legs-next approach to entry, on contorting yourself into place the driving position is predictably skewed. You have no choice but to assume a long-arms, short-legs stance.

There is nothing that might pass for luxury, parts-bin thievery and exposed screw heads being par for the course. The helmet-carrying door bins are still in place, although, as one onlooker pointed out, they're almost violin-shaped. Ventilation, meanwhile, is in short supply, the Perspex side windows juddering down in arcs, and each held in place by a circular knob. It's all very rudimentary.

Turn the key, listen to the fuel pump whine, and with a couple of throttle stabs the transverse V6 fires with surround-sound fanfare. But, then, four chain-driven camshafts are spinning in their alloy heads just a few inches behind you. The dogleg 'box is similarly Dino-rooted, but with its own ratios. Initially it feels baulky, the clutch on the heavy side, but once up and running the action is smooth and positive so long as you remember to blip on downchanges. The Stratos doesn't feel particularly fast by modern standards – it's packing 190bhp – but the sense of immediacy is striking.

The steering is light, but that's logical since there is little weight up-front. Kart analogies are unavoidable as it's incredibly precise, if perhaps a little edgy at speed. Then there are the disc brakes, which don't have anything as wimpy as servo assistance. Get your gearchanges and braking finished before the corner, pick your line and the rest is done with the throttle. You can then call upon the fantastic traction to slingshot you out before savouring the choral backbeat on the straights. The sound of a Stratos nearing the upper end of its vocal powers is pure bliss.

As, indeed, is the sense of achievement you feel when you overcome initial hesitancy and get it right. You sit so low, everything feels quicker than it actually is, the fact that you cannot see further than the base of the windscreen heightening this sense of theatre all the more. The 
suspension is firm but the ride quality is nowhere near as bad as you might imagine – there are modern performance saloons that are infinitely worse – and you soon learn not to over-correct. Sure, every nuance of topography, every zit in the asphalt is relayed through your contact points, but it doesn't jangle your nerves. Not really.

Stories of the Stratos's over-abundance of power and shortness of wheelbase making it a white-knuckle ride aren't accurate. You don't have to tiptoe but to get the best out of one you'll need to be pretty useful. The prospect of piloting this particular car in New York is something else entirely – it must have looked like it had landed from another planet. In altogether wetter climes, the Lancia baffles as much as it bewitches and that is precisely why it works. There is nothing else like a Stratos. This is a true original in every sense of the word, which makes it a rare and wonderful thing. 

Thanks to James Mitchell and Rory Henderson, www.fiskens.com.
Published Dec 7th, 2015
More Classic Car News & Article Categories:
Related Articles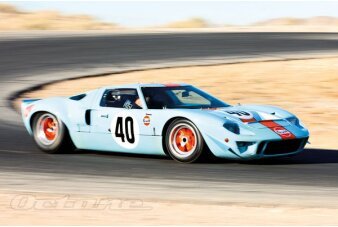 While every factory Ford GT40 is special, some are more special than others.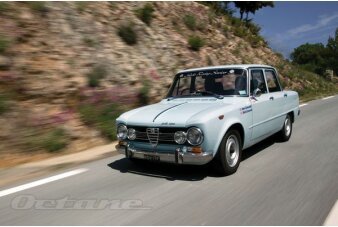 For the Linwoods historic rallying seems to come naturally.
×
1975 Lancia Stratos