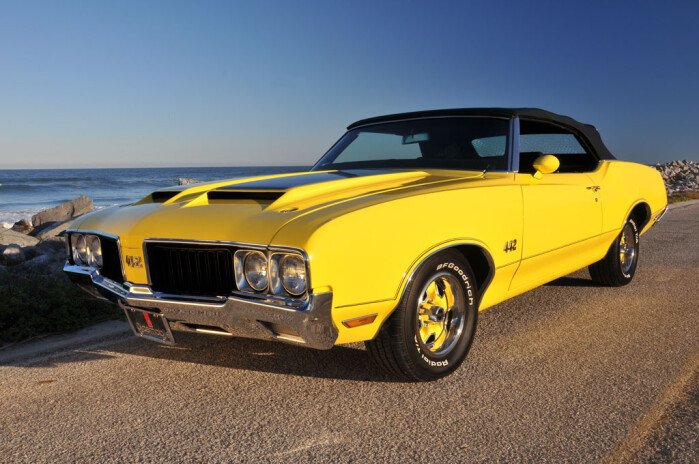 Photos by Joe Greeves.


In 1949, Oldsmobile joined Cadillac as General Motors' only vehicles powered by an overhead-valve V-8. With 303 cubic inches and 135 horsepower, Oldsmobiles with the Rocket V-8 evolved into GM's first factory hot rod. Throughout the 1950s and early 1960s, Oldsmobile changed focus and became more of a family car rather than a performance machine. In 1964, the Oldsmobile division decided to revive its performance image by releasing the 442 option to the Cutlass line. The 442 signified the engine's four-barrel carb, four-speed manual transmission, and dual exhaust. Oldsmobile's new mid-size vehicle competed well with the other mid-sized performance cars of the time.

Over the next several years, Oldsmobile continued to refine the 442 powertrain and gained a reputation for outstanding performance. By 1969, the 442 was considered to be one of the best factory hot rods. The icing on the cake was the release of the W-30 Ram Air package for the 400 cubic-inch engine. Rated at 360 horsepower, the ram air 442 tore up dragstrips every weekend. A corporate change for 1970 allowed mid-size vehicles to exceed 400 cubic inches. The change escalated the 442 into a factory supercar.

Not wasting any time, Oldsmobile chose the stump-pulling, 455 cubic-inch big-block for the 1970 442. With a nudge and a wink, factory horsepower increased to 365, a very conservative number considering the additional 55 cubes. Every 442 engine was blueprinted at the factory. The optional W-30 package further increased horsepower to 370. Ordering a W-30 gave customers a functional ram-air hood, plastic inner fender linings, aluminum intake manifold, special cam, and low-restriction exhaust.

Transmission and rear-axle options were plentiful for 1970. All 442s with the standard three-speed manual transmission received a 3.23 rear axle. Upgrading to a four-speed manual bumped the axle ratio to 3.42. All base automatics came standard with a highway-cruising 2.56 axle, and all W-30 cars came standard with a 3.42 axle. A 3.91 axle was available for those who wanted more acceleration.

Exterior changes were minimal: The front end received a mild facelift using a bright, vertical grille. Headlamp bezels received the same bright finish. A front bumper included twin air inlets in place of the one large inlet of 1969. A W25 fiberglass hood with twin scoops was available with or without the W-30 option. The front fender-to-quarter panel side molding was deleted. Twin taillamps moved into the rear bumper. Quarter panel side marker lamps were placed lower in the quarter panel. All 442 convertibles received new kicked up quarter panels that increased the bold look.

Inside, the 442 was considered a luxury vehicle. Comfortable seats, premium door panels, and a new, easy-to-read, three-pod instrument panel provided a total luxury package. Bench seats were standard, with bucket seats and a center console on the option list. A litany of luxury options were available to suit any buyer.

Oldsmobile backed up the performance of the 442 with a very popular Dr. Oldsmobile ad campaign. Dr. Oldsmobile and his cast of wacky characters sang the virtues of the "W" machine. Many considered them the most outrageous advertisements for a factory muscle car since the launch of the GTO. The ad campaign proved to be the catalyst in branding the 442 as a true performance car.

Looking back, the 1970 Olds 442 was perhaps the best-balanced mid-size performance car among the GM divisions. The combination of outstanding performance, firm yet comfortable handling, and stellar styling proved Olds understood the needs of the buying public. Nineteen seventy secured Oldsmobile's place during the heady days of the factory muscle car wars and the 442 proved it was not just competitor, but a leader of the pack.

Special thanks to Floridian Craig Cocking for allowing us to photograph his drop-top 442.


Fuel For Thought
General Motors' sleeper performance car
Faster than many performance cars of the time
Incredible 5.00:1 rear axle available at the dealer
Posi-traction standard on W-30


Specifications
Number built – 19,330 total
Construction – Body-on-frame
Engine – 455 cubic-inch V-8
Power/Torque – 455 cubic-inch V-8, 365 horsepower, 500 lb-ft torque, 370 horsepower, 500 lb-ft torque (W-30)
Transmissions – Three-speed manual, four-speed manual, three-speed automatic
Suspension front – Unequal-length control arms with coil springs
Suspension rear – Live axle with coil springs
Steering – Saginaw re-circulating ball and nut
Brakes – 9.5-inch drum brakes, front disc optional on 442, standard on W-30
Length/width/height – 201.5/76.5/52.8 inches
Wheelbase – 112 inches
Weight – 3,801 lbs.
0-60 mph/quarter mile – 6.6 seconds, 14.8 seconds at 95 mph (Motor Trend, 1970)
Top speed – 115 mph (Motor Trend, January 1970)
MPG – 8 - 11 mpg
Price  – $3,567; Today – $14,300 - $46,200


Insurance cost
Insurance cost is $231/year for a $25,700 1970 Oldsmobile 442 Convertible. This is based on 3,000 miles per year of pleasure driving.
*Based on a quote from Heacock Classic Car Insurance, www.heacockclassic.com


Engine – Oldsmobile's 455–while not considered high revving–provided brute torque throughout a wide rpm range (and a whopping 500 lb-ft at 3,000 rpm). It was understood that the factory horsepower was grossly underrated.


Handling – The Oldsmobile brand historically meant a soft and luxurious ride. The 442 managed to combine a luxurious yet firm ride. It was perhaps the best street-handling vehicle among the GM divisions.


Alternative
1970 Ford Torino Cobra Jet
Number built – 7,675
0-60/quarter-mile – 6.4 seconds, 14.5 seconds at 99 mph  
Top speed – 120 mph est.
Price – MSRP - $3,270; Today – $23,700 - $60,900


Alternative
1970-71 Buick GS/GSX
Number built – 10,148 (1970 GS 455)
0-60/quarter-mile – 5.5 seconds, 13.4 seconds at 105 mph
Top speed – 115 mph
Price – MSRP - $3,482; Today – $10,000 - $30,600


Strong Points
Brute power
Out-of-the-box styling
Room for five


Weak Points
Not a big-block Chevelle
Reputation as an old man's car
Limited reproduction parts available


Vehicle Category
Most Oldsmobile 442s are driven on a semi-regular basis. Owners enjoy showing off their cars as the alternative to a Chevelle Super Sport or Pontiac GTO. Very few are trailer queens.


What To Pay
1970 Oldsmobile 442 Convertible
MSRP – $3,567
Low – $14,300
Average – $25,700
High – $46,200
*Based on prices from NADA.


Parts Prices
Dash pad cover $35.95
Door panels $379.00
Carpet $169.00
Front control arm shaft and bushing kit $79.95
Complete exhaust system $339.00
W-30 stripe kit $279.00
Based on information from Year One
800-932-7663
www.yearone.com


Websites
www.442.com
www.musclecarclub.com
www.rocket100.com
www.oldsclub.org


Books
Oldsmobile Muscle Portfolio 1964-1971 by R. M. Clarke
Oldsmobile 442 and W Machines: Restoration Guide by T. Patrick Sullivan
1970 Oldsmobile Cutlass/442 Assembly Manual by General Motors
The Complete Book of Classic GM Muscle by Mike Mueller


Review
The 1970 Oldsmobile 442 was at the pinnacle of the performance car era. General Motors engineers combined incredible performance with luxury car handling and state-of-the-art styling. Few cars can match the total driving experience of the 442.
Published Dec 7th, 2015
More Classic Car News & Article Categories:
Related Articles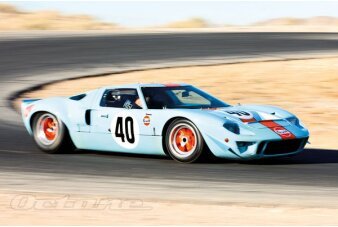 While every factory Ford GT40 is special, some are more special than others.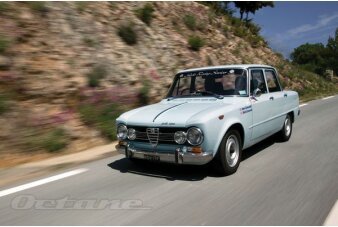 For the Linwoods historic rallying seems to come naturally.
×
1970 Oldsmobile 442