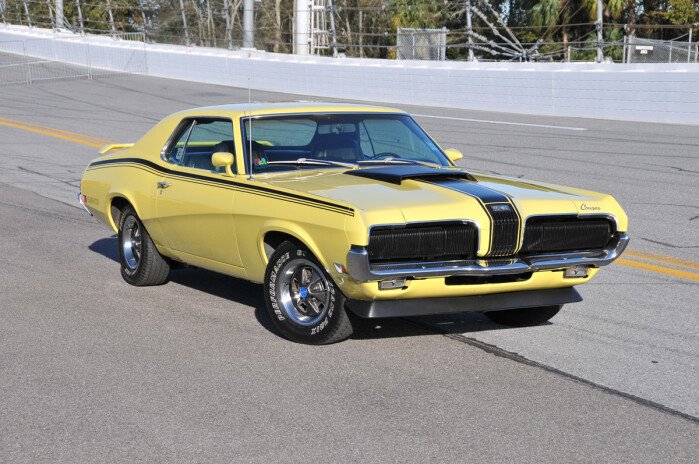 Photography by Joe Greeves and courtesy of NAHC


Ford's Mercury division was, by design, positioned to be the stepping stone for those customers who wanted to move up the luxury ladder. And while the majority of Mercury owners purchased their vehicles strictly for its luxurious appointments, a small group of owners were enjoying the well-appointed equipment while tearing up the dragstrip. During the latter part of the '60s, Mercury followed Ford in providing a select number of performance cars that included the Cyclone, Cougar GT-E and Cougar Eliminator.

By 1970, performance buyers began to recognize the Cougar as an alternative to the plethora of other factory muscle cars. Mercury's designers gave the exterior a more aggressive look than the 1969 model. Exterior color choices were expanded to six in addition to a number of special order colors. The bold blacked out front grille openings were enlarged and included hideaway headlamps. The hood had a pronounced center bulge with a vertical applique that extended between the twin grilles. A large hood scoop, available with or without ram air, was painted matte black with a wide stripe that exited from the front of the scoop to the front of the hood. A front air dam kept the car from lifting at high speeds. Side graphics were bolder than the previous year and extended to the rearward edge of the quarter-panel. An "Eliminator" decal was placed in front of each rear side marker light. Changes to the rear of the car were limited to new taillamps and a new spoiler graphic.

Inside, the Cougar took luxury to the next level compared to its cousin Mustang. A black "camera case" finish gave the dash a racing appearance. All Eliminator's included either a 6,000 or 8,000 rpm tach, depending on engine choice. An "elapsed time" clock allowed owners to check on performance. Standard high back bucket seats were covered with Comfort-Weave vinyl. Shifters were floor mounted with or without the optional console. Four-speed vehicles came equipped with a Hurst shifter.

The heart of the Eliminator was, of course, its powertrain. The 351 cubic-inch Windsor and the 390 cubic-inch FE engine were history for 1970. The Windsor engine was replaced with the 351 cubic-inch Cleveland V8. While rated at only 10 horsepower more than the Windsor, the much-improved breathing capability of the Cleveland engine provided excellent performance. The Boss 302 Eliminator was also available and for many considered the ultimate performance car. Available with a four-speed manual transmission only, the high revving engine wasn't particularly well suited for the street because of its long duration cam, large valves and ports. For those wanting the ultimate straight-line performance Cougar buyers would simply order the 428 cubic-inch Cobra Jet and Ram-Air Super Cobra Jet Eliminator. Both engines were rated at an unreasonably low 335 horsepower, but more likely produced nearly 400 horsepower. All 428 cubic-inch Cougar Eliminators included a 3.25:1 rear axle; performance handling package and F70-14 raised white letter glass-belted tires. For those serious racers, customers could order the Drag-Pack with axle ratios of either 3.91:1 or 4.30:1.

Mercury succeeded in providing a good balancing of luxury and performance. Only 2,267 Cougar Eliminators were produced for 1970 and today are highly prized in the collector car market, particularly when equipped with either the 302 or 428 cubic-inch engine.


FUEL FOR THOUGHT
Last year for Eliminator
Both the 428 non ram-air and ram-air engines were identified with a "Q" code
First year for locking steering column
Designed by Larry Shinoda, designer of the Boss 302 Mustang
Not available as a convertible


SPECIFICATIONS
Number built – 2,267 (1,424 with the 351 cubic-inch V8)
Construction – Unibody
Engine – 302, 351, 428 cubic-inch V8
Power/Torque – 290/290, 300/380, 335/440
Transmission – three-speed manual, four-speed manual and three-speed automatic
Suspension front – independent ball joints, single lower control arm. "A" type upper control arm, independent coil springs
Suspension rear – longitudinal leaf springs
Steering – recirculating ball and nut
Brakes – front disc, rear drum
Length/width/height – 196.1/74.1/51.5inches
Wheelbase – 111.1 inches
Weight – 3,333 lbs. shipping weight
0-60 mph/quarter-mile – 7.6 seconds, 15.8 seconds at 90 mph (Car Life, September 1969)
Top speed – 104 mph (Car Life, September 1969)
MPG – 10 - 15 mpg est.
Price – $3,404.40 Today – $32,200 (351 engine)


INSURANCE COST
Insurance cost is $277/year for a 1970 Cougar Eliminator valued at $30,000. This is based on 3,000 miles per year of pleasure driving.
*Based on a quote from Heacock Classic Car Insurance
www.heacockclassic.com


ENGINE
The 351 Cleveland engine was available for only four years yet it proved to be a dependable powertrain. Performance upgrades made the engine come alive. No major weaknesses were attributed to the Cleveland engine.


HANDLING
The 351 Eliminator provided a good balance of performance and handling. Braking was more than adequate with the optional front disc brakes. Cornering was on par with other muscle cars of the era.


ALTERNATIVE
1970 Camaro Z28
Number built – 8,733
0-60/quarter-mile – 6.5 seconds, 14.51 seconds at 98.79 mph
Top speed – 119 mph
Price – MSRP – $3,878; Today – $14,650 - $30,600

ALTERNATIVE
1970 Dodge Challenger RT
Number built – 3,052
0-60/quarter-mile – 7.4 seconds, 14.9 seconds at 91 mph
Top speed – 109 mph
Price – MSRP – $3,516 (2 dr. hardtop 383 engine); Today – $18,000 - $43,900


STRONG POINTS
Low production equals rarity
Unique styling
World class performance
Attracts crowds at car shows


WEAK POINTS
Not well known in the performance world
Aftermarket parts not as available as Mustangs
Niche market for sales
Typical rust issues of unrestored cars


VEHICLE CATEGORY
Rarity restricts regular usage. Few show up at weekly car show and cruise nights. Most are trailered to and from events.


WHAT TO PAY
1970 Mercury Cougar
MSRP – $3,404.40
Low – $12,400
Average – $17,900
High – $32,200


PARTS PRICES
Seat cover set $448.85
Carpet set $119.95
Front fender $545.00
Tie rod end $36.85
Front end rebuild kit $495
*West Coast Classic Cougar
(503) 463-1130
www.cougarpartscatalog.com


WEBSITES
www.mercurycougar.net
www.cougarclub.org
www.mustangandfords.com
www.welovemercuryspastpresentandfuture.blogspot.com
www.theclassiccougarnetwork.com


BOOKS
Mercury Muscle Cars (Muscle Car Color History) by David Newhardt
Cougar Muscle Portfolio 1967-1973 by R.M. Clarke
Ford: Mustang/Cougar 1964-73 (Chilton Automotive Books) by The Nichols/Chilton Editors
Ford Parts Interchange Manual: 1959-1970 Mustang, Fairlane, Torino, and Mercury Cougar and Cyclone (Motorbooks Workshop) by Paul Herd


REVIEW
The Cougar Eliminator is a very rare and desirable muscle car. The Eliminator represents those out-of-the box muscle cars developed during the heyday of the late '60s and early '70s. Those lucky few people who currently own one can relish in the fact that they own a unique piece of history. With a low production run, the Eliminator continues to have an audience that appreciates what the Mercury division brought to the table.
Published Dec 7th, 2015
More Classic Car News & Article Categories:
Related Articles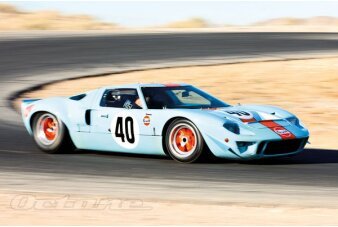 While every factory Ford GT40 is special, some are more special than others.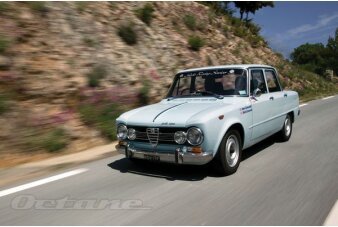 For the Linwoods historic rallying seems to come naturally.
×
1970 Cougar Eliminator