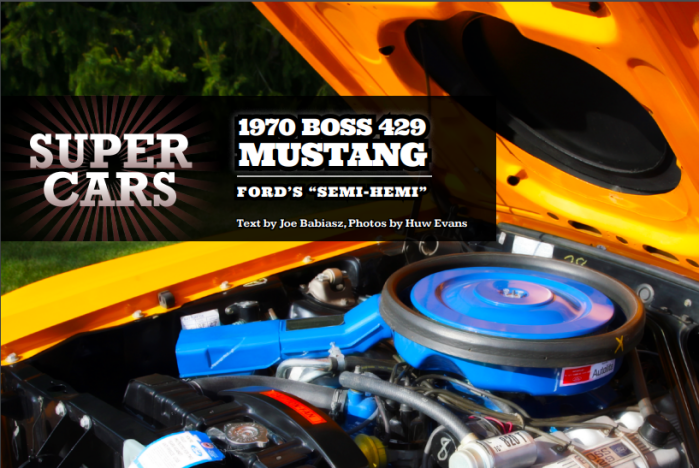 Text by Joe Babiasz, Photos by Huw Evans
During its heyday, just when you thought the bar couldn't be set higher for factory performance vehicles, Ford did the impossible; or almost impossible. NASCAR racing was, as it is today, hugely popular in the United States. While Ford was doing well on the circuit, its 427-wedge engine used in NASCAR was getting long in the tooth. Since its inception in 1963, the mighty wedge continued to be updated in an effort to compete with GM and Chrysler but little more could be done to increase its horsepower. Chrysler had its Hemi and Chevrolet had its porcupine big block leaving Ford struggling to keep up in the races. Unknown to many Ford had a secret skunk works team putting together an engine like no other engine; the Boss 429.
Introduced in March 1969, the Boss 429 was dropped into a Ford Torino and a Mercury Cyclone and readied for NASCAR racing. The new engine propelled the two cars to a record 10 victories out of 11 appearances. The Boss 429 also dominated short tracks, winning seven out of nine races. Ford had a winner on their hands. The question now was–what can we do with it to help Ford sales?
From a marketing standpoint it was agreed that the Cyclone and Torino would not be the best vehicles to put the monster motor in. There were discussions about putting it into the Mustang but Ford engineers knew the Mustang platform would require a massive amount of modifications in order for the engine to be installed. Yet, on the other hand, they knew getting it into the Mustang would be the right decision.
A meeting was scheduled with a company called Kar Kraft that had earlier worked with Ford on a few low volume prototype and specialty cars. Kar Kraft agreed they could produce the Boss 429 but needed time to move into a larger facility. A building was located in Brighton, Michigan, that suited their needs. In order to produce the Boss 429, Dearborn-built 428 Cobra Jet Mustangs were shipped to Brighton for conversion. The problem with the conversion was that the stock Mustang engine compartment was only 28 inches wide and the 429 engine measured 30 inches wide. But Kar Kraft was up to the task. The shock towers were reworked and extra support was placed in the motor mount area to accept the added power. Special inner fenders, modified control arms, and a beefed up suspension completed the structural changes. Other changes included moving the battery to the trunk, redesigning the front spoiler and adding a large scoop to the hood.
The new Semi-Hemi 429 engine, a detuned derivative of the NASCAR Boss 429, would be the basis for the Boss Mustang. The block was a similar design to the 429-wedge engine introduced in 1968 for use in Thunderbirds but it now included extensive modifications to handle the increased power. The massive heads were made of aluminum and used O-rings for water and combustion sealing instead of a typical gasket. For part of the year, valve covers were made out of magnesium but later changed to aluminum. The first 279 engines had hydraulic camshafts but starting with engine 280 a mechanical cam moved the lifters. Air came into the engine via a 735-CFM Holley carburetor that sat above an aluminum intake manifold. The cast iron exhaust manifolds gave excellent flow by bringing large amounts of air to the exhaust pipe. Bringing in cool air was done by a driver-controlled cable that opened up a flap at the hood scoop. All cars were equipped with a four-speed transmission and a 3.91:1 limited slip rear axle. The first 1969 Boss Mustang began moving down the assembly line on January 15, 1969 and by the end of the model year, 859 units were delivered to dealers. Ford considered this a success as they believed only 500 units would be sold.
In August 1969, the 1970 Mustang Boss 429 production was cranked up. The 1970 version was similar in many ways to the 1969 model. All engines had mechanical camshafts that were first introduced mid-year 1969. A five-blade flex-fan assembly replaced the earlier seven-blade unit. Ford-designed four-speed shifters were replaced with Hurst heavy duty units. The hood scoop, while of the same design, was now painted black instead of the body color. Handling changes were limited to installing a Boss 302 rear anti-sway bar mounted over the axle replacing a slightly larger unit that ran under the rear axle. Lastly, a dual in-line exhaust system replaced the transverse muffler system of 1969.
In two years, 1,358 Mustang Boss 429 vehicles were produced. Today they are highly sought after by muscle car enthusiasts.
Fuel For Thought
Perhaps one of the most unique Mustangs ever produced
Available with four-speed manual only
Jaw dropping effect when the hood is opened
Descendent of a true race car
Specifications
Number built: 499
Construction: Unibody
Engine: 429 ci V8
Power/Torque: 375/450
Transmission: four-speed top loader with Hurst shifter
Suspension front: independent single lower arm (SLA) with drag strut, ball joints, coil springs and tubular shock absorbers
Suspension rear: semi-elliptical leaf springs
Steering: recirculating ball and nut steering gear
Brakes: 11.3-inch front disc, 10.0 inch rear drum
Length/width/height: 187.4/71.7/51.5 inches
Wheelbase: 108 inches
Weight: 3,870 lbs shipping weight 0-60mph/quarter-mile: 7.1 seconds, 14.09 seconds at 102.95 mph (Car Life, July, 1969)
Top speed: 118 mph (Car Life, July 1969)
MPG: 8-12 mpg EST
Price: $5,182; Today – $83,400 – $275,400
Engine
Ford's 429 Boss engine was originally designed to win NASCAR races. The street version included many of the NASCAR components that made this an incredibly durable street racer. The downside of the Boss 429 was its wild cam and big valves and ports that didn't lend themselves to street driving. Power didn't start until nearly 4,000 rpms so even equipped with the stock 3.91:1 axle, the car wasn't fun to drive on a regular basis.
Strong Points
Low volume speaks high appreciation
Outstanding performance
Other than the engine, almost all Mustang parts are available at a reasonable price
Highly collectible
Weak Points
Very expensive to purchase
Engine parts are difficult to find and very expensive
Not a car that should be driven on a regular basis
Vehicle Category
How do you spell trailer queen? Due to the current value of a Boss 429, almost none are driven on even a semi-regular basis. Most are trailered to shows than returned again to a humidity-controlled garage.
Handling
Handling was outstanding. The Boss sat almost an inch lower than standard Mustangs. Front tread was increased by nearly one inch. This, along with its heavy-duty suspension and front and rear anti-sway bars made the Boss handle like a go-cart.
Websites

www.bossperformance.com
www.allfordmustangs.com
www.vintage-mustangs.com
www.mustangtraderonline.com
Books
Mustang Muscle Portfolio 1967-1973 by R.M. Clarke
Mustang 1964½ – 1973 Restoration Guide by CORCORAN/DAVIS
Mustang Legends-The Power, The Performance, The Passion by Voyageur Press
Mustang Forty Years by Randy Leffingwell
Mustang Red Book Early 1965 to 1995 by Peter Sessler
Review
During the two years the Boss 429 was produced, it grabbed the hearts of performance enthusiasts worldwide. Unlike most late '60s, early '70s muscle cars that were upgraded primarily for street use, Ford first put this monster engine in two cars destined to win NASCAR. They won and the rest is history.
Published Oct 25th, 2017
More Related Vehicles
More Classic Car News & Article Categories:
Related Articles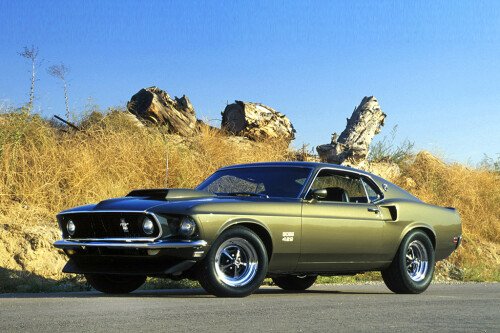 We've compiled a list of the greatest muscle cars of all time. Did your favorite make the list? Ask 20 muscle-car aficionados to identify the "best" muscle car of all time and you'll get 20 different answers.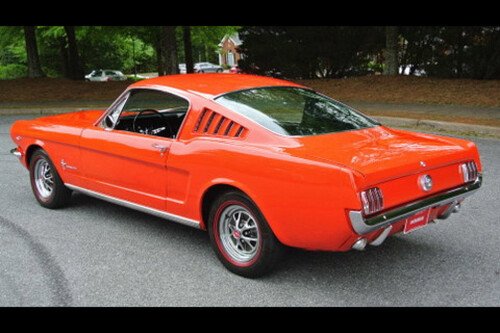 The Shelby GT350 wasn't the only high-performance Mustang available if you wanted a fast pony.
Related American Classic Cars
Advertisement
×
1970 BOSS 429 MUSTANG