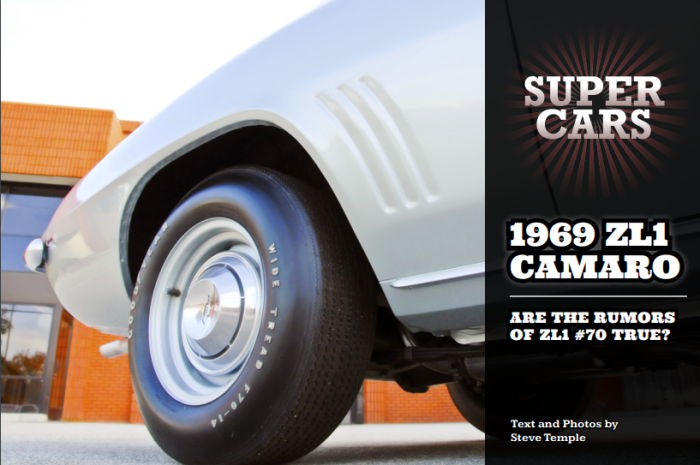 Text and Photos by Steve Temple
The story of the ZL1 Camaro, fitted with that rarest of the rare, all-aluminum 427 big-block V-8, is one that has often been told: How only 69 were made, how they exploited the GM option-ordering system, and how they've become the Camaro guy's ultimate Camaro.
What hasn't been told, though, is an anecdote heard from the lips of no less a personage than Jim Perkins, former general manger for Chevy. As you might expect, someone with this sort of title and responsibility not only commands a lot of clout, but also knows where a lot of the bodies are buried. Or in this case, the one that supposedly went missing: ZL1 Camaro…number 70?
Before we dig up this arcane bit of history, we should set the stage with some background on the other 69 cars, including the immaculately restored one shown here. Putting it simply, the ZL1 Camaro had it all and then some, going beyond even the bodacious 427 Yenko and overachieving L88 Corvette. And it all started with some simple paperwork–albeit folded, twisted, and mutilated to create one monster of a muscle car.
Like the other COPO (Central Office Production Order) projects, on paper the ZL1 was merely an options package, like others available in 1969. The COPO system was actually supposed to be for more mundane alterations, such as to specify paint schemes for fleet and municipal vehicles, along with heavy-duty springs and special fabrics for use in taxicabs. It was never intended for creating ultra-high-performance Chevrolet vehicles. No matter–a couple of smart guys figured out how to take it to an insane extreme.
The characters behind this vehicular vandalism were Vince Piggins, a Chevy performance honcho known for the Z/28, and Fred Gibb of Gibb/Harrell racing fame and owner of Gibb Chevrolet. Sometime between late 1967 and early 1968, they hatched a plan inspired by their enthusiasm for the Z/28 and the availability of GM's first aluminum big-block engine.
Gibb wanted the ZL1 for competing in the Super Stock class, but in order to qualify, according to NHRA/ AHRA rules, the factory had to produce a minimum of 50 of these cars and make them "available to the public." That's when they hit upon the idea of using GM's seldom-used COPO process to cook up a killer Camaro.
COPO vehicles were built by following an "Exception Control Letter Sheet" that informed assembly-line workers what vehicle to start with, along with which components to add or delete. On paper, both the COPO 9560 and 9567 Camaros began life as L78 (396/375hp) SS cars with power front disc brakes and either a four-speed (M21 or M22), or a HD Turbo 400 (M40) three-speed automatic, plus a bulletproof 4:10 Posi rearend and cowl-induction hood. The instructions dictated eliminating the 396 block and all SS identifications, and then pouring on the secret sauce–a ZL1 engine.
Known only to a certain inner circle, the ZL1 was far more than simply checking off mysterious number 9567 on a list of available equipment. It was more like pushing the button to open the floodgates of Hoover Dam. The geyser of horsepower unleashed would knock down anything in its path
Although purportedly putting out 430 horses, that was probably a feint to the GM legal department and insurance underwriters. The reality was far more menacing, topping well over 500 ferocious horses (with open headers instead of the factory cast-iron units), making the ZL1 the most powerful engine Chevy had every made available to the public.
Not only that, since the whole shebang was made of lightweight aluminum, it had the same poundage as a Chevy 327 small-block! That gave the
Published Oct 25th, 2017
More Classic Car News & Article Categories:
Related Articles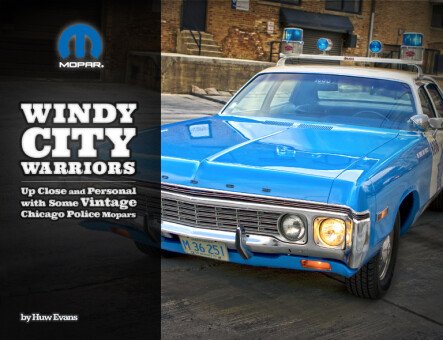 From around 1956 until the mid 1980s, Dodge, Plymouth and even Chrysler squads were the most ubiquitous police cars in North America. In fact, the biggest department, the NYPD, used Plymouth and Dodge squads almost exclusively until the rear-drive M body car was finally axed in 1989.
The no-frills Savoy two-door sedan was home to another engine of considerable repute, the infamous 413 Max Wedge, a Super Stock monster block Chrysler introduced in the spring of 1962.
Related American Classic Cars
Advertisement
×
1969 ZL1 CAMARO