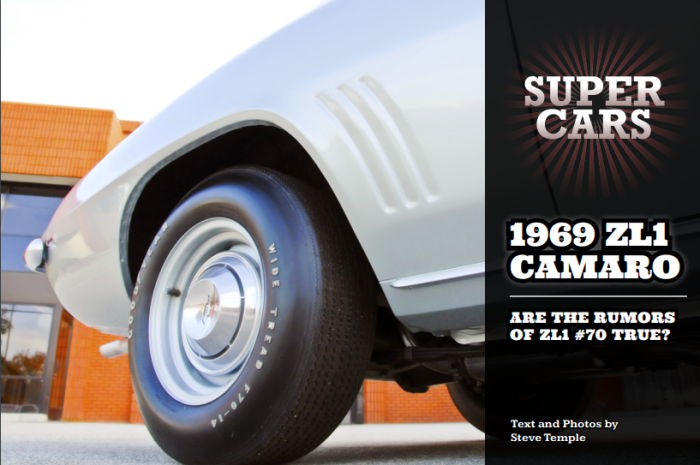 Text and Photos by Steve Temple
The story of the ZL1 Camaro, fitted with that rarest of the rare, all-aluminum 427 big-block V-8, is one that has often been told: How only 69 were made, how they exploited the GM option-ordering system, and how they've become the Camaro guy's ultimate Camaro.
What hasn't been told, though, is an anecdote heard from the lips of no less a personage than Jim Perkins, former general manger for Chevy. As you might expect, someone with this sort of title and responsibility not only commands a lot of clout, but also knows where a lot of the bodies are buried. Or in this case, the one that supposedly went missing: ZL1 Camaro…number 70?
Before we dig up this arcane bit of history, we should set the stage with some background on the other 69 cars, including the immaculately restored one shown here. Putting it simply, the ZL1 Camaro had it all and then some, going beyond even the bodacious 427 Yenko and overachieving L88 Corvette. And it all started with some simple paperwork–albeit folded, twisted, and mutilated to create one monster of a muscle car.
Like the other COPO (Central Office Production Order) projects, on paper the ZL1 was merely an options package, like others available in 1969. The COPO system was actually supposed to be for more mundane alterations, such as to specify paint schemes for fleet and municipal vehicles, along with heavy-duty springs and special fabrics for use in taxicabs. It was never intended for creating ultra-high-performance Chevrolet vehicles. No matter–a couple of smart guys figured out how to take it to an insane extreme.
The characters behind this vehicular vandalism were Vince Piggins, a Chevy performance honcho known for the Z/28, and Fred Gibb of Gibb/Harrell racing fame and owner of Gibb Chevrolet. Sometime between late 1967 and early 1968, they hatched a plan inspired by their enthusiasm for the Z/28 and the availability of GM's first aluminum big-block engine.
Gibb wanted the ZL1 for competing in the Super Stock class, but in order to qualify, according to NHRA/ AHRA rules, the factory had to produce a minimum of 50 of these cars and make them "available to the public." That's when they hit upon the idea of using GM's seldom-used COPO process to cook up a killer Camaro.
COPO vehicles were built by following an "Exception Control Letter Sheet" that informed assembly-line workers what vehicle to start with, along with which components to add or delete. On paper, both the COPO 9560 and 9567 Camaros began life as L78 (396/375hp) SS cars with power front disc brakes and either a four-speed (M21 or M22), or a HD Turbo 400 (M40) three-speed automatic, plus a bulletproof 4:10 Posi rearend and cowl-induction hood. The instructions dictated eliminating the 396 block and all SS identifications, and then pouring on the secret sauce–a ZL1 engine.
Known only to a certain inner circle, the ZL1 was far more than simply checking off mysterious number 9567 on a list of available equipment. It was more like pushing the button to open the floodgates of Hoover Dam. The geyser of horsepower unleashed would knock down anything in its path
Although purportedly putting out 430 horses, that was probably a feint to the GM legal department and insurance underwriters. The reality was far more menacing, topping well over 500 ferocious horses (with open headers instead of the factory cast-iron units), making the
ZL1
the most powerful engine Chevy had every made available to the public.
Not only that, since the whole shebang was made of lightweight aluminum, it had the same poundage as a Chevy 327 small-block! That gave the ZL1 you see here repeatedly stalled while moving it around during our shoot, until it warmed up a bit. Moreover, this thoroughbred engine was never meant to be reined in with mufflers and a restrictive cast-iron exhaust manifold. Even when strangled in this fashion, there was still so much horsepower on tap it was a rolling menace.
Despite the heady sticker price and anti-social demeanor, Chevy built 69 documented ZL1s for sure, despite only having to produce 50 to satisfy the NHRA. What happened to them all takes a few twists and turns. It's known that 20 or so went into organized drag racing, breaking all sorts of records. Only high rollers could afford the remaining cars, but a least a dozen ZL1 engines were removed and sold elsewhere, and a number of cars had to be returned to Chevy. Given the car's high-voltage sticker shock, it shouldn't come as a surprise that GM didn't sell all of them until the early Seventies. After all, who knew that one day the ZL1 would become the Camaro to end all Camaros? Today, it's difficult to determine what a pristine one is worth, but we can say this: a lot. Obviously, with the changing fortunes of car collectors in these stomach-churning economic times, the prices are subject to wild fluctuations. A few years ago we heard of one selling for nearly $1.4 million. By comparison, Len Perham's column-shift ZL1 shown here was a screamin' deal.
Granted, four-speed muscle cars generally bring bigger money. So when Mark Schwarz of C.A.R. (Campbell Auto Restoration, based in Northern California) tracked down the one shown here in Detroit to add to Perham's already impressive collection, he was able to grab it for a fraction of the one mentioned above–yet a record amount at the time– by outbidding a consignment deal before the car ever went to auction. The details of these negotiations are confidential, but suffice it to say the Schwarz was in the right place at the right time, and made the owner an offer he couldn't refuse.
Originally, this rare Camaro was acquired by a Canadian buyer (the export documents are still on file), but eventually came back across the border to Jim Stubbins in Detroit. The restoration job done around that time was actually pretty good, Schwarz says, but not to the level that would make him (or the new owner) happy. Turns out he's a detail man to the Nth degree, applying Bloomington Gold's Corvette standards to rare Camaros as well.
All told, "It was just a ton of little things," Schwarz says of the project. (We'll ask you to bear with us here for a moment, as anyone less than a hardcore Camaro enthusiast might glaze over at some of the details he tackled.) Some of the more obvious changes needed to bring the car closer to original included changing out the transmission crossmember, one of which just happened to be sitting in his backyard (among a bunch of other rare parts). Fortunately the Canadian owner protected the car from the winter ravages of the Great White North: "The floorpans were perfect," Schwarz observed. "It was a true rust-free car that survived intact with all-original sheetmetal. The thing that's neat is that it's never been cut up." Rare indeed for a car that was a prime candidate for tubbing to make room for racing slicks, and is now into its fourth decade of existence.
But good metal alone doesn't make for a quality restoration. "We took a car that was 90 percent perfect and made it 99 percent perfect," boasts Schwarz. And rightly so, since some of the detail work involved identification decals hidden under the dash on the instrument cluster and steering column. Nobody but the most obsessive judge might notice (and one in fact has, spending more than the usual time both scrutinizing and admiring the car). Certainly the casual observer wouldn't catch them, but Perham and Schwarz appreciated that those authentications are there, as do others in the know.
Somewhat more obvious than the concealed details are the correct lettering on the plug wires, the silk-screened seatbelt labels, and the ink stamp on the wiper motor. And then there are the precise color coatings on the cast parts, but the lack of any on machined parts, which have been burnished with a wire wheel and then clear-coated to match the factory finish. Even the hood hinges require a special phosphate coating, and the U-joints have particular look with no zerc fittings and a Bowtie emblem forged in a recess in the crisscross area. Schwartz also points to the codes (the letters B, P, and T) and extra overspray on the firewall, which is just how assembly line guys did it. And on and on…
One bonus in the project wasn't on the car at all, but sitting on a stand nearby. There's an extra ZL1 block, also from Schwarz's backyard. He came across it in a surprising way. When he bought a house near the C.A.R. shop in the San Jose area, the realtor said he would like his neighbor, who also happened to be into old Detroit iron. And Detroit aluminum, too, it turns out. Oddly enough, the rare ZL1 engine was about to be dropped into a 1955 Chevy with a tilt front-end (akin to Man o' War pulling a beer wagon), but Schwarz snagged it before it ended up in this unseemly destination, and threw on a set of aluminum heads. It now resides safely with the car as a silent tribute to GM's most famous aluminum big-block V-8.
So, what about that lost ZL1 Camaro mentioned at the outset? Nobody talks about it much, as it's generally accepted that only 69 were ever built, and that still could be the case. Yet the information on the 70th ZL1 is based on an unsolicited comment made by a reputable Chevy exec, who volunteered it while Schwarz was minding his own business, displaying an orange ZL1 that he had restored at a national Camaro show back in 1994 in Dearborn, Michigan.
According to Schwarz, Jim Perkins came up to the car, and after realizing what it was and admiring its quality, began talking about the 11 different Camaros that he had owned over the years. About an hour into the conversation, he commented offhandedly that there was actually a 70th ZL1 built, silver with a black interior. But he added that it was stolen off the back of a car hauler on its way to Fred Gibb Chevrolet, and never recovered.
Schwarz didn't realize who was relating this account until the next day, and only then did he understand its possible significance. So it's unlikely that he was being "pranked" or deliberately misled,since the two men didn't even know each other. Moreover, there are rumors of a couple prototype ZL1s that disappeared into GM's secret warehouses, so there's at least a possibility of uncovering yet another one.
Finding a "lost" ZL1 Camaro would be worthy of an Indiana Jones movie, right in keeping with finding other missing cars such as the Cobra Daytona Coupe owned by Phil Spector, or the possible sixth Grand Sport Corvette that was intentionally destroyed. And even if this ZL1 story weren't true…it oughta be!
SOURCE:
Campbell Auto Restoration
260 Cristich Lane A-1
Campbell, CA 95008
408-371-5522
www.campbellautorestoration.com
Published Oct 25th, 2017
More Related Vehicles
More Classic Car News & Article Categories:
Related Articles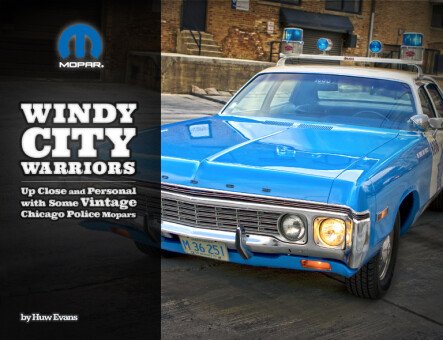 From around 1956 until the mid 1980s, Dodge, Plymouth and even Chrysler squads were the most ubiquitous police cars in North America. In fact, the biggest department, the NYPD, used Plymouth and Dodge squads almost exclusively until the rear-drive M body car was finally axed in 1989.
The no-frills Savoy two-door sedan was home to another engine of considerable repute, the infamous 413 Max Wedge, a Super Stock monster block Chrysler introduced in the spring of 1962.
Related Vehicles
Advertisement
×
1969 ZL1 CAMARO