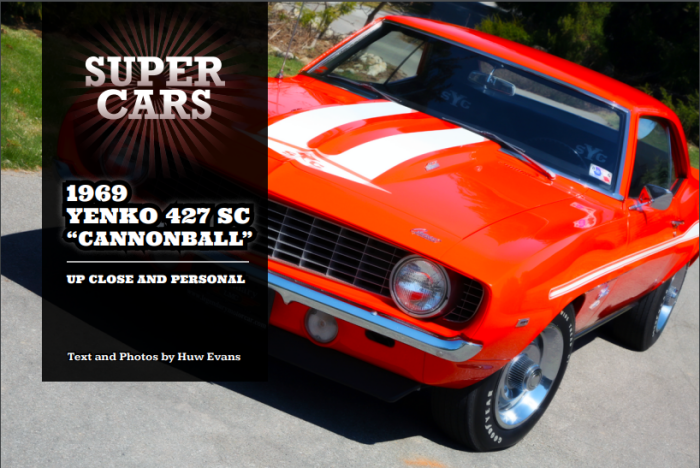 Text and Photos by Huw Evans
Washington County, in southwestern Pennsylvania, might not seem a likely place for muscle car activity, and a certain, non-descript building that stands at 575 West Pike Street in the small suburban town of Cannonsburg might not appear to be significant, with its peeling walls and patina.
But 40 years ago, this building was a hub of hot car activity, littered with Corvair Corsas, early Camaros, late 1960s Chevelles, Novas and even Vegas, machines that either had already been or were about to be transformed from mere factory muscle into exclusive supercars, able to blow the doors off just about anything that came across their path.
The place in question was Yenko Chevrolet, a small GM dealership owned by Frank Yenko. As for the hot cars, that responsibility lay with Frank's son Don, who became a legend in Camaro and muscle car circles.
Out of all the cars that the younger Yenko and his small team put together, it is arguably the Camaros that cast the longest shadow, and of them, the 1969 model stands out as the most desirable. Today, a real 1969 Yenko Camaro can trade hands for in excess of $500,000, but back in 1969 it was just another pony car; a 2+2 with indifferent workmanship and a big engine, designed to do one thing: go fast in a straight line. But although its mission in life may have been simple, Yenko Camaros and their brethren, the Baldwin-Motion, Berger, Dana, Dick Harrell and Nickey cars, carved out their own special place in muscle car history, for which they are revered to this day.
However, because the surviving cars have now been placed on pedestal, most of what we hear today about them concerns build dates, option codes, paperwork and value. Because demand for genuine Yenkos is so hot, it's rare that you'll actually see one turn a wheel in anger, simply because they've become so valuable.
Ultimate Camaro?
By the late 1960s, the supercar wars (or muscle wars) were nearing their peak. Chrysler was going for broke and Ford, after multiple racing successes, finally had a performance car on the street worth celebrating, but GM was still trailing behind. Hobbled by a stuffy corporate edict that didn't permit engines larger than 400 cubic inches in anything other than the Corvette or full-size sleds, it was losing ground in the factory horsepower stakes. But if you were a GM guy and wanted a bit of extra punch, you could go to a handful of select high performance dealerships located around the United States. Don Yenko got his start with high performance cars by building souped-up Corvairs in order to qualify them for SCCA road racing, but he soon turned his attention to Camaros. Although the early versions came from the factory with 396 engines, which were then swapped for Corvette 427s at the shop, by late 1967 Yenko had found that he was struggling to keep up with demand for his "Super" Camaros.
As a result, he decided to contact Chevrolet to find a more effective way of getting these cars through his shop and out to customers. One method of doing this would be to have the 427 engines installed right on the assembly line. Initially, the idea was panned, deemed irresponsible against the corporation's public image, but conversations with GM's Special Projects division and, in particular, engineer Vincent Pigvgins, yielded more fruitful results. Besides being an engineer, Piggins was also a product promotion specialist and had worked extensively on bringing the Trans Am homologated Z/28 small block Camaro to market. He felt that a 427 Camaro program would be good for publicity, but in order to side-step GM's corporate rulings, the best way to do this would be to order these cars through Chevrolet's Central Office Production Order, which supplied specially-packaged autos, primarily to fleets. Yenko's request proved successful, and along with input from Missouri-based drag racer Dick Harrell, the COPO Camaro was born.
Tire Shredding Torque
For 1969, the COPO Camaro was offered with two different codes. The primary package (coded 9561) was comprised of the Corvette's 427ci, 435hp solid lifter V-8, backed by a Muncie M22 four-speed "Rockcrusher," gearbox or a slightly milder hydraulic lifter, 425hp 427, teamed with a TH-400 three-speed automatic. All the cars featured a heavy-duty cooling system with a four-core radiator, heavy-duty suspension with special spring and shock rates, power front disc brakes, sturdy 12-bolt rear ends and standard 4.10:1 final drive. A Sports Car Conversion package (COPO 9737) was also available, which added Goodyear E-7 – 15 tires on 15 x 7-inch Chevy Rally wheels (press steel 14-inch wheels and fleet-style hub caps were standard fitment on COPO 9561 cars), along with a beefier 13/16-inch diameter front sway bar and 140 mph speedometer. It's believed that a total of 1015 COPO 9561 Camaros were built for 1969, 822 of which were four-speeds and just 193 equipped with the 425 horse/automatic combination.
Yenko received his first 1969 COPO 9561 cars in January of that year, and our findings indicate his shop turned out 201 examples with his own signature touches, of which this Hugger Orange example (paint code 72) is one. This particular car, like most Yenkos assembled that year, features the YSC stripe package (the stripes could be ordered in white or black and were installed in a separate building). It also boasts the 425hp, hydraulic lifter 427 V-8 engine and automatic transmission, which makes it one of just 28 such Yenko cars built for 1969. In addition, it also features the G80 front and rear spoiler package (standard on all 1969 Yenkos), Sports Car Conversion package and power steering. Unlike many surviving Yenkos, this one still has its original engine and, except for a repaint, is unrestored.
When you walk up to it, there's a feeling of awe that's difficult to describe. Physically, the car isn't that big, but in this case it's under the hood that counts. Grab the chrome door handle, push the button and take a seat. Compared to modern cars, the cabin is quaint, yet somehow airy. One thing you do notice is the very high dash and cowl, tiny windshield wipers and flat front seats, which have about as much lumbar support as a wooden deck chair. Even though this is the hydraulic lifter engine, it's obvious that it's a gnarly beast. Give it a bitof throttle and it shakes the whole car – you can even feel the glass rattling.
With your foot on the brake pedal, pull the gear select into drive. You have to release the brake slowly, because the Yenko just wants to jump forward. The skinny steering wheel delivers barely any feel. Even at low speeds, it's glacially slow. As you head out from the parking lot and onto the open road, you've got to take care with that throttle, but when you give it a little juice, the engine sounds its wake up call, and the force literally pins you back in the seat. The sound is deafening, and even though the speedometer says 50, you feel like you're doing 150. Even though this car is equipped with the Sports Car Conversion package, the E70-15 bias ply tires follow their own path on the road, and trying to keep the Yenko steering straight – 40 – requires tremendous concentration. What's most surprising is how smooth the TH400 is at swapping gears once the car is in motion – the second to third shift transition is almost seamless, in contrast to that thug of an engine up front. A sweeping S-curve approaches. You're at 65 mph now, and it's time to set the car up, bleed off the speed a little and enter the corner. You can feel the car beginning to understeer; the tires are squealing, so back off the gas a little more. The steering is basically redundant at this point; all you can do is use the gas to power through the turn. The back end wants to come around, but in a car of this stature, we're not about to let it loose. Halfway through the corner, you can feel yourself sliding on the seat, first right then left – sports car package or not, this is one Camaro that's clearly at home in a straight line. Although it has power front disc brakes, they're only a little more helpful than the steering. With so much weigh on the front end, brake dive is very pronounced – push any harder and that front chin spoiler would hit the ground. Even after a couple of stops, you can feel the brakes beginning to fade. Truly hard stops in a car like this would be accompanied by locking rear anchors and tire dragging, but we're not going to try that, at least not today.
An Experience Bar None As we pull back into the parking lot after our drive, we can feel the heat resonating from the big 427. Shutting the engine off causes it to diesel for a few minutes and then go quiet after a puff a smoke, a side effect of today's crummy low-grade fuel.
Wheels
15 x 7-in steel Chevrolet Rally
Tires
F70 x 15
Dimensions
Length:
188.0 in. Width: 74.0 in.
Wheelbase:
108.1 in.
Track (front):
59.1 in.
Track (rear):
58.2 in.
Weight:
3650 lbs.
Engine
Type:
V-8
Construction:
Cast-iron block and heads
Valvetrain:
OHV, single camshaft, two valves per cylinder
Fuel system:
GM Rochester four-barrel carburetor
Bore & Stroke:
4.25 x 3.75-in
Compression ratio:
11.0:1
Displacement:
427 ci (7.0-liters)
Ignition system:
GM Delco
Max Power:
425 hp @ 5600 rpm
Max Torque:
460 lb-ft @ 4000 rpm
Transmission
GM Turbo Hydramatic TH400 three-speed automatic – 42 – supercars.autotraderclassics.com
Body/Chassis
Separate front subframe with steel unitized coupe body
Suspension
Front:
Independent short/long arm with coil springs, performance shocks and stabilizer
Rear:
Live axle with semi-elliptical leaf springs, performance shocks and stabilizer bar
Brakes
Front:
Disc
Rear:
Drum
Performance*
0-60 mph: 5.4 sec
Quarter-mile: 13.5 @ 105 mph (11.94 sec @ 114 mph with headers and slicks)
*(Muscle Car Chronicle, Publications International, 1993)
Published Oct 30th, 2017
More Related Vehicles
More Classic Car News & Article Categories:
Related Articles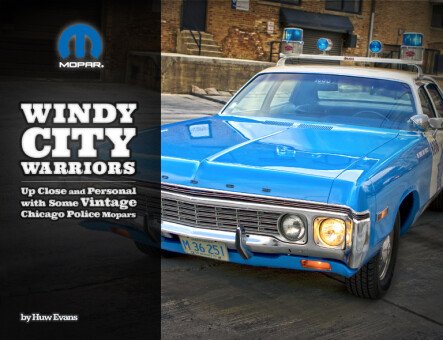 From around 1956 until the mid 1980s, Dodge, Plymouth and even Chrysler squads were the most ubiquitous police cars in North America. In fact, the biggest department, the NYPD, used Plymouth and Dodge squads almost exclusively until the rear-drive M body car was finally axed in 1989.
The no-frills Savoy two-door sedan was home to another engine of considerable repute, the infamous 413 Max Wedge, a Super Stock monster block Chrysler introduced in the spring of 1962.
Related American Classics
Advertisement
×
1969 YENKO 427 SC "CANNONBALL"