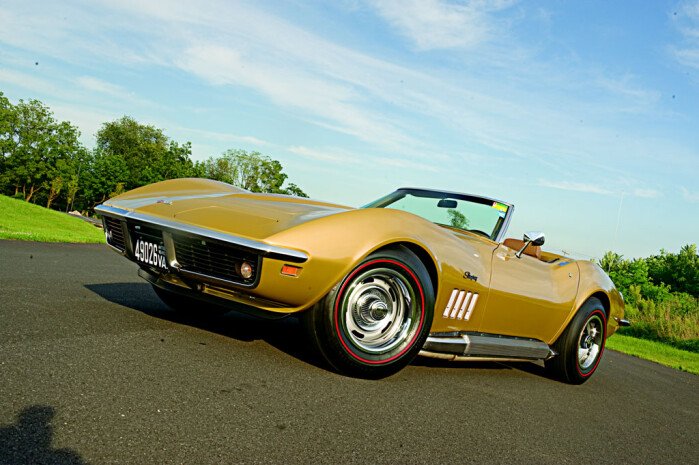 Photos by Jerry Heasley


By the end of the 1968 Corvette model year, it became clear that the public was enamored with America's only sports car. While sales increased by a whopping 25 percent, all was not well with the new design. An enormous number of quality issues plagued the first-year C3. On the plus side, customers loved the coke-bottle design and neck-snapping performance but the quality problems sent an overwhelming number of vehicles back to the dealership. Chevrolet put in place a detailed plan to improve correct many of the issues for 1969. The new Corvette, while not perfect, was definitely a better automobile in its second year.

Several key changes were made to distinguish it from the 1968 model. The Stingray name became one word. The Stingray emblem was placed above the air vents on the front fenders. Backup lights were moved from below the rear bumper and integrated into the inner taillamp. Outside door handles were redesigned, eliminating the need for the additional push button used in the previous year. Chrome-plated front grille bars were replaced with black painted bars. The front fender vents now included a chrome edge surrounding them.

Inside, the Corvette received subtle yet important changes. The ignition lock was moved from the dash panel to the steering column, and for the first time included a steering column lock. Door panels were redesigned to increase much-needed shoulder room. The steering wheel diameter was reduced to 15 inches, making it slightly easier to enter and exit the vehicle. The passenger side of the dash provided pockets for maps and other items. Another improvement was the use of an inertia locking seat belt system that allowed the occupant to move forward without the seat belt locking in place.

A plethora of powertrains was available. The 327 cubic-inch engine, used since 1962, was history. Replacing it was Chevrolet's 350 cubic-inch small-block. Horsepower in the 327 was advertised at 300, but it actually produced more. Next up in the small-block option list was the 350 cubic-inch, 350-horsepower V-8. For those who wanted more, a slew of 427 big-blocks were available. First on the option list was the single four-barrel, 390-horse version. It was considered the docile powertrain of big-blocks, using a mild cam and low compression. For added punch, buyers could drop a Tri-power setup on top of it, upping horsepower to 400. And those wanting pavement-melting performance could order the RPO L71, solid lifter, high compression, 435-horsepower big-block. An optional aluminum head (L89) big-block was also available. Racing fans that wanted more had two additional choices, the L-88 and ZL1. With its ultra-high-lift camshaft and a 12:1 compression ratio, the L-88 was not a powertrain to be driven on the street. While Chevrolet listed the horsepower at 430, in truth it was believed to have over 500 horsepower. But Chevrolet wasn't finished providing lightning-fast performance for Corvette fans. The all-aluminum ZL1 engine was last on the option list. Light in weight and high in power, this combination was king of the road. This engine was also rated at 430 horsepower but produced much more. However, only two ZL1 Corvettes were built and today command an incredible price on the collector car market.

By the end of the model year and in spite of a strike that stopped production for almost two months, Corvette once again increased sales from the previous year. Today, the second-year C3 Corvette stands out as one of the most sought-after sports cars. The combination of improved quality, great performance, and continued appreciation makes it an outstanding investment.


Fuel For Thought
All Corvette engines were built in Tonawanda, NY or Flint, MI
78% were equipped with a four-speed transmission
Wheel width was increased to eight inches
Just two Corvettes were built with the powerful ZL1 engine
Car and Driver readers voted the Corvette the "Best All Around Car"


Specifications
Number built – 22,154 coupes, 16,606 convertibles, total production 38,760
Construction – Body-on-frame, fiberglass body
Engine – (2) 350 cubic-inch V-8s, (6) 427 cubic-inch V-8s
Power/Torque – 350 cubic-inch V-8s, 300 horsepower, 360 lb-ft torque, 350 horsepower, 380 lb-ft torque (RPO L46), 427 cubic-inch V-8s, 390 horsepower, 460 lb-ft torque (RPO L36), 400 horsepower, 460 lb-ft torque (RPO L68), 435 horsepower, 460 lb-ft torque (RPO L71), 430 horsepower, 460 lb-ft torque (RPO L88), 435 horsepower, N/A torque (RPO L89), 430 horsepower, 460 lb-ft torque (RPO ZL1)
Transmissions – Wide-ratio four-speed manual (M20), close-ratio four-speed manual (M21), close-ratio four-speed manual (M22), three-speed automatic (M40)
Suspension front – Unequal length A-arms with coil springs, tubular shocks, and anti-roll bar
Suspension rear – Independent, fixed differential, transverse multi-leaf springs
Steering – Recirculating ball; 2.9 turns lock to lock
Brakes – 11.75-inch front and rear disc brakes, 461 inches of swept area
Length/width/height – 182.5/69.0/47.4 inches
Wheelbase – 98.0 inches
Weight – 3,280 lbs. (coupe)
0-60mph/quarter mile – 6.1 seconds, 14.3 seconds at 98 mph (Road and Track, March 1969)
Top speed – 122 mph
MPG – 10 - 15 est.
Price – MSRP - $4,420 (convertible); Today – $26,700 - $50,300

Engine – The small-block had evolved into something like a fine watch: well tested, accurate, and reliable. Chevrolet's big-blocks had hellish torque. Grossly underrated in horsepower, the L-88 and ZL1 made the Corvette one of the fastest sports cars ever.

Handling – Slight improvements were made to improve handling. The frame was strengthened, and the Corvette now sat on eight-inch wheels. Suspension was tight, steering was responsive, and braking with standard four-wheel disc brakes gave Corvette an edge.


Insurance Cost
Insurance cost is $332/year for a $39,100 1969 Corvette convertible. This is based on 3,000 miles per year of pleasure driving.
*Based on a quote from Heacock Classic Car Insurance, www.heacockclassic.com


Alternative
1969 Porsche 911T
Number built – 6,618
0-60/quarter mile – 8.8 seconds, 16.2 seconds at 81 mph
Top speed – 117 mph est.
Price – MSRP - $6,060; Today – $21,300 - $31,600

Alternative
1969 Jaguar XKE
Number built – 5,700
0-60/quarter mile – 6.7 seconds, 15.3 seconds at 90 mph
Top speed –119 mph est.
Price – MSRP - $5,858; Today – $21,900 - $46,400


Strong Points
Improved quality over first-year C3
Excellent appreciation
Plethora of engine options
Outstanding styling


Weak Points
Not a mid-year
Frames have rust issues
Many cars do not have the original powertrain
New owner could overspend on a restoration


Vehicle Category
The 1969 Corvette could be classified as anything between a daily driver to a trailer queen. Many today are driven regularly to car shows and cruise nights.


What To Pay
1969 Corvette
MSRP – $4,420
Low – $26,700
Average – $39,100
High – $50,300
*Based on prices from the Classic Cars and Parts Price Guide, fueled by NADA and available wherever Corvette & Chevy magazines are sold.


Parts Prices
Front bumper $319.00
Fuel tank $309.00
Windshield $249.00
Body weatherstrip kit $229.95
Dash harness $479.00
*Based on information from Corvette Central
800-345-4122
www.corvettecentral.com


Websites
www.corvetteforum.com
www.corvettenation.com
www.topcorvettesites.com
www.corvettemuseum.com
www.corvettelegends.com


Books
Corvette: America's Sports Car Yesterday, Today and Tomorrow by Gerald P. Burton
Mike Yager's Corvette Bible by Mike Yager
Corvette Black Book 1953-2008 by Mike Antonick
Corvette Restoration Guide, 1968-1982 by Richard Prince
Corvette Fifty Years by Randy Leffingwell


Review
Nineteen sixty-nine was a pivotal year for Corvette. Styling continued to be leading edge, and many of the quality bugs from 1968 had been addressed. The powertrain list bested the previous year, and when powered by the base engine provided exhilarating performance.
Published Dec 7th, 2015
More Classic Car News & Article Categories:
Related Articles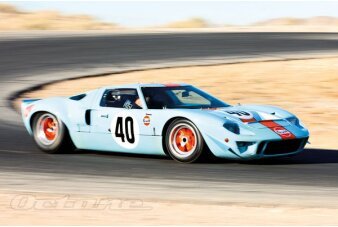 While every factory Ford GT40 is special, some are more special than others.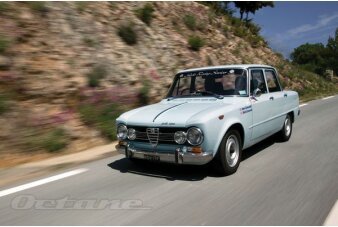 For the Linwoods historic rallying seems to come naturally.
×
1969 Corvette