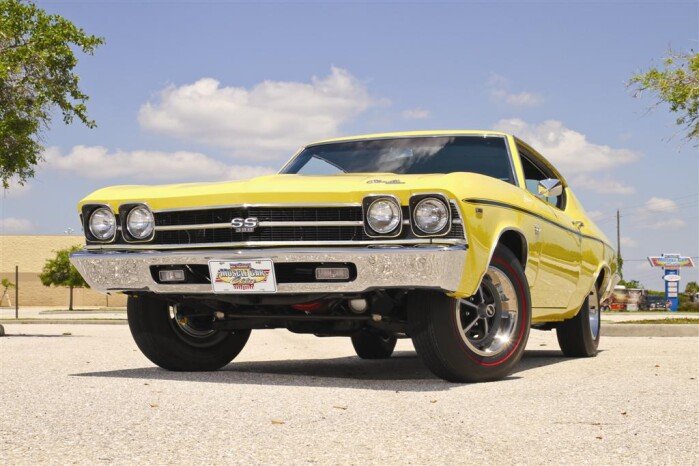 Photos by Ryan Merrill


The year was 1969 and the Big Three, along with American Motors, were doling out horsepower like free candy in a candy store. But it was General Motors who was the volume leader of muscle car sales. The reason was simple: Chevrolet, Buick, Oldsmobile, and Pontiac each had something unique to offer customers. Yet it was Chevrolet who led the pack. And while Chevrolet's mid-size Chevelle SS 396 shared its platform with the 442, GTO, and Gran Sport, it–along with the rest of the GM lineup–had its own personality.

The Chevelle body was in its second year of production. A new grille with a horizontal bar separating the upper and lower section gave a wider look to the front end. Parking lamps were moved inboard into the center bumper opening. The body side molding was eliminated and replaced by an optional body side stripe. Larger taillamps and a blacked out center panel gave the rear end a more aggressive look.

For 1969, the Super Sport became an option package, RPO Z25, rather than a unique model as it was in 1968. The SS 396 package included a mild mannered 325 horsepower 396 cubic-inch V-8, three-speed manual transmission, domed hood, black accented grille, power front disc brakes, wide oval tires, and special suspension system. Buyers were required to hand over an additional $347.60 for the pleasure of ordering the option.

Inside, the Super Sport was comfortable but not luxurious. The dash sported twin round gauges centered above the steering column. A vinyl-covered front bench seat was standard equipment, but Strato-bucket seats could be selected from the option list. The seat cover design was slightly changed from the previous year. Nineteen sixty-nine was the first year for headrests, beating the January 1970 federal requirement by about four months.

All Super Sports were powered by Chevrolet's big-block. The base 325-horse engine, RPO L35, provided more than adequate performance along with the ability to be ordered with air conditioning. For those wanting more performance, the 350-horsepower version was available as RPO L34. Added performance pieces gave the Chevelle improved performance, yet it was mild enough for work-time traffic. Buyers could choose from two versions of the 375-horse engine. The primary difference was that the L89 included aluminum heads, shaving about 100 pounds from the weight of the vehicle. While not on the official option list, a 425 horsepower, 427 cubic-inch powerhouse was available but dealers were required to place the order via the Central Office Production Order (COPO).  

The base transmission was a three-speed manual. Additionally, three versions of the Muncie four-speed were available. The wide-ratio M20 provided the best package for the street. The close-ratio M21 kept the engine closer to its torque curve, and the close-ratio M22 was the ultimate if serious drag racing was the owner's goal. Chevrolet's two-speed Powerglide was canceled for 1969 and replaced with the stout three-speed Turbo HydraMatic trans. 

Considering the long list of available performance and comfort options, the Super Sport catered to the masses, whether they wanted simple, low-cost performance or high-end luxury combined with performance. By the end of the model year over 86,000 were sold, making the Super Sport a bona-fide success for Chevrolet.


Fuel For Thought
Axle ratios ranged from 2.56:1 to 4.88:1
L89 aluminum head option cost $647.75 (400 sold)
Produced in five U.S. plants plus one in Canada
Head restraints could deleted until 12/31/68 (774 did)


Specifications
Number built – 86,307
Construction – Body-on-frame
Engine – (4) 396 cubic-inch V-8, 427 cubic-inch V-8 (special order COPO)
Power/Torque – 396 cubic-inch V-8, 325 horsepower, 410 lb-ft torque, 396 cubic-inch V-8, 350 horsepower, 415 lb-ft torque, 396 cubic-inch V-8, 375 horsepower, 415 lb-ft torque, 396 cubic-inch V-8, 375 horsepower, 415 lb-ft torque (L89), 427 cubic-inch V-8,  425 horsepower, 460 lb-ft torque (COPO)
Transmissions – Three-speed manual, four-speed manual, three-speed automatic
Suspension front – Independent, short arm-long arm (SLA), coil springs and anti-sway bar
Suspension rear – Live axle with upper and lower control arms, coil springs
Steering – Re-circulating ball, 20.4:1 ratio
Brakes – Power front disc, rear drum
Length/width/height – 196.9/76.0/52.8 inches
Wheelbase – 112 inches
Weight – 3,335 lbs.
0-60mph/quarter mile – 7.6 seconds, 15.4 seconds at 92 mph (Motor Trend, January 1969)
Top speed – 115 mph est.
MPG – 8.6-11.8 mpg
Price  – MSRP - $3,020; Today – $16,400 - $36,000


Insurance cost
Insurance cost is $196/year for a $21,600 1969 Chevelle SS 396. This is based on 3,000 miles per year of pleasure driving.
*Based on a quote from Heacock Classic Car Insurance, www.heacockclassic.com

Engine – Chevrolet's big-block was designed for high performance. The base 325-horse engine came with a cast crank and two-bolt mains. The 350- and 375-horse engines included a forged crank. All 375-horse engines included four-bolt mains.

Handling – The four corner coil spring ride was relatively soft for a muscle car and pushing it into hard turns proved to be a difficult–if not a near impossible–task. The optional F41 suspension added a rear anti-sway bar that improved its cornering ability.


Alternative
1969 Buick Gran Sport 400
Number built – 8,132
0-60/quarter mile – 7.7 seconds, 15.9 seconds at 89 mph
Top speed – 115 mph est.
Price – MSRP - $3,308; Today – $11,500 - $34,100


Alternative
1969 Pontiac GTO
Number built – 65,454
0-60/quarter mile – 7.2 seconds, 14.9 seconds at 98 mph
Top speed – 108 mph
Price – MSRP - $3,293; Today – $12,100 - $47,100


Strong Points
An iconic performance vehicle
Reasonably priced aftermarket parts
Substantial production means adequate availability

Weak Points
Many have been used and abused
Easy to clone
Less popular than the 1970 Chevelle SS


Vehicle Category
While very rare COPO Chevelles stay hidden away in heated garages, Super Sport owners enjoy driving their vehicles on a semi-regular basis. National Chevelle clubs provide opportunities to show off Chevrolet's midsize muscle car to the masses.


What To Pay
1969 Chevelle SS 396
MSRP – $3,020
Low – $16,400
Average – $21,600
High – $36,000
*Based on prices from the Classic Cars and Parts Price Guide, fueled by NADA and available wherever Corvette & Chevy magazines are sold.


Parts Prices
Super Sport grille kit $399.95
Radiator $459.95
Fuel tank $119.95
Door skin $152.95
Windshield $168.95
Leather seat upholstery $1,116.95
*Based on information from Original Parts Group
800-243-8355
www.opgi.com


Websites
www.chevellestuff.com
www.chevelles.net
www.chevelleforum.net
www.devotedtochevelles.com


Books
Chevelle by Mike Mueller
Chevelle SS Restoration Guide by Paul Herd
Chevelle and SS 1964-1972 by R.M. Clarke
Chevy SS: 50 Years of Super Sport by Robert Genat

Review
The Chevelle SS 396 was then, as it is today, a highly sought after performance car. With a plethora of powertrains and crisp body lines, it remains a head turner at traffic lights and cruise nights alike. High horsepower versions are commanding extraordinary prices at auctions.
Published Dec 7th, 2015
More Classic Car News & Article Categories:
Related Articles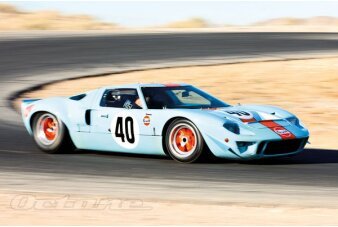 While every factory Ford GT40 is special, some are more special than others.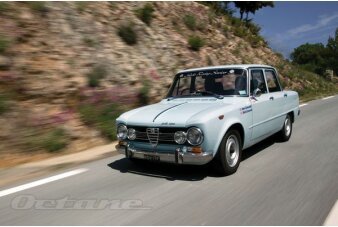 For the Linwoods historic rallying seems to come naturally.
×
1969 Chevelle SS 396