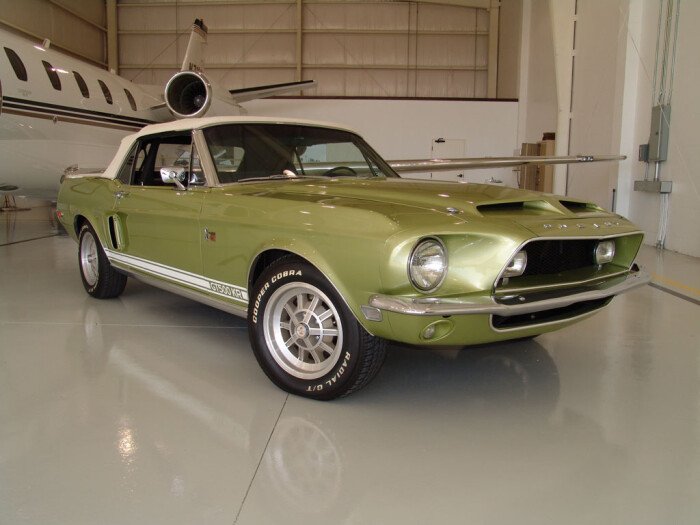 Photos by Huw Evens

Image is everything. And image is what Carroll Shelby oozed. From his racing days to his days as a promoter of Shelby vehicles, Carroll Shelby was a one-man marketing genius. The difference between him and other marketers was that his products backed up the image with exhilarating performance, looks and handling.
Since the first GT350 came off the assembly line, the Shelby line of cars built on the performance image. Many buyers of these special cars got a lot for their money, with plenty of them going from the dealership to the racetrack and winning on a regular basis. Others enjoyed the celebrity of owning a pure bred race car.
The 1968 GT500KR had its roots in the 1967 GT500. When launched, the GT500 was the epitome of cool. The new tougher body style of the Mustang fastback lent itself to Shelby modifications. Using the basic Mustang shell, a more aggressive front end looked like a killer shark ready for lunch. The hood and headlamps had an aggressive overhang while the grille looked menacing with its center mounted high beams.
Things were changing for the Shelby organization. Up until now, all GT350 and GT500s were built in Metuchen, New Jersey, as a Mustang GT, then sent to a rented facility at LAX airport for transformation into a Shelby GT. However in September 1967, Shelby lost his lease at the LAX facility and all production was moved the A.O Smith Company in Livonia, Michigan.
Rumor had it that Shelby moved because of losing his lease, but the truth was Ford wanted more control over the project, especially with respect to quality control of Shelby's cars. Earlier fiberglass pieces were at best a poor fit, especially at the hood to headlamp bucket fit. Ford, for 1968, redesigned the fiberglass front end pieces and changed suppliers that resulted in the 1968 Shelby having a much better fit and finish along with a crisper look to the car. Front-end changes included a shorter hood with a scoop resting more forward than that of 1967. The new hood also included twin side mounted louvers for added airflow to the engine compartment. The grille was redesigned and offered twin pedestal style fog lamps built by first by Marchal, then later by Lucas. High beams reverted back to larger seven-inch headlamps.
From the side, the GT500 was carried over from 1967. A C-pillar mounted air vent pushed air into the cabin while the quarter-panel mounted lower scoop cooled the rear brakes. The rear end treatment included a fiberglass decklid with an integral spoiler. Taillights for 1968 were changed to 1965 Thunderbird for a better look than the Cougar lights used previously. Quad exhausts exited under the lower valence panel.
Inside, the GT500KR was all business. All cars were fitted with the Mustang Deluxe Interior. This included a woodgrain dash panel, deluxe door pads, Cobra logo floor-mounted shifter, 140 mph speedometer and an eight grand tach. Bucket seats, while handsome, offered no lateral support.


Fuel For Thought
Probably the most recognized factory performance car in history
Outlandish styling
Carroll Shelby is an icon in the industry
Incredible curb appeal
First year for production Shelby Mustang convertible


Specifications
Number built
Published Dec 7th, 2015
More Classic Car News & Article Categories:
Related Articles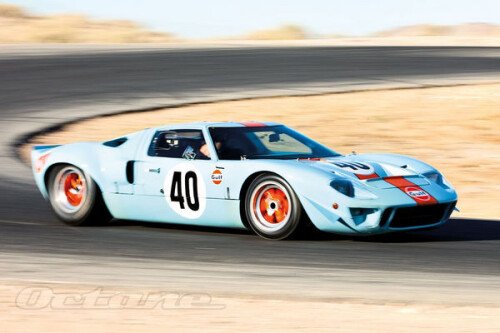 While every factory Ford GT40 is special, some are more special than others. The dazzling example featured here, chassis GT40P/1074, earns bonus points for at least three reasons..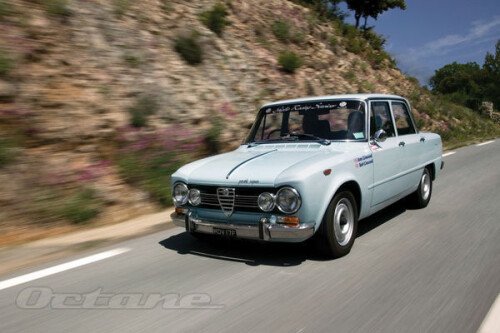 Not long after their first event together, Bob bought a standard road-going 1968 Alfa Romeo Giulia Super, and had it restored by Classicarco in Manchester. We spend a pleasant afternoon tossing it around the French countryside for Martyn
Advertisement
×
1968 Shelby GT500