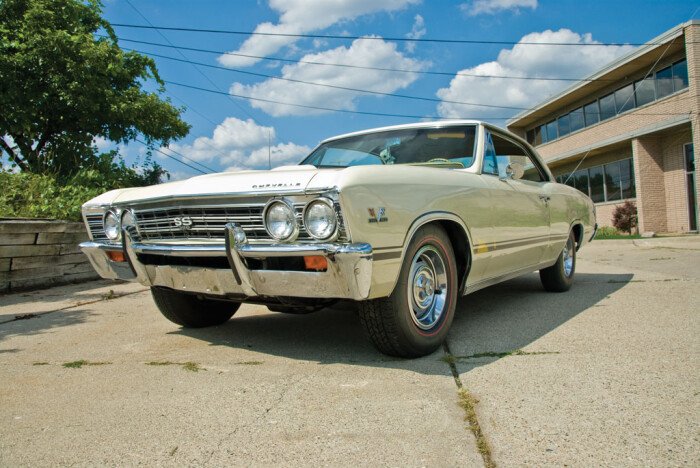 Photos by Tony Firpi

 
It's 1967, you're 21 years old, and you have about three grand for a new performance car burning a hole in your pocket. You've read the magazines and heard the stories, and after thorough consideration, there was no question what to buy. It was a Chevelle SS396. Certainly, other GM divisions had their share of muscle cars, but all were priced hundreds of dollars more and didn't provide any additional performance for the money. That year, Ford offered the 390 cubic-inch FE big-block in its Mustang, but the truth was they weren't burning up the dragstrip. Chrysler didn't have much to offer at Chevrolet's prices, and they lacked a true mid-size muscle car that could compete with Chevrolet's asphalt-ripping Chevelle.

For several years, the Chevrolet division had been working hard to cover all bases in the factory performance world. Buyers could order anything from an L79 Nova to a 427 Biscayne, and everything in between. Chevrolet also did it at a lower price than any other car company.

Available as a two-door hardtop or convertible, the SS396 carried over much of the exterior sheetmetal from the previous year. The hood received a more aggressive look with twin power bulges and side-mounted simulated air scoops, and the front fenders were given a more vertical look at the leading edge for a smoother appearance. Headlamps were placed slightly farther apart in the new grille, and within the grille a center-mounted SS396 emblem told the world what was under the hood. Chevrolet carried over the twin-flagged 396 emblem on the forward edge of the front fender and a redesigned Super Sport emblem graced each quarter panel. Larger, wrap-around taillamps improved rear end appearance along with a new standard blacked out cove.

Inside, vinyl bench seats were standard, with Strato-bucket seats available for an additional $110.60. All shifters were mounted on the floor regardless of whether a console was ordered or not. The troublesome knee-knocker tach of 1966 was moved to the left side of the instrument panel for 1967. Although the owner's knee wasn't smacking the tach anymore, its location covered both the left turn signal indicator and the fuel gauge. 

Powertrain options were similar to 1966. The base engine was a 325-horsepower L35. Next up on the option list was the 350-horse L34, at an additional cost of $105.35. The 375-horsepower L78, while not listed in Chevrolet's sales brochures, was available as a dealer-installed option. Only 612 L78 Chevelles were built. A three-speed manual transmission was standard, but for a mere $105.35 a Muncie four-speed would provide improved performance. Chevrolet's two-speed Powerglide and three-speed Turbo Hydra-Matic were also available. GM's stout 12-bolt rear axle brought the power to the pavement with the benefit of added rear frame reinforcements, and axle ratios ranging up to 4.88 were available.

Handling was considered to be quite good for a 3,585-pound, mid-size car with a somewhat heavy front end. Chevrolet added heavy-duty springs, shocks, and a front sway bar. Cornering was considered very balanced with the added help of standard F70x14-inch Wide-Oval tires, which were available as either a whitewall or redwall. Braking on the other hand had something to be desired if the optional front disc brakes weren't ordered.

Nineteen sixty-seven was a good year for Chevrolet vehicles. However, sales of the Chevelle SS396 slipped slightly to 62,527 units. The sales decline was primarily due to the influx of other factory performance cars. On a positive note, those who purchased an SS396 new probably had more performance fun per dollar than anyone else did!

 
Fuel For Thought
Several big-block 396 engine options
Underrated, 375-horse L78 provided exhilarating performance
Sleek styling set it apart from other performance cars
Room for six plus a full-size trunk


Specifications
Number built – 62,527
Construction – Body-on-frame
Engine – (3) 396 cubic-inch V-8s
Power/Torque – 396 cubic-inch V-8, 325 horsepower, 410 lb-ft torque (L35), 396 cubic-inch V-8, 350 horsepower, 415 lb-ft torque (L34), 396 cubic-inch V-8, 375 horsepower, 415 lb-ft torque (L78)
Transmissions – Three-speed manual, four-speed manual, two-speed automatic, three-speed automatic
Suspension front – Independent, unequal length upper and lower control arms with coil springs
Suspension rear – Coil springs
Steering – Low-friction, ball-race gear
Brakes – 9.5-inch, four-wheel drums (11-inch front discs optional)
Length/width/height – 197/75.0/51.9 inches
Wheelbase – 115 inches
Weight – 3,585 lbs.
0-60mph/quarter-mile – 6.5 seconds, 14.9 seconds at 96 mph (Motor Trend, July 1967)
Top speed – 120 mph est.
MPG – 9 - 13 mpg est.
Price – MSRP - $ 2,825; Today – $19,300 - $44,400


Insurance cost
Insurance cost is $218/year for a $24,700 1967 Chevelle Super Sport 396. This is based on 3,000 miles per year of pleasure driving.
*Based on a quote from Heacock Classic Car Insurance, www.heacockclassic.com.


Engine – The Mark IV big-block Chevrolet is one of the most dependable performance engines from any manufacturer. It has no weak areas and it likes upgrades. While it can't compete with a Hemi for horsepower, it was substantially cheaper to hot rod up to the 700-horsepower range.

Handling – Like all mid-sized, body-on-frame cars, the SS396 offered moderate handling capabilities. Stiffer springs and anti-roll bars reduced body roll during hard cornering but it certainly was no sports car. The SS396 was built to go fast in a straight line, and that it did well.


Alternative
1967 Mustang GT 390
Number built – 472,121 (total production)
0-60/quarter mile – 7.4 seconds, 15.6 seconds at 94 mph  
Top speed – 110 mph
Price – MSRP - $2,976; Today – $14,625 - $29,120

Alternative
1967 Pontiac GTO
Number built – 81,722 (total production)
0-60/quarter mile – 5.2 seconds, 14.0 seconds at 101 mph (Royal Bobcat GTO)
Top speed – 107 mph
Price – MSRP - $2,935; Today – $14,650 - $50,300


Strong Points
Stellar styling
One of the best factory performance Chevys ever
Parts are readily available
It's a big-block!


Weak Points
SS vehicles are easy to clone, and imitations are out there
The 325-horse cars have good but not great performance
Typical rust issues
Very few L78 cars were made


Vehicle Category
Chevelle Super Sport owners love driving their cars on a regular basis. They enjoy showing off what is today a very rare factory performance car. Only a few are trailered to shows.


What To Pay
1967 Chevelle SS 396
MSRP – $2,825
Low – $19,300
Average – $24,700
High – $44,400
*Based on prices from the Classic Cars and Parts Price Guide, fueled by NADA and available wherever Corvette & Chevy magazines are sold.


Parts Prices
Front fender $369.95
Headliner $69.95
Headlamp bezels $95.95
Fuel tank $125.96
Floor pan kit $304.95
*Based on information from Original Parts Group
800-243-8355
www.opgi.com


Websites
www.chevelles.com
www.chevellfan.com
www.musclecarclub.com
www.chevellemuscle.com
www.chevellestuff.com


Books
Chevrolet SS Muscle Car Red Book by Peter Sessler
Chevelle SS Restoration Guide, 1964-1972 by Paul Herd
Chevelle, 1964-1972 (Muscle Car Color History) by Mike Mueller
Chevelle (Enthusiast Color) by Bill Holder and Phillip Kunz
Original Chevelle 1964-1972 (Original Series) by Jim Schild


Review
The 1967 SS396 had it all: great styling and performance at a Chevrolet price. It was arguably one of the best street racing factory cars of the 1960s, with size and comfort to match!

Published Dec 7th, 2015
More Classic Car News & Article Categories:
Related Articles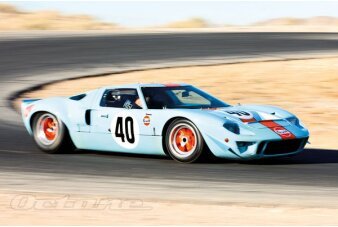 While every factory Ford GT40 is special, some are more special than others.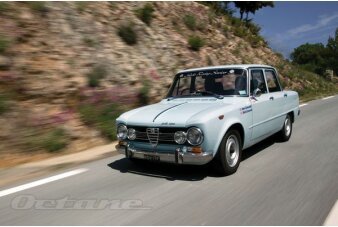 For the Linwoods historic rallying seems to come naturally.
×
1967 Chevelle Super Sport 396