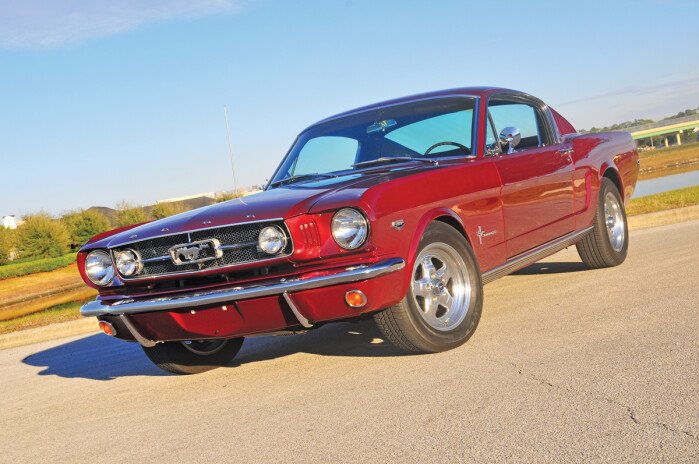 Photos by Joe Greeves and the National Automotive History Collection.


The success of the original Mustang established the brand as the coming of age vehicle for America. Timing was everything and Ford hit a home run when they revealed the Mustang to the public on April 17, 1964. As hopeful as Ford brass was for success of the new youth market vehicle, it was unlikely that even they were ready for what was yet to come.

Considering the impressive styling, it was difficult to comprehend that Mustang's roots came from the simple Falcon platform. Much of the styling credit belonged to product managers Donald Frey and Harold Sperlich. They, along with Ford's divisional chief Lee Iacocca, were also responsible for the marketing buzz behind the new car. Using an unprecedented amount of print advertisement, press releases and prime time television commercials, the Mustang became an overnight success, so much so that over 22,000 orders were taken on the first day.

Prior to its launch, Ford had no way of knowing exactly how popular the Mustang would become. Internal information indicated that perhaps 150,000 units would be sold in the first year. Production began on March 9, 1964 at Ford's Rouge assembly plant in Dearborn, Michigan. As sales continued to increase, two additional assembly plants, San Jose, California and the Metuchen, New Jersey, began producing Mustangs. Mustang's sales volume was unprecedented and Ford was basking in the success of the Mustang.

However to understand some of Mustang's success, it's important to understand that there was little competition. The Barracuda was made available to the public on April 1, but it was simply a jazzed up Valiant with a fastback roof. GM's only version of a youth market vehicle was Chevrolet's Corvair, a relatively poor example of a sporty performance car. The Mustang gave the public an entirely new looking vehicle, sporty and luxurious yet low in price. Initially it was available as a coupe and convertible with the 2+2 fastback coming onboard later in the year.

Contrary to popular belief there was no 19641/2 Mustang, only 1965 models. Vehicles produced prior to September 1964 were commonly identified as 1964 1/2s and differed from latter year vehicles by having a smaller displacement six- or eight-cylinder engine and an electrical system operated by a generator. The generator was later replaced with an alternator and a larger six-cylinder engine and increased horsepower V8s. By mid-year engine choices included a 120 horsepower 200 cubic-inch six-cylinder and a choice of a 200, 225 or 271 horsepower 289 cubic-inch V8. Power could be mated to a three-speed manual, four-speed manual or three-speed automatic transmission.

To make its mark as a performance car, a GT Equipment Group was made available in April 1965. A Mustang GT could be ordered in any body style and with either the 225 or 271 horsepower V8. A special handling package improved high-speed handling. Finishing off the GT option was front disc brakes, quicker steering, special exhausts, fog lamps and special body striping.

Ford's three assembly plants spent the year working overtime to supply the public with this new phenomenon and by the end of the model year, 559,451 Mustangs were sold. It was clear Ford had changed the rules and it would take several years before Chrysler and General Motors would match Mustangs success.


Fuel For Thought
First year for Metuchen, New Jersey, built Mustangs
Front disc brake option reduced 60-0 mph stopping distance by 22 feet
K-code engines included chrome valve covers
K-code Mustangs were not available with three-speed manual transmissions
First year for six-bolt bell housing pattern


Specifications
Number built – 559,451 total units (late '65) - 409,260 coupe, 77,079 fastback, 73,112 convertible
Construction – Unibody
Engine – 200 cubic-inch six-cylinder, 289 cubic-inch V8
Power/Torque – 120/190 (six-cyl.), 200/282 V8 w/2bbl), 225/305 V8 w/4 bbl), 271/312 (V8-Hi Perf)
Transmission – three-speed manual, four-speed manual, three-speed automatic
Suspension front – independent A-upper control arm, single lower control arm with coil springs
Suspension rear – leaf springs
Steering – recirculating ball and nut
Brakes – four-wheel drum with optional front disc
Length/width/height – 181.1/68.2/51.1 inches
Wheelbase – 108 inches
Weight – 2,640lbs. shipping weight
0-60mph/quarter-mile – 7.6 seconds, 15.9 seconds at 89 mph (January 1965 Motor Trend)
Top Speed – 114 mph (January 1965 Motor Trend)
MPG – 12-15 mpg EPA EST.
Price – $2,639
Today – $33,500


Insurance cost
Insurance cost is $311/year for a 1965 Mustang 2+2 valued at $35,000. This is based on 3,000 miles per year of pleasure driving.
*Based on a quote from Heacock Classic Car Insurance


Engine
The thin-wall small block V8 was designed to be compact and lightweight (the 289 engine weighed 506 pounds) The K-code version was more than a hopped up passenger engine. It used thicker main bearing caps, larger diameter rod bolts and a special crankshaft. All V8s were reliable and took well to performance mods.


Handling
Considering the skinny factory tires the Mustang rode on, it handled quite well. Front-end roll was minimized with a .81 inch front anti-roll bar. The low center of gravity limited body lean. Steering was a reasonably quick 3.7 turns lock to lock.


Alternative
1965 Plymouth Barracuda
Number built – 64,596
0-60/quarter-mile – 8.0 seconds, 16.1 seconds at 87 mph
Top speed – 110 mph
Price – MSRP – $2,535
Today – $6,575 - $17,400

Alternative
1965 AMC Marlin
Number built – 10,327
0-60/quarter-mile – 11.2 seconds, 18.1 seconds at 76 mph
Top speed – 105 mph EST.
Price – MSRP – $3,100
Today – $3,725 - $10,550


Strong Points
Abundantly available
Aftermarket parts galore
Cool factor
Can be restored or hot rodded


Weak Points
Unrestored vehicles typically have rust issues
Not a unique classic car
Standard drum brakes are marginal at best
Possible to over restore and have more money into the car than it's worth


Vehicle Category
Mustangs are perhaps the most frequently used vintage automobiles. Owners enjoy showing them off whenever possible. Every type of Mustang from a daily driver to a high-end restoration typically can be found at a local car show or cruise night. Owners are a very tight knit group who enjoy camaraderie like no other group of collectors.


What To Pay
1965 Mustang Fastback
MSRP – $2,639
Low – $13,800
Average – $21,100
High – $33,500
*Based on prices from the Classic Cars and Parts Price Guide


Parts Prices
Front and rear seat cover set $201.95
Dash pad $157.95
Front lower control arm $57.95
Engine gasket kit $51.20
Fuel tank $117.95
National Parts Depot
(800) 521-6104
www.npdlink.com


Websites
www.mustangforums.com
www.mustangworld.com
www.stangnet.com
www.gostang.com
www.vintage-mustang.com


Books
Collector's Originality Guide Mustang 19641/2-1966 by Colin Date
Mustang by Peter Henshaw
Mustang Forty Years By Randy Leffingwell
Mustang Legends by Voyageur Press
Mustang 19641/2- 73 Restoration Guide by CORCORAN/DAVIS


Review
The first generation Mustang is arguably the most beloved collector car ever produced. Seeing one brings back recollections of one's youth and freedom of the road and provides both owners and admirers a mental trip down memory lane. The icing on the cake for owners is that aftermarket parts are reasonable and readily available. Mustangs in decent condition can be had for less than $10,000 making it available to almost anyone who has a desire to get into the hobby.
Published Dec 7th, 2015
More Classic Car News & Article Categories:
Related Articles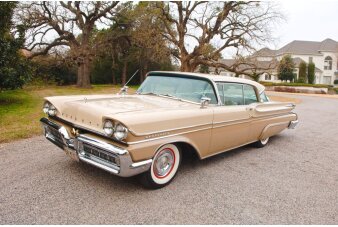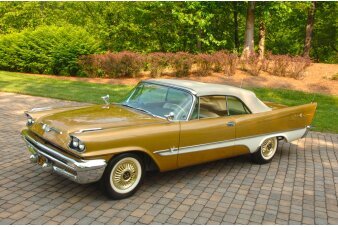 The mid-Fifties were good times for DeSoto.
Related American Classic Cars
×
1965 Ford Mustang Fastback Guide