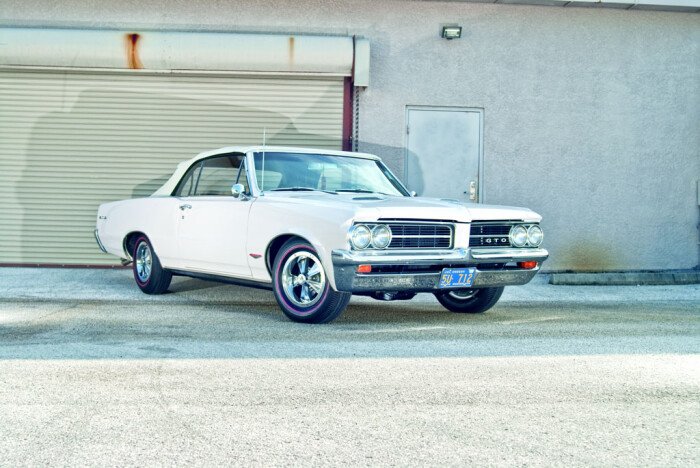 Photos by Tony Firpi


It's hard to imagine that the GTO might never have made it into production. Had it not been for a small group of managers at Pontiac who were also car enthusiasts and visionaries, the GTO might not have been. This small group was prepared to fight the battle on three unique fronts.

The first and perhaps most important battle was with the United States Justice Department. During the early 1960s, General Motors was so large it captured nearly 60 percent of the domestic car market. Just as they did with the Standard Oil Company, the Justice Department was prepared to break up The General if their market share exceeded 60 percent. Incredible as it may seem, GM was purposely trying to slow down vehicle sales in an effort to thwart such an action. The second front occurred on January 24, 1963 with the killing of the Super Duty Group that was responsible for Pontiac's dominance in both NASCAR and drag racing. The third front was getting the car approved by corporate bean counters, and the legal staff who initiated a policy that limited GM cars to ten pounds per cubic inch.

Pete Estes, Divisional Manager of Pontiac, and John Z. DeLorean, Pontiac's Chief Engineer, were devising their own plans to get the car launched–regardless of who wanted it stopped. They were keenly aware of the youth market, and were determined to build something unlike any other performance car. Now they had to find a way to convince (some would say trick) the corporate stogies into building the car.

All of the 1964 mid-size cars were entirely new. Gone was the unibody, replaced by the traditional body-on-frame design. The new vehicles were sleeker and longer, and the full frame allowed a larger engine to be installed between the framerails. That's just what DeLorean and the gang wanted to do. There was, however, one problem. The ten-pounds-per-cubic-inch issue. Stuffing the 389 into a Tempest would defy the corporate edict. By using the "better to ask forgiveness than permission" philosophy and knowing that the staff honed in primarily on unique models, the GM hot rodders decided the GTO would be an option instead of a unique model, the W62 option to be exact.

Checking off the W62 box changed the mild mannered LeMans into a tire-melting muscle car by using Pontiac's 389 cubic-inch engine, topped with high-output 421 cubic-inch heads and a Carter four-barrel carburetor. A Tri-power option became available midyear and increased horsepower to 348. Other components of the GTO included a three-speed manual transmission with floor-mounted shifter, heavy-duty suspension, special hood with twin faux hood scoops, and GTO emblems on the front, side, and rear of the vehicle. Other fun options included quad exhaust tips, two versions of the Muncie four-speed trans, or a two-speed automatic and a garden variety of rear axle ratios.

With all of the potential for the upcoming GTO, there was still one problem, Frank Briggs. Briggs was the Pontiac Sales Manager and not a fan of the GTO. His opinion was that the GTO wouldn't sell and it would wind up sitting on dealer lots. Unbeknownst to upper management, Estes and DeLorean pre-sold 5,000 units. Briggs had to give in.

The GTO came in three body styles: two-door-post coupe, two-door hardtop, and convertible. Customers received a GTO by first ordering a LeMans at a cost of $2,776 (coupe) then ordering the W62 package for an additional $295.90. The total price for a GTO coupe was $3071.90. A plethora of options were also available to increase the dealer profit on each car.

By year's end, the GTO was an incredible success–sales of 32,450 showed that Estes and DeLorean were correct. The youth market was about to explode, and Pontiac was poised to give them exactly what they wanted.


Fuel For Thought
The first true American muscle car
Styling was unequaled
Three carburetors are always better than one
32,450 sold in 1964


Specifications
Number built – 18,422 hardtop, 7,384 coupe, 6,644 convertible
Construction – Body-on-frame
Engines – (2) 389 cubic-inch V-8s
Power/Torque – 389 cubic-inch V-8s, 325 horsepower, 428 lb-ft torque, 348 horsepower, 428 lb-ft torque (Tri-power)
Transmissions – Three-speed manual, four-speed manual (wide and close ratio), two-speed automatic
Suspension front – Independent, unequal-length upper and lower control arms with coil springs
Suspension rear – Coil springs, two upper and lower trailing arms
Steering – Low friction, re-circulating ball-race gear
Brakes – 9.5-inch, four-wheel drum
Length/width/height – 203/73.3/53.5 inches
Wheelbase – 115 inches
Weight – 3,443 lbs. (hardtop)
0-60mph/quarter mile – 7.7 seconds, 15.8 seconds at 93 mph (Motor Trend, January 1964)
Top speed – 115 mph (Motor Trend, January 1964)
MPG – 12 - 16 mpg (Motor Trend, January 1964)
Price – MSRP - $3,071; Today – $21,900 - $64,200


Insurance cost
Insurance cost is $320/year for a $37,600 1964 Pontiac GTO convertible. This is based on 3,000 miles per year of pleasure driving.
*Based on a quote from Heacock Classic Car Insurance, www.heacockclassic.com


Engine – The basis for the 389 cubic-inch engine started with the 1955 model. In general it's a dependable powertrain, with the main weak point being the wear-prone nylon camshaft gear. The engine takes well to performance mods and can fend for itself against Chevrolet, Ford, and Chrysler performance cars.


Handling – With a stiffer suspension than the LeMans, the GTO was near the top of the list when it came to mid-size handling. All GTOs came with a front stabilizer bar that lessened the effect of its heavy V-8.The car was designed for straight-line acceleration, and road handling ultimately took a back seat.


Alternative
1964 Oldsmobile 442
Number built – 2,999
0-60/quarter mile – 7.5 seconds, 15.5 seconds at 90 mph
Top speed – 116 mph
Price – MSRP - $3,069; Today – $12,750 - $36,600

Alternative
1964 Chevelle Malibu Super Sport
Number built – 75,622
0-60/quarter mile – 9.7 seconds, 17.4 seconds at 80 mph
Top speed – 110 mph
Price – MSRP - $2,646; Today – $10,800 - $25,100


Strong Points
It's a GTO!
Great styling
Outstanding performance
Excellent appreciation


Weak Points
Somewhat expensive to purchase
Un-restored vehicles tend to have rust issues
Many cars don't have the original engine
Because it was an option, verification paperwork is necessary


Vehicle Category
Many GTO owners, regardless of the value of their vehicles, drive them as much as possible. Most vehicles are not locked away in garages unless the weather doesn't permit a drive. National clubs bring enthusiasts together to share their love for the GTO.


What To Pay
1964 Pontiac GTO convertible
MSRP – $3,071
Low – $21,900
Average – $37,600
High – $64,200
*Based on prices from the Classic Cars and Parts Price Guide, fueled by NADA and available wherever Classic Cars & Parts magazines are sold.


Parts Prices
Carpet kit $299.95
Interior door panels $159.95
Interior seat cover set (front/rear) $369.95
Quarter-panel sheetmetal $249.95
Quarter-panel emblem $49.95
*Based on information from Original Parts Group
800-243-8355
www.opgi.com


Websites
www.ultimategto.com
www.gtoheaven.com
www.pontiacgtos.com
www.gtoalley.com


Books
GTO by Darwin Holmstrom
Muscle: America's Legendary Performance Cars by Randy Leffingwell and Darwin Holmstrom
Pontiac GTO by Steve Statham
GTO 1964-1967 (Muscle Car Color History) by Paul Zazarine
GTO Red Book: Pontiac GTO 1964-1974 by Peter Sessler


Review
The first true American muscle car started a culture that continues to exist today. Pontiac took a chance on an unknown, and with the vision of a few key people brought excitement to the car business. The GTO stands out as the catalyst for that excitement. Owning a "Tiger" is as close as you can get to screaming "hot rods forever" out your driver-side window.
Published Dec 7th, 2015
More Classic Car News & Article Categories:
Related Articles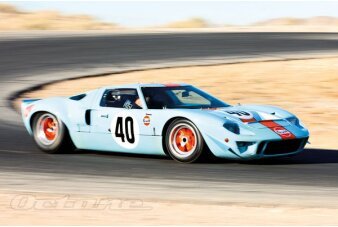 While every factory Ford GT40 is special, some are more special than others.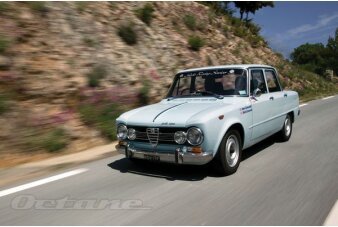 For the Linwoods historic rallying seems to come naturally.
×
1964 Pontiac GTO