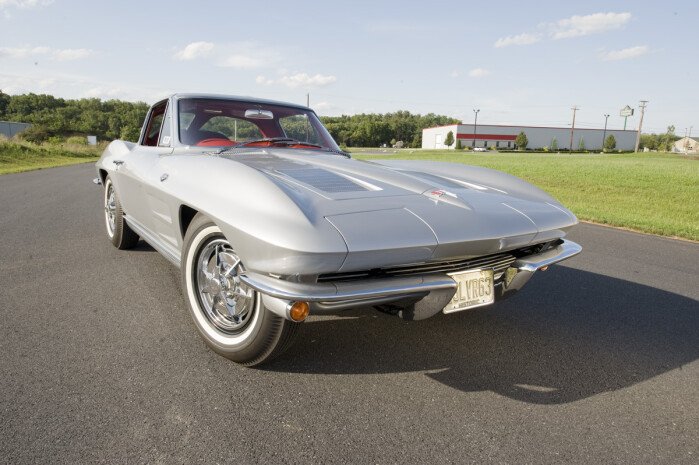 Photos by Jerry Heasley


Chevrolet's Corvette was never intended to be a big money maker for General Motors. In fact it wasn't until the late 1950s that Chevrolet made a dime on it. It was, however, the ultimate tested for future technology, and a flagship vehicle for Chevrolet. The Corvette was America's only true sports car but after 10 years of production, it was sorely in need of a major redesign. Bunkie Knudsen, Chevrolet's divisional manager, Bill Mitchell, head of styling, and Zora Arkus-Duntov, lead engineer, had a big task on their hands but were willing to step up to the plate and develop the ultimate American sports car. It would be called the Corvette Sting Ray.

Driven to surpass the Jaguar XKE in the sports car world, the 1963 Corvette was totally redesigned top to bottom. Only the powertrain was carried over from the 1962 model. The new Corvette body sat on a ladder-type frame with five crossmembers replacing its traditional Corvette X-frame. The wheelbase was reduced from 102 inches to 98 inches. The front suspension was picked from Chevrolet's passenger car parts bin, and used unequal-length upper and lower control arms and coil springs. The biggest innovation was the totally independent rear suspension that replaced the solid axle of the previous generation. Its design included a center pumpkin with twin half-shafts and a nine-leaf, transverse rear spring. The combination of chassis changes lowered the center of gravity drastically, improving handling. Combine that with a weight distribution of 50/50, and the new Corvette would stick to the pavement.

Styling was derived from the experimental Corvette CERV 1 and XP-720 cars that were test beds for the new dramatic styling. Only the twin round taillamps were carried over from the C1 model. The unique fastback roof with split rear windows lasted only one year, but remains as one of the most striking Corvette designs of all time. Total height was reduced by 2.5 inches, and electrically operated hideaway headlamps improved aerodynamics and looks. Door headers flowed upwards several inches into the roof panel. Convertibles offered both a soft top and hardtop. Twin recessed faux hood louvers rested near the front ledge of the hood. Front fenders also received non-functional louvers.

The interior was entirely new. The dash panel focused on the driving experience with same-size speedometer and tachometer pods centrally located in front of the driver. Additional warning gauges were positioned both left and right of the twin gauges. The clock, heater control, and radio were placed on the dash between the driver and passenger. A large glovebox with an integral grab bar finished off the right side of the dash. The seats were positioned farther back, provided improved comfort, and were available in both vinyl and genuine leather. The coupe, while not offering the top down experience, provided more storage space behind the seats than did the convertible.

Chevrolet's small-block was the mainstay for the Corvette. Horsepower ranged from a docile 250 to a tire-smoking 360. A three-speed manual transmission was standard equipment, with a wide- or close-ratio four-speed or two-speed automatic on the option list. Rear axle gears up to a 4.56 ratio were available. The Corvette became the fastest production car for 1963. For a mere $12,818.45 those who wanted a factory rally car ordered the Z06. Checking off the option gave buyers a power brake booster, dual master cylinder, sintered metallic brake linings, vented backing plates, larger front sway bar and shocks, stiffer springs, and a 36.5-gallon gas tank. The 360-horsepower engine, M21 four-speed transmission, positraction, and cast aluminum knockoff wheels came with the package. Later, the aluminum wheels developed leaks and were deleted from the option list along with the big gas tank, making the Z06 available on the convertible. Only 199 were produced.

The new Corvette Sting Ray was a huge success. Sales increased by 50 percent over 1962, and the press and customers loved its looks and performance. Chevrolet worked hard to take the Corvette to the next level, and it was clear that their hard work paid off. The C2 platform continued on through the 1967 model, and during those years the Corvette continued to evolve into one hell of a sports car.


Fuel For Thought
Only year for split rear window
360-hp engine included tach alarm buzzer when engine revs exceeded 6,500 rpm
Fuel-injected engine cost $430.40
Steering wheel was adjustable from under the hood
1.3% had air conditioning


Specifications
Number built – 10,549 coupes, 10,919 convertibles, 21,468 total production
Construction – Fiberglass body-on-frame, steel body skeleton
Engines – (4) 327 cubic-inch V-8s
Power/Torque – 327 cubic-inch V-8s, 250 horsepower, 350 lb-ft torque, 300 horsepower, 360 lb-ft torque, 340 horsepower, 344 lb-ft torque, 360 horsepower, 352 lb-ft torque
Transmissions – Three-speed manual, four-speed manual (close and wide ratio), two-speed automatic
Suspension front – Independent with unequal-length A-arms, coil springs, tubular shocks, and anti-roll bar
Suspension rear – Independent with fixed differential, nine-leaf transverse leaf spring, lateral struts, and universally jointed axle shafts
Steering – re-circulating ball, turning circle 41.6 feet
Brakes – 11-inch, four-wheel drums
Length/width/height – 175.2/69.6/48.9 inches
Wheelbase – 98 inches
Weight – 3,150 lbs.
0-60mph/quarter-mile – 5.9 seconds, 14.9 seconds at 95 mph (Road and Track, October 1962)
Top speed – 142 mph (Road and Track, October 1962)
MPG – 11 - 14 mpg
Price  – MSRP - $4,257 (coupe); Today – $53,500 - $97,300


Insurance cost
Insurance cost is $544/year for a $82,100 1963 Corvette coupe. This is based on 3,000 miles per year of pleasure driving.
*Based on a quote from Heacock Classic Car Insurance, www.heacockclassic.com


Engine – The 327 small-block provided 1.1 ponies per cubic inch with fuel injection. The 300, 340, and 360-horsepower engines used Chevrolet's high-performance heads with 1.94-inch intake valves. Solid lifters opened the valves on the 340 and 360-horse versions.


Handling – Handling was much improved from earlier Corvettes. With the combination of a lower center of gravity and an independent rear suspension, the new model stuck to the road like glue. The weakest links to Corvette's handling were the smallish 6.70x15-inch tires.


Alternative
1963 Shelby Cobra
Number built – 528 (1963-1965)
0-60/quarter-mile – 5.8 seconds, 13.8 seconds at 104 mph
Top speed – 130 mph
Price – MSRP - $5,995; Today – $328,800 - $502,000

Alternative
1963 Jaguar XKE convertible
Number built – 7,760 (1961-1964)
0-60/quarter-mile – 6.3 seconds, 15.5 seconds at 93 mph
Top speed – 145 mph
Price – MSRP - $5,895; Today – $62,000 - $105,700


Strong Points
America's only true sports car
Outstanding handling and performance
Restoration parts readily available
Envy of every young man


Weak Points
Prone to frame rust
Expensive to purchase
Some NOS parts are expensive
Restoration costs could exceed value


Vehicle Category
Most 1963 Corvette coupes are classified as collectors' items. Only a small percentage are driven regularly. Escalating values prohibit daily use.


What To Pay
1963 CORVETTE COUPE
MSRP – $4,257
Low – $53,500
Average – $82,100
High – $97,300
*Based on prices from the Classic Cars and Parts Price Guide, fueled by NADA.


Parts Prices
Reproduction aluminum radiator $799.99
Remanufactured Delco alternator $109.99
Carpet kit $349.99
Leather seat covers $999.95
Rebuilt rear differential (3.08 ratio) $1,399.99
*Based on information from Mid-America Motorworks
866-350-4540
www.mamotorworks.com


Websites
www.corvettemuseum.com
www.corvetteforum.com
www.corvetteactioncenter.com
www.vettetube.com
www.netcorvettes.net


Books
Corvette Fifty Years by Randy Leffingwell
Corvette by Mike Mueller
Corvette 1963 to 1967 by William Burt
The Complete Book of Corvette by Mike Mueller
Corvette Black Book 1953-2009 by Mike Antonick


Review
The 1963 Corvette embodied everything an automotive enthusiast could want. Handling was perhaps the best ever for a domestic. It stuck to the road like no other car of its time. Performance, even with the base engine, was more than adequate. When equipped with either the 340- or 360-horse small-block, the Corvette took on a mean personality. Chevrolet worked diligently to take the Corvette to the next level with the C2, and they succeeded.
Published Dec 7th, 2015
More Classic Car News & Article Categories:
Related Articles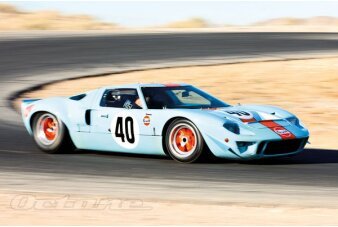 While every factory Ford GT40 is special, some are more special than others.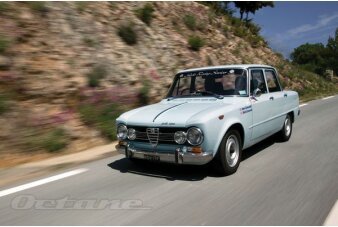 For the Linwoods historic rallying seems to come naturally.
×
1963 Corvette Sting Ray