‹ Go back
1961 Ferrari 156 F1 Replica - The "Sharknose"
As a child, it's easy to dream of something and then make it an aspiration for your adult life. Even if you crave, say, a Ferrari 250GTO, you 'only' have to wait and work very hard (or perhaps win the Lottery…). When you have 30 million euros to spare, you can start to look at one of the 36 cars around the world – and then you can realistically be a GTO owner.

Yet if you dream of buying a Ferrari 156 F1, the situation is far more complex; not because very few of these iconic cars were built, but because none survived. However, one 55-year-old dreamer finally saw his ambition realized on a rainy day in August 2010, as he lapped Spa-Francorchamps in a yellow 156 F1, nicknamed 'Sharknose' because of its distinctive nostrils.

Belgian chemical industry consultant Jan Biekens spent his childhood reading about racing cars from the Tour Auto, Mille Miglia and Targa Florio. As a young man he even briefly tried his hand at rallying. Having then established his own company, got married and sired four children, he bought a 1955 Mondial and went racing in the Shell Ferrari Historic Challenge. A few years later he added a 275GTB and Stanguellini single-seater to his collection, and his life ran smoothly until 1997, when he saw the Chris Rea movie La Passione about von Trips and the 156 F1.

'I was deeply impressed by this car,' Biekens explains. 'However, nothing serious happened until 2001, when I visited Wolfgang von Trips' home, and read Ed McDonough's book Ferrari 156: Sharknose. From then on, I dreamed only of owning and driving a 156 F1. The problem is that, as was the way in the 1960s, Enzo Ferrari had the cars crushed once they were no longer useful, which meant none of the originals had survived.'

Historically, the 156 F1 is an incredibly important machine. In 1959, Ferrari asked then-technical director Carlo Chiti to dream up a solution to race (to Enzo that, of course, meant 'to win') in the 1960 F2 and thereafter the 1961 F1 Championship under the new, downsized 1.5-litre engine rules. Chiti's answer was a revolution for the Scuderia: a single-seater with the engine behind the driver, in order to 'push' the car. It was a simple and clever design, with a tubular chassis clothed in aluminum panels.

The engine was the DOHC 65° V6 derived from the Jano 2.4, and in the hands of Phil Hill the 156 F1 went on to win the 1961 Championship in the same Monza race in which Hill's friend and teammate von Trips lost his life. Just after the very first race of 1961 – the Monaco GP – all of the cars underwent very significant modifications, with the V opened to 120°, a slightly different chassis and reworked suspension struts.

Jan Biekens recalls: 'I looked around for a few years, hoping to find something interesting. In the end I realized that, even if I don't like replicas, the only solution to having a Sharknose was to recreate one. The sole point I was sure of was that the car had to be as the original chassis #002, used by Olivier Gendebien in the 1961 Belgian GP. He finished fourth for the Equipe Nationale Belge, with the support of Scuderia Ferrari, and the car was yellow. Chassis #002 was further connected with Belgium: Willy Mairesse crashed it at Spa in 1962, and the ensuing fire destroyed it.'

Biekens goes on: 'Next, I had to decide where to build the car. In my opinion only two places could have been correct: Italy, because the Modena area has the technical competence and right soul, or England, for the long tradition of craftsmanship and manufacturing. I choose the latter mainly because I speak the language… and Jim Stokes Workshop was the place for me. Jim had already replicated the Alfa Romeo 8C and Lancia D50, and he knew exactly what I was talking about and loved the idea from the beginning. He even dictated some rules; rules I absolutely agreed with. First of all, we would use as many original parts as possible. Also, before everything else, we had to find an original gearbox and transaxle, as these would be too difficult, time-consuming and expensive to remanufacture.'

To Biekens, the target was simple: the Sharknose had to be exactly as it was in 1961, down to the smallest detail. 'I went shopping-crazy, buying every 156-related item I could find – from the 'net, collectors and at swapmeets. I uncovered many invaluable blueprints, spares, information, pictures [mostly from the Klemantaski Collection] and so on. In August 2004 we found the correct Weber 42 DCN carbs, in an ad in America's Ferrari Market Letter magazine. We bought them immediately.

'A month later we found a third carburetor in Italy, completing the set. In the meantime we selected other specialists to work with: Setford Racing for the engine and mechanicals, and Roach Manufacturing and then Vintage Cars for the body. On 3 June 2004 we finally started work on the 156 F1, as opposed to simply projecting it or accumulating parts.'

He continues: 'The easiest part was the engine: the 246 is not especially rare and was the perfect base – as in the past it had been for Ferrari himself – to make our 1.5-litre. We located one in pretty good condition, and what we couldn't find we simply rebuilt. We didn't have a single major issue, the one you fear could stop everything, but there were many little things to take care of. I'll always be grateful to Mike Mark, project leader at Jim Stokes, for all the incredible support and trust in the project, and all the old and new friends who, knowing about our work, gave us their support, information and knowledge.'

Most challenging was the car's rear end, due to its incredible suspension set-up. Biekens explains: 'Simply deciding the right shape of each piece took us more than five months. We had to be really sure, because once you give the pattern to the foundry it is final. Working out the exact shape of the chassis with the 120° engine was also time-consuming. The blueprints all related to the 65°, and we suspect the original modifications were never printed but simply arrived at in the workshop. In the end we were able to define the exact shape, studying every picture we had of the 156 F1. Some pipes had simply been modified, mainly folded, to let the new engine pass through.'

Studying the photos revealed many new details, and as usual with racing cars from the past – and probably even those built today – numerous small components changed from one race to the next. This meant the team needed to track down every single modification. In this the help of such authorities as Doug Nye was invaluable. Biekens also recalls that the windscreen was time-consuming to make, because it was so easy to crack.

As ever, luck also played a part: 'One example was the shock absorbers. The originals were made by Koni, so we thought we could just ask the firm about them. We couldn't have been more wrong… the blueprints had been destroyed in 1975 and nothing was left as documentation. We were saved by a retired employee, who had worked in Koni's technical department. He had a copy of the project, simply because he loved Ferrari and wanted to keep a souvenir of his work for the marque!'

In all, the project lasted for about six years – and Biekens says the team was in no hurry until 2009, when the Sharknose received a Goodwood Revival invitation; something you really don't want to pass-up. He recalls the 156 F1's very first outing on an open road: 'Everything went smoothly from the very beginning, but it took a while to work out the correct suspension and engine settings. The car is very reactive, and if you modify something – even very lightly – it affects other components, so it seems an almost never-ending process.'

The Sharknose is a delight to drive, if not very easy: 'You have to be very careful in opening the throttle and in fast corners, where reactions can be very quick. Every second it reminds you that it was built to be piloted by the greatest drivers. Today we are enjoying the final results, racing and driving the 156 F1 around the world, and if someone notes that it is a replica, I agree without hesitation. I would never, ever do something like that if even only one original car was still in existence.

'To avoid any risk that someone, even in the far future, could try to push it as an original "barn discovery", we added an "R" to the chassis number and shared all the main aspects of our recreation in the most public way, on the internet. But when I drove the car for the first time on its "home" circuit at Spa on 18 August 2010, I felt very proud and lucky. I felt the souls of all the vanished 156 F1s were looking down at us with approval.'

Thanks to Mike Mark at Jim Stokes Workshop (www.jswl.co.uk) and engine specialist and restorer Daniel Setford (www.setfordracing.co.uk).


Specifications
1961 Ferrari 156 F1 'Sharknose' replica

Engine Rear-mounted Type 188, 1476cc, 65° V6, DOHC per bank, 12 valves, triple Weber DCN42 carburetors.
Power 180bhp @ 9200rpm
Transmission Type 543/5 five-speed manual, multi-plate clutch, rear-wheel drive
Steering Rack and pinion
Suspension Front and rear: double wishbones, coil springs, telescopic dampers, anti-roll bar
Brakes Dunlop discs, inboard at rear
Weight 440kg
Performance Top speed 150mph
Published Dec 7th, 2015
More Classic Car News & Article Categories:
Related Articles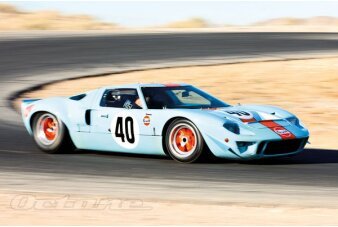 While every factory Ford GT40 is special, some are more special than others.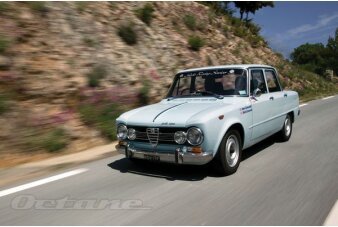 For the Linwoods historic rallying seems to come naturally.
×
1961 Ferrari 156 F1 Replica - The "Sharknose"