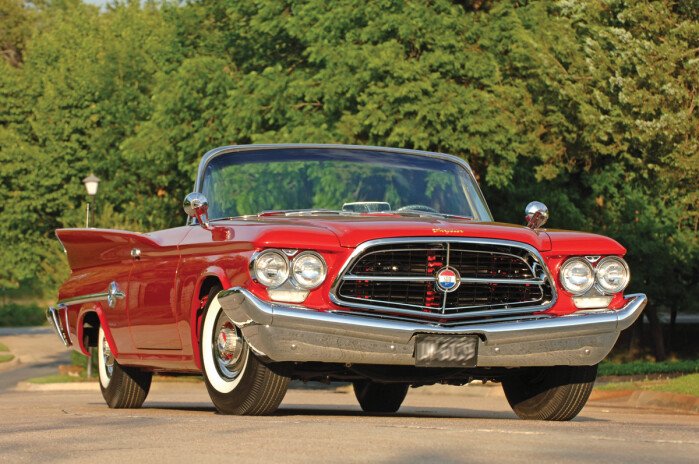 Text by Joe Babiasz, photos by Jerry Heasley


When the 1960 Chrysler 300F was unveiled to the public, it cemented the Chrysler Letter Series into a class of its own. Under the watchful eye of talented auto designer Virgil Exner, a small group of visionaries spent a massive amount of time massaging the clay into an iconic piece of Americana on wheels. While the 1960 Cadillac and Lincoln had incredible styling, only the 300F had both great styling and earthshaking performance. It was, in fact, considered a "gentleman's hot rod."
The 300F was an entirely new car from top to bottom. Earlier cars were manufactured with body-on-frame construction. The 1960 Chrysler was designed with unibody construction. This design decreased vehicle weight, reduced the number of component parts, and increased vehicle rigidity. Another advantage was added interior comfort accomplished by lowering the floor area at the footwells. Outside, new longer doors gave passengers added room to get in and out. The front grille carried over the Letter Series queues of previous years. The blacked-out aluminum front grille was comprised of a horizontal and vertical bar with the traditional Letter Series medallion at the intersection of the grille bars. Front bumpers arched upward at the ends with integral side bumper guards. The rear edge of the hood included non-functional louvers.

From the side, gently flowing horizontal feature lines started at the front fenders, kicked up mid-door, and then continued rearward to form an elegant canted fin with hockey stick-styled taillamps. In keeping with the 300 Series motif, a handsome horizontal spear with a circular red, white, and blue "300" medallion ran along each quarter panel. From the rear, Chryslers unique "toilet seat" spare tire outline was prominent on the decklid. This was perhaps the only like it or hate it design on the vehicle.  

The interior of the 300F was futuristic, to say the least. Chrysler's domed cluster and a new "Panelescent" lighting system gave the instrument panel a spaceship look. A long center console included a 6,000-rpm tachometer, shift lever, and power window switches separated four well-cushioned individual bucket seats. Front bucket seats swiveled into the door opening when the door was opened then back again when the door was closed, aiding ingress and egress.
The 413, now in its second year as the powerplant for the 300 series, used a unique cross-ram dual-quad induction system. Designed with twin 30-inch tubes, the added ram effect provided additional power. The tubes were made from cast aluminum, then painted red for an incredible visual when the hood was opened. Chrysler's base engine was rated at 375 horsepower. An optional 400-horsepower engine was available at extra cost. The additional 25 horsepower came from a shorter ram induction system with different carburetors, a wilder cam, and larger exhaust valves.

Transmission options were limited to the tried and true three-speed automatic TorqueFlite, or the new, French-built Pont-a-Mousson four-speed manual. The four-speed manual was available only on the 400-horsepower engine. When Chrysler announced the 400-horse engine/four-speed transmission option, they didn't expect many buyers. However after six weeks, the option was cancelled due to lack of available components for the four-speed transmission, much to the disappointment of the public.

Exner's vision of understated styling was perhaps best shown on the 300F. Simple flowing lines and lack of gaudy add-ons (with the exception of the faux spare tire) provided the buying public a once in a lifetime opportunity to own a piece of history. Too bad we didn't know it at the time.  


Fuel For Thought

400-horse 300F "Special" began as a 300F TorqueFlite, then was shipped to another Chrysler facility for upgrades.

The year's only luxury performer to offer a four-speed manual (approx. 15 built)

Engine compartment included removable wheelwell panels to aid in engine installation

Solid lifters opened the valves of the optional 400-horsepower engine


Specifications
Number built – 964 hardtops, 248 convertibles
Construction – Unibody
Engines – (2) 413 cubic-inch V-8s
Power/Torque – 413 cubic-inch V-8, 375 horsepower, 495 lb-ft torque, 413 cubic-inch V-8, 400 horsepower, 465 lb-ft torque (solid lifters)
Transmissions – Three-speed automatic, four-speed manual
Suspension front – Torsion bar
Suspension rear – Leaf springs
Steering – Rack and sector
Brakes – Four-wheel 12-inch drums
Length/width/height – 216.6/79.4/55.5 inches
Wheelbase – 126 inches
Weight – 4,310 lbs.
0-60mph/quarter mile – 7.1 seconds, 16.0 seconds at 90 mph (Motor Trend, February 1960 and Hot Rod, April 1960)
Top speed – 105 mph (with 2,000 rpm left on the tach: Motor Trend, February 1960)
MPG – 11.6 mpg (Motor Trend, February 1960).
Price  – MSRP - $ 5,841; Today – $39,200 - 101,200


Insurance cost
Insurance cost is $438/year for a $61,500 1960 Chrysler 300F. This is based on 3,000 miles per year of pleasure driving.
*Based on a quote from Heacock Classic Car Insurance, www.heacockclassic.com


Engine – The raised block (RB) 413 was designed for heavy-duty use. Compression ratio was 10.1:1. Its air/fuel mixture flowed past 2.08-inch intake valves and 1.60-inch exhaust valves. Twin Carter carburetors were used on both engines.

Handling – For a heavy luxury car, the 300F handled quite well. The unibody added stiffness to the platform. Heavy-duty front torsion bars and seven-leaf rear springs kept the car somewhat flat around corners. The weak links were the 14-inch bias-ply tires.


Alternative
1960 Cadillac Series 62 convertible
Number built – 14,000
0-60/quarter mile – 10.6 seconds, 18.2 seconds at N/A mph
Top speed – 115 mph
Price – MSRP - $5,455; Today – $20,900 - $48,900

Alternative
1960 Lincoln Continental convertible
Number built – 2,044
0-60/quarter mile – 8.7 seconds, 16.3 seconds at 81 mph
Top speed – 116 mph
Price – MSRP - $7,056; Today – $18,000 - $77,300


Strong Points
Excellent appreciation
Outstanding styling
Unique cross-ram engine


Weak Points
Low production, difficult to find
Expensive
Restoration parts hard to source


Vehicle Category
The current values of these cars prevent them from being used on a regular or semi-regular basis. Most are brought out for major shows only.

What to pay
1960 CHRYSLER 300F
MSRP – $5,841
Low – $39,200
Average – $61,500
High – $101,200
*Based on prices from the Classic Cars and Parts Price Guide, fueled by NADA and available wherever Classic Cars and Parts magazines are sold.


Parts Prices
Owners must rely on purchasing NOS parts at swap meets and salvage yards for used 300 parts.


Websites
www.chrysler300club.com
www.chrysler300site.com
www.chryslerheritage.com
www.300f.com


Books
Chrysler Buyer's Guide by Richard M. Langworth
Chrysler 300 America's Original Muscle Car by Robert Ackerson
Chrysler 300,1955-1970 Gold Portfolio by R.M. Clarke
MOPAR Muscle: 50 Years by Robert Genat


Review
The 300F was without a doubt the watershed model for the 300 Series. It was quite frankly the ultimate luxury performance car. Today it is sought after in the collector car arena with prices well into the six figures.

Published Dec 7th, 2015
More Classic Car News & Article Categories:
Related Articles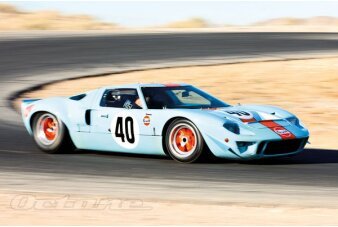 While every factory Ford GT40 is special, some are more special than others.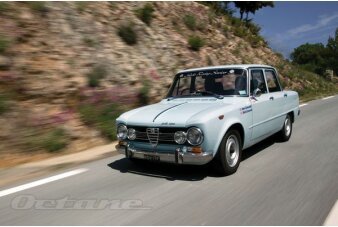 For the Linwoods historic rallying seems to come naturally.
×
1960 Chrysler 300F