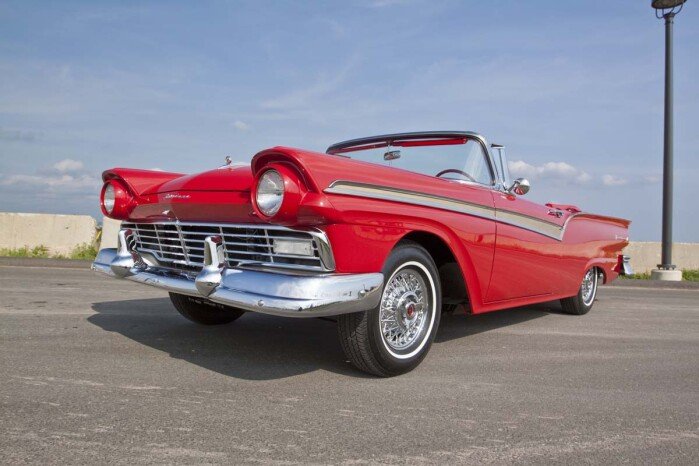 Photos by Brendan Moran


The car business was going gangbusters in 1957. Each of the Big Three was pumping out new body styles every other year in an attempt to steal sales from the competition. Horsepower and cubic inches were growing, and the buying public was eating it up. The Big Three, along with the few independents, were racing to deliver the ultimate American ride. Prior to 1957 Chevrolet clearly held the trophy for styling and performance, however things were about to change. Ford's design team perfected what was arguably the most beautiful car of the decade. With less chrome than Pontiac or Chevrolet, the 1957 Ford, in a simplistic way, looked futuristic at every corner. But it wasn't just sheetmetal changes that made the new Ford a success. The fact was that along with beautiful styling, the Ford Y-block received a big power boost.

Starting with a new, longer, and wider chassis, Ford improved ride and handling by using longer leaf springs in the rear and an improved front suspension system. Fourteen-inch wheels replaced the previous year's 15-inchers. The combination of the new body style, smaller wheels, and redesigned chassis lowered the total height of the car by four inches while at the same time lowered the center of gravity without sacrificing interior space. Part of the improved handling came from positioning the rear springs outside of the frame rails, which provided better cornering.

Outside, all-new sheetmetal redefined styling. The headlamps were recessed into deep eye-browed fenders. For the first time, the hood would open from the rear and featured a simple hood ornament replacing the faux mini scoop of 1956. Its grille was similar to the previous years, with horizontal bars creating a wider look. Parking lights were now affixed within the grille, and a new slimmer bumper gave the car a wider look. Ford, like Chevy, was known for dramatic side molding and they didn't disappoint for 1957. Fairlane models included a split horizontal molding that went from the front of the vehicle to the rear edge of the door and laid within it, a stunning ribbed brass insert. Rearward of the door, the molding kicked up and followed the upper edge of the quarter panel. Ford continued to use the single round taillamp design, but it was much larger in size and now included a stylish fin sitting above it at a 45-degree angle. Ford's styling was simple yet elegant.

A first for any manufacturer was the availability of 21 models–including the Ranchero, a pickup truck based on a Ford passenger car. Another first was the design of a retractable hardtop called the Skyliner. The top would retract, folding the front of the roof under the rear portion, and then lower the assembly into the trunk. It was a very complex system and prone to problems, but it did provide a very unique type of convertible. The primary complaint with the Skyliner was that it provided little actual trunk space since the top took up most of the room. Other models included two and four-door sedans and wagons, two and four-door hardtops, and a traditional convertible. Ford had all of the bases covered.

The 1957 interior was completely redesigned. A new instrument panel showcased a large sweeping speedometer with a fuel and temperature gauge located at each end. An optional padded instrument panel top was available. Seat covers, as well as door panels, were also redesigned. The seating area was more than adequate for six and included more headroom than 1956. Ford offered a total of 37 different fabric combinations to please even the fussiest buyer.

Powertrain options ranged from a 223 cubic-inch "Mileage Maker" six-cylinder, to 272, 292, and 312 cubic-inch Y-block V-8s. Horsepower ratings ranged from 144 with the six-cylinder to 300 with the supercharged V-8. Other "racing only" options were also available through Ford dealerships. 

NASCAR racing was in full bloom during the mid-1950s, but Ford wasn't making it to the winner's circle very often. Chevrolet–with its legendary 265 cubic-inch small-block–had been eating up the tracks, leaving Ford and others in the dust. Ford's Y-block V-8 simply was not competitive. To improve their odds of winning, Ford put together a program to substantially increase the horsepower of their V-8 powertrains. Paxton-McCulloch was contracted to produce a supercharger for the 312 cubic-inch engine built specifically for NASCAR. NASCAR required that a minimum of 50 cars be produced in order to race, and Ford complied by building between 50 and 100 supercharged 312 powerplants equipped with the Phase 1 Paxton-McCulloch VR57 supercharger. The unit produced six pounds of boost and was rated at a modest 300 horsepower (Paxton claimed 360). The combination proved to be successful in racing but later led to a ban on supercharging, multiple carburetion, and fuel injection.

In the end, the 1957 Ford Fairlane proved to be a big success with 637,161 sold. The Sunliner convertible chocked up 77,728 of those sales. Clearly it was the combination of great styling and improved performance that enabled Ford to beat Chevrolet. Today, the 1957 Ford is considered by many to be the most stylish Ford product of that decade.


Fuel For Thought
New wraparound windshield
Available in 12 solid and 19 two-tone color combinations
First year for a hardtop convertible
On 9/9/1956, a stock Ford averaged 108.16 mph for 50,000 miles at Bonneville


Specifications
Number built – 637,161
Construction – Body-on-frame
Engine – 223 cubic-inch six-cylinder, 272 cubic-inch V-8, 292 cubic-inch V-8, 312 cubic-inch V-8
Power/Torque – 223 cubic-inch six-cylinder, 144 horsepower, 212 lb-ft torque, 272 cubic-inch V-8, 190 horsepower, 270 lb-ft torque, 292 cubic-inch V-8, 212 horsepower, 297 lb-ft torque, 312 cubic-inch V-8s, 245 horsepower, 332 lb-ft torque, 270 horsepower, N/A lb-ft torque, 300 horsepower, N/A lb-ft torque (supercharged)
Transmissions – Three-speed manual, two-speed automatic
Suspension front – Unequal length upper and lower control arms with coil springs
Suspension rear – Longitudinal leaf springs
Steering – Worm and sector
Brakes – Four-wheel drum
Length/width/height – 207.7/77.0/56.2 inches
Wheelbase – 118 inches
Weight – 3,297 lbs.
0-60mph/quarter mile – 9.5 seconds, 18.9 seconds at 76 mph (Motor Trend, February 1957)
Top speed – 111 mph (Motor Trend, February 1957)
MPG – 11 - 15 mpg est.
Price  – MSRP - $2,605 (Fairlane 500 Sunliner); Today – $17,200 - $50,400

Engine – The Y-block was improved for 1957 with larger valves, higher lift cam, and large-bore intake manifold. The engine provided lively–but not Chevy–performance. The 312 was prone to cracked blocks and inadequate rocker shaft oiling.

Handling – Handling was much improved over 1956 due to a lower stance, revised front suspension, and the moving of the rear springs outward. Excessive speed in turns caused extreme leaning. Ride over rough roads was smooth.


Alternative
1957 Chevrolet Bel Air
Number built – 166,426 (Hardtop)
0-60/quarter-mile – 11.1 seconds, 18.2 seconds at 77 mph (270HP)
Top speed – 115 mph est.
Price – MSRP - $2,399 (Bel Air hardtop); Today – $26,000 - $65,500


Alternative
1957 Plymouth Fury
Number built – 7,438
0-60/quarter-mile – 10.7 seconds, 17.0 seconds at 77 mph
Top speed – 113 mph est.
Price – MSRP - $2,925; Today – $17,500 - $34,300


Strong Points
Outstanding styling
Aftermarket parts available
Large number of cars still available
Cheaper than a 1957 Chevy


Weak Points
Typical rust issues of un-restored cars
Not a 1957 Chevrolet
Original powertrain has just okay performance
Skyliner top can have problems


Vehicle Category
Most 1957 Fords are driven semi-regularly. Even the rare retractable hardtop Skyliner is seen at many local shows. Very few are trailer queens.


What To Pay
1957 FORD FAIRLANE
MSRP – $2,605
Low – $17,200
Average – $31,900
High – $50,400
*Based on prices from the Classic Cars and Parts Price Guide, fueled by NADA and available wherever Classic Cars and Parts magazines are sold.


Insurance cost
Insurance cost is $XXXTO COME/year for a $31,900 1957 Ford Fairlane 500 Sunliner. This is based on 3,000 miles per year of pleasure driving.
*Based on a quote from Heacock Classic Car Insurance www.heacockclassic.com


Parts Prices
Rocker patch panel $75.00
Brake shoes $50.00
Gas pedal $15.00
Radiator hose $20.00
Outside door handle $62.50
Glove box liner $25.00
*Based on information from Dennis Carpenter Inc.
704-786-8139
www.dennis-carpenter.com


Websites
www.1957ford.com
www.57fordsforever.com
www.fordforum.com
www.skyliner.org
www.ford-y-block.com


Books
1957 Ford Owners Manual by Motorbooks
1957 Ford Shop Manual on CD by Ford Motor Company
Ford Y-Block by J. Eickman
Classic Motorbooks Ford Retractable: 1957-1959 by Jerry H. Magayne


Review
The 1957 Ford ushered in a new era of styling and performance. Ford's team put together one of the best combinations of styling and performance to that point. The fact that Ford outsold Chevrolet is a testament to that.
Published Dec 7th, 2015
More Classic Car News & Article Categories:
Related Articles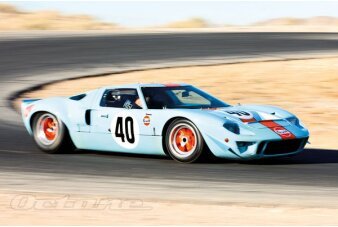 While every factory Ford GT40 is special, some are more special than others.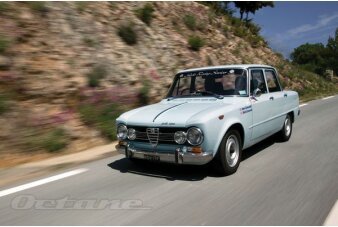 For the Linwoods historic rallying seems to come naturally.
×
1957 Ford Fairlane