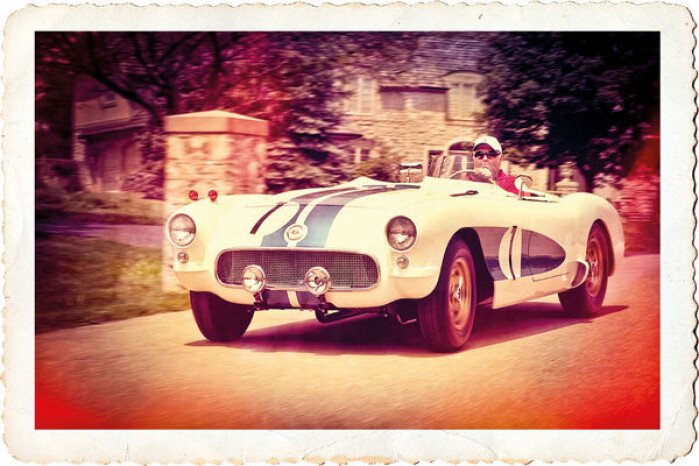 There's no doubt about it: suburbia becomes the little beast. Lots of race cars would look a bit contrived in these circumstances, like Muhammad Ali posing in his boxing trunks at a backyard barbecue. But the machine that made the Corvette 'America's Sports Car' seems perfectly natural on a sunny summer day in the Ungurean family's lovely Ohio neighborhood, quite at home among big rambling lawns, broad, peaceful streets and laughing kids on bicycles. The jingle from that classic Chevy television advert suddenly won't leave my head – 'Baseball, Hot Dogs, Apple Pie and Chevrolet' – and I suspect tonight I'll be combing the web for the video.

The judges at the St John's Concours, Detroit's traditional home event, most likely remember the tune well; in four days from now they will present Chuck Ungurean's Corvette SR with the Spirit of Detroit Award. At a time when the American automotive industry is staging a gritty comeback from the very edge of extinction, the symbolism is apt: in 1956, with the Corvette's fortunes spinning rapidly toward the drainhole, this is the car that took a storybook top-ten finish and class win at Sebring against Europe's best. It was the brand's first major success, and is widely credited with saving the entire Corvette programme.

Of course, the old Detroit hands on the St John's Concours jury also know that quite a different source inspired Chevrolet's Sebring effort in the first place – the Ford Motor Company. When the Ford Thunderbird debuted in late 1954, the Corvette was already in its second model year and foundering; it was seen by most as merely an automotive fashion statement, and even the replacement of its underwhelming straight-six engine with Chevrolet's sparkling new 265ci V8 generated little real customer excitement. Whispers were starting to circulate at Chevy executive levels that maybe this idea should be left on an ice floe to silently drift away.

Then Thunderbird sales took off, and General Motors executive backs stiffened overnight. Discreetly abandoning a struggling model would have been one thing, but 16,000 T-birds sold in their first year versus 700 Corvettes was a public spanking GM couldn't tolerate. Especially with Ford and Chevy fighting tooth and claw for US market dominance, and with a number of very distinguished derrieres on the line as corporate daddies of the thing – GM styling guru Harley Earl and Chevrolet chief engineer Ed Cole being foremost among them.

Something obviously had to be done, right then, and the best alternative on the table was the proposal of Chevy Engineering's new boy Zora Arkus-Duntov. The part-time racer – and a European import himself – championed building the Corvette into something that could legitimately take on the European exotics then dominating American sports car racing. After all, winning sells cars, as the Chevy sedans in NASCAR had proved, and in late 1955 Cole turned Duntov loose on the project.

More importantly for our storyline, Cole also hired one of the country's finest international drivers and development engineers, John Fitch, to take the results of Duntov's tweaking and win races with them. The Sebring 12 Hours, Cole reckoned, would be a good trophy to start off with: after Le Mans, Sebring was the toughest circuit race in the world, as well as America's premier sports car event. You didn't get to Ed Cole's position by thinking small.

Chevy's engineers duly presented Fitch with four hot-rodded Corvettes for the March 1956 Sebring 12 Hours; three equipped for the production class, with beefed-up versions of the standard 265ci V8 and three-speed transmission, and the fourth a prototype entry with a bored-out, tricked-up 307ci and ZF four-speed. All the engines were impressive; the 307, however, was a ripper. With two Carter four-barrels and the now-legendary 'Duntov Cam', it was said to make 255 horses – and that same car had already taken Duntov to 150mph on the beach at Daytona.

Unfortunately, the cars were presented only five weeks before the race, and naturally a few piddling, minor problems would pop up in testing. As Fitch later explained: 'It was quite some time until we could finish a full lap at racing speed before something let go.' Failed motor mounts, busted diffs, wayward fanbelts, wonky brakes… all the typical problems of road cars (even tweaked ones) converted to race cars required sorting post-haste, plus the issue of the Corvette's initially less than stellar handling. One early testing summary sent to Detroit reported: 'Mr Fitch compared the handling… to a completely "beat-out" Jaguar with no shock absorbers left…'

So Fitch proceeded in the time-honoured tradition: he broke as much stuff as humanly possible and had Chevy build it back better. Some solutions were relatively straightforward, such as duplicate belts to keep at least one on the pulleys, and a neat section sliced from the steering shaft to give the driver more steering wheel room. Others, such as revised trans and axle ratios, caused long nights at the factory.

Significantly, the solutions were also immediately added to the Chevrolet options list (short steering shaft included) – partly for homologation reasons, yes, but also to get the hot tricks into privateer hands ASAP. Over the coming years, this would prove to be the true secret of Chevy's success as a performance brand, from super-speedways to Saturday-night street drags. The company even created a special Corvette model to hold the Sebring upgrades: it was called the SR, as were the '56 Sebring racers. Even if the firm never really announced what the S and R stood for, you could nonetheless buy one, provided you ticked the right order form boxes.

The big surprise, though, and probably to everyone concerned, was how well everything finally came together. Granted, two of the production-class cars DNF'd with mechanical problems, but the third placed a respectable 15th overall and sixth in class; the prototype, wearing Number One and driven by John Fitch and Walt Hansgen, another pioneering American international, took ninth and won its class. In addition, Chevrolet claimed production team honours and overall team honours, and the all-important bragging rights for beating the likes of Hawthorn's D-type, Moss's Aston, Phil Hill's Ferrari and 51 of the total starters.

General Motors wasted no time exercising those rights. The publicity campaign started almost before the engines had cooled, led by a stark, dramatic print advertisement headlined 'The Real McCoy' above a twilight shot of Number One in the midst of a heroic pit-stop, lights ablaze. Getting the Corvette right may have taken a while, the copy basically said, but it's an authentic world-class sports car now, and we've just proved it. Which, in fact, was only the truth; thanks largely to Ed Cole's vision and determination, the model had earned its place as America's Sports Car, and it's been there ever since.

Number One's share of the spotlight didn't last long, however. A few weeks after Sebring it went to the GM Proving Grounds in Mesa, Arizona, for high-speed testing, and ultimately reached 157.27mph. Records are sketchy or non-existent from that point on, but it was then apparently de-commissioned and put into storage there, and not seen again until it quietly appeared in the custody of a former project insider around 1990.

How, why, when and by whom it was removed from Mesa is not known (a labour of love, perhaps?), only that prominent collector John Baldwin bought the car and treated it to a long and comprehensive restoration, selling it later to Harry Yeaggy. Yeaggy's private Cincinnati museum has also housed the Duesenberg SJ Mormon Meteor, the Hobbs/Hailwood Ford GT40 from Le Mans 1969, and a Goldfinger Aston Martin DB5.

Today the Corvette lives in the garage of lifelong Corvette enthusiast Chuck Ungurean. Purchased from Yeaggy in early 2011, it's still resto fresh and immaculate; it might well have teleported directly off the '56 Sebring starting grid, right down to the genuine Firestone Super Sport racing tyres reportedly from the original team allocation. Driving it on those ancient bias-plies is a timewarp experience: steering and tracking feel understandably vague, even at speeds prudent on the eve of a major concours, and the brake pedal on the all-drum set-up is high and hard, with almost no free travel at all. Stopping is surprisingly effective, too, although it takes a substantial foot by modern standards.

A long, spindly shift lever snakes far up under the dash to find the ZF gearbox, ignoring the old three-speed gate still on the floor, and the throws are so huge you almost have to make two trips. But the shifting action is smooth and positive, and the relocated steering wheel is positioned quite well, even if the flat, firm Chevy road seat does little to keep you properly centred-up behind it.

There need be no period-related quibbles about the engine, though; the Chevy smallblock V8, regardless of age or displacement, has always been a marvel of low weight, high specific output and willing revs. This one fires on the button, idles with an enticing, grumpy lumpiness, then clears its throat just after take-off and starts to surge urgently forward; it's the kind of engine that begs to be cut loose, and it breaks your heart having to hold the car back. 'I've been thinking,' Chuck says, after we've had our drives. 'Maybe someday I'll get an extra set of new wheels and tyres, and do some track days, maybe even some vintage racing.'

Three weeks later, finally back home in Oxfordshire from my US travels, I'm catching up on emails, and there's a message from Chuck. Got new tyres, it reads, going to drive the car at Road America this weekend. It's a wise man, I have to believe, who isn't afraid gracefully to accept the inevitable.

Thanks to Chuck and Isabel Ungurean and sons Charles and Nicholas, Corvette authorities Loren Lundberg and John Neas, and the Solid Axle Corvette Club publication On Solid Ground.
Published Dec 7th, 2015
More Classic Car News & Article Categories:
Related Articles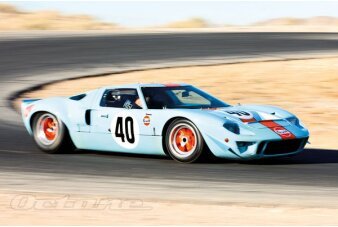 While every factory Ford GT40 is special, some are more special than others.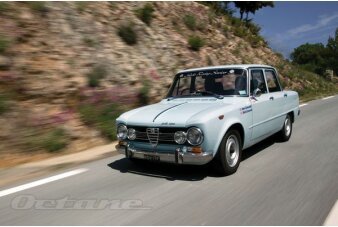 For the Linwoods historic rallying seems to come naturally.
×
1956 Chevrolet Corvette SR