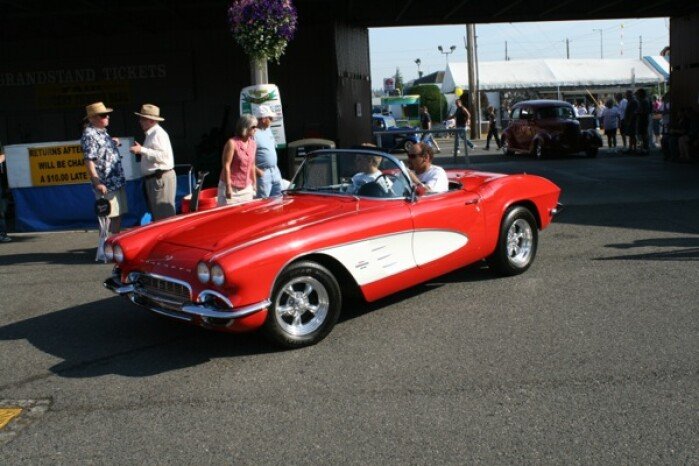 What a difference a year makes. In 1955, the Corvette was on the ropes struggling to stay alive. The new small-block V-8 engine and competition from Ford's sporty two-seater Thunderbird helped Corvette answer the bell for 1956. The substantially revised body styling, along with even more potent V-8 engines, made Corvette more than just a contender–these changes started Corvettes on the way to being champions of the sports car world.

All 1953-62 Corvettes are considered C1 (first-generation) cars, but the 1953-55 cars are really their own subset. The major 1956 restyling set a new course for Corvette style. Even though 1956-62 Corvettes are lumped together, restyling can separate them into three subgroups: 1956-57, 1958-60, and 1961-62.


Revved Up For Success

Greatly improved performance, styling, handling, and comfort were all part of the restyled 1956 Corvette. The dashboard was about the only vestige of the 1955 Vette. The Corvette was now a true convertible with roll-up windows. The auxiliary hardtop was a factory option. The 265 cid V-8 was available in 210- and a dual-quad 225-horsepower version. When the RPO 449 high-lift camshaft was ordered, horsepower hit a reputed 240. The new styling featured coves in the front fenders and doors. The coves could be painted either beige or silver. This two-tone look was very popular.


The Magic Year: 1957

1957 was a "highlight reel" year for the auto industry. A huge number of iconic/cult cars were produced. It was a time when performance was coming on very strong, but before excessive styling gimmicks took hold. Virtually everything Chevrolet produced was a winner in 1957, and the still-freshly restyled Corvette was the leader of the pack.

Engine displacement was increased to 283 cubic inches. GM's Rochester carburetor division introduced a mechanical fuel injection system cleverly called Ramjet. The new "fuelie" Corvettes came in 250- and 283-hp versions. The latter put the Corvette at the sensational one horsepower per cubic inch zenith.

Corvettes were increasingly successful at racing venues, and the expanding option list made it possible to order a car with either all-out performance, or comfortable cruising in mind. 1957 was the end of rival Thunderbird two-seaters, but Corvettes were just getting started on their way to being America's sports car.


1958 And Onward

Styling veered slightly in 1958, but not to a detrimental level. Quad headlights were in vogue, and Corvettes did as handsome a job as anyone with them. Performance continued to improve, with the 283 peaking at 315 hp in 1961. The enlarged-for-1962 327 small-block hit even greater heights with a 360-horse fuelie motor. Sales climbed every year to close out the C1 era, with 14,531 units sold in 1962.


What To Look For

Originality, completeness, and documentation are key things to look for in a 1956-62 Corvette. The more highly optioned or rare a particular car is, the more important those elements are.

In the case of mildly modified cars, the above factors are important along with the ability to return the car to its stock condition. For cars that have been modified beyond full restoration and cars without their original drivetrains, the current condition of the car is what counts. The quality and functionality of the mods–along with the car's aesthetics–are paramount. It helps if the modifications are tasteful and on the conservative side, because the wildest cars are the quickest to become outdated and lose value.  

Rust is always a Corvette problem, because only the bodies were fiberglass. Not all early Corvettes were sold in California and Arizona. A car that sat in the weeds for decades could have frame damage, but this is easier to fix than undetected body problems.

Poor repairs are another big problem. Many (if not most) Corvettes were driven hard after they hit the used car market. These early Corvettes were popular theft targets, whether for parts or joy rides. As a result, many were crashed and/or stripped of their running gear. Those unlucky Corvettes were likely destroyed after their most salvageable parts were recycled, but some of these rolling wrecks survived.

Rolling C1 wrecks are relatively common offerings at big swap meets. The problem with these cars is that they can cost more to restore than buying a good car in the first place. The best reason for buying a basket case is if it is a verifiably rare Corvette such as a 1957, fuel-injected, four-speed car.


Where To Find Them

Unlike the more rare 1953-55 Corvettes, the later C1 cars from 1956 through 1962 are easy to find. There's much interest in these cars and a good supply, so they tend to change hands fairly often. Prices have been strong for many years, and strong prices have the effect of bringing out "hidden" cars.
This era of Corvettes is a favorite among the baby boomer collectors, but that group's advancing age may have divergent influences on 1956-62 Corvettes. On one hand, the still financially confident boomers are likely to be out buying their dream cars while they're young enough to enjoy them. College expenses are likely behind this group, so there can be extra discretionary income.

On the other hand, boomers who didn't fare well in the housing/stock/job markets may be ready to consolidate their holdings and downsize. This part of the group could be ready to make the hard decisions to let some of their toys go. Translation: now is a good time to talk to baby boomer owners of Corvettes you admire. Even if a car isn't actively for sale, this could be an excellent time to open a low-pressure dialog about contacting you if/when the owner decides to sell.

This era of Corvette can be found at almost any outdoor car show bigger than a local drive-in gathering. There are also lots of regional and national Corvette meets. The major meets such as Bloomington Gold, Corvettes At Carlisle, and the Corvette Fun Fest put on by Mid America Motorworks are guaranteed to be swarming with C1 Corvettes.

Major auctions attract lots of high-caliber cars (usually with corresponding high prices). The Internet and specialty Corvette publications are good sources. Specialty Corvette dealers are another fine source. Their prices may seem high, but remember that everything is negotiable. And, unlike indecisive private sellers, dealers usually finance their inventory so rapid turnover is essential to their financial success.


Options And Colors

The quality of the car is the most important factor in determining value, but color and options are also very influential. The most valuable 1957-62 option is fuel injection. This is especially true of 1957 Corvettes equipped with the four-speed manual. The irony of fuel injection is that when these cars were relatively new to the used-car market, many owners discarded the fuel injection systems in favor of easier-to-tune, smoother-idling, single four-barrel carburetor setups. There was a time in the late Sixties when Rochester fuel injection units and manifolds could be bought in the hundred-dollar range. Now prices start at $5,000 and go up from there. Completeness is very important–buying fuelie parts a la carte is extra expensive.

Many people naturally assume that all Corvettes had four-speed manual transmissions. A four-speed fits the Corvette image. The truth is, lots of them came with three-speed manual transmissions and two-speed Powerglide automatics. The three-speed was the only manual transmission in 1956 and at the start of the 1957 model year. The vaunted four-speed wasn't introduced until April 1957. As a result of the late availability, only 664 units were sold. In 1958, the first full year of four-speed availability, production rose to 3,764 units. Four-speed popularity continued to rise throughout the C1 era, peaking at 11,318 units in 1962–out of a total production of 14,531 cars!

Any of the high performance or racing-related options such as metallic brakes, heavy-duty suspension, and extra-capacity gas tanks are highly desirable. Power windows, the power folding convertible top, and the auxiliary hardtop are all value-enhancing options.
The various shades of red (1956-57 Venetian Red appears almost orange) and black are the color chart popularity leaders. Only 65 cars were painted Inca Silver in 1957–with 193 in 1958–and Cascade Green appeared on a mere 140 Corvettes in 1960, making them the most rare colors. Approximately 15,000 1956-62 Corvettes were white.


Best Buys

The best buys are those offered by motivated sellers. This is a very diverse market segment, so it's hard to pinpoint particular years or drivetrain combos as best. It depends largely on your expectations. If future appreciation/salability is number one, then a fairly priced 1957 fuelie four-speed should be your goal. There are no giveaways on these cars.

If you want the great looks of a 1957 without the premium price, seek a nice 1956 Corvette. These two years are outwardly identical. A Powerglide-equipped car could work well here, both from a price standpoint and for easy cruising.

Among the 1958-60 body style the 1958s used to be the bargain cars, but their extra chrome has caught on, making them generally more expensive than the 1959-60 cars. This group as a whole used to be the "blue light specials," but not anymore. Base engine cars can still be affordable. When searching for modified 1958-60 Corvettes, be aware of the aftermarket bodies that originally came from Mexico. These cars aren't exact replicas, and who knows about their paperwork?

Of the 1961-62 Corvettes, the 1962s have a slight edge as being the last of the solid-axle cars. That makes 1961s a potentially better bargain. People tend to associate 1962 Corvettes with the cult TV show Route 66, but the heroes, Tod and Buz, started out in a 1961 Corvette when the show debuted in the fall of 1960.

Mildly modified cars with non-matching-numbers running gear can be good values, but they don't have nearly as much room for appreciation as totally original, fully documented cars. Restomod Corvettes are great drivers, and they typically sell for less than it costs to build one.

Regardless of which 1956-62 Corvette you choose, they're all knockouts.



The Gold Standard for 1956-62 Corvettes is the fuel injected 1957 with a four-speed transmission. Any color is good, but Venetian Red is great.



These are the magic words for first-generation Corvettes. When you see Fuel Injection on the side of a 1957-62 Corvette, the value spikes regardless of the car's overall condition.



The addition of the Rochester fuel injection unit on 1957 Corvettes made it possible to obtain one horsepower per cubic inch on the 283-horse engine. There was also a 250-horse version.



If you want to find the largest assortment of the highest-caliber early Corvettes, attend a National Corvette Restorers Society judged event such as Bloomington Gold. The cars vying for awards are thoroughly inspected by leading Corvette restoration authorities.



Interiors of 1956-57 Corvettes have a distinctive "waffle" pattern on the seat centers and on the door panels. This same pattern was used on the 1955 Chevy Nomad. The two color choices were beige and red. Seat belts weren't a factory option, but mounting points were provided for dealer installations.



Fuel injection engines hogged the limelight, but over three times as many 1957 Corvettes were equipped with dual four-barrel carburetors. This is the powerful 270-horse version. There was also a dual-quad, 245-horse option.  



Modified or restomod early Corvettes are a popular subgroup. Many of these cars were hot rodded early on, but the most popular current trend is to upgrade a classic body with modern Corvette running gear. This Cascade Green 1957 has an LS3 engine backed by a T-56 six-speed trans.



Any number of late-model Corvette engines are popular choices for restomod cars, but it's hard to go wrong with a mighty 7.0-liter LS7. Putting modern Corvette running gear in a lightweight early body makes for some awesome performance.



Chrome was king in 1958 at General Motors, so even the restyled Corvette received an extra dose. The unique trunk spears disappeared for 1959. Another 1958-only styling touch was the faux hood louvers.



The quad headlights first appeared in 1958 (it was the year of extra headlights for all GM products). The chrome headlight bezels led to fender top spears. This unrestored original 1960 Corvette is the very rare Cascade Green (140 cars painted this color), which is quite different from the more turquoise Cascade Green of 1956-57.



Corvettes were restyled for 1961. The most noticeable change was the rear quarter panels and taillight panel. The upswept look was a hint at 1963 rear styling. 1961 was the last year that a contrasting cove color could be ordered. Adding period-correct custom wheels like these Halibrand mags is a nice way to modify a car without sacrificing its originality.



This very nice 1962 Corvette sold quickly two years ago with an asking price of $34,500, even though it had a later 350 engine. Roman Red is one of the most popular 1959-62 colors.



Dashboards/instrument panels received a major restyling in 1958. The tachometer was now located just above the steering column, where it was much easier to read than the central dash location in 1957. The seats and door panels were now pleated, as seen in this 1962 Vette.



Horsepower zoomed past one per cubic inch in 1962, when the RPO 582, fuel-injected engine delivered 360 ponies from only 327 cubic inches. This 360-horse example is backed by a T-10 four-speed and a 4.11:1 Positraction rearend.



A thorough underside inspection should be performed before buying any classic Corvette. Besides looking for any rust problems, you can also get a better look at the backside of body panels. This 1959 Corvette was flawless from top to bottom.



Just because Corvettes have fiberglass bodies, that doesn't mean they can't have rust issues. This barn-find 1961 had lots of rust in the engine compartment and on the chassis. All the chrome was bad, and even the steering column hub was rusty.



The older and more valuable C1 Corvettes become, the more willing people are to restore marginal cars. This remnant of a 1961 Corvette was offered for $6,000 at the most recent Corvette & High Performance Meet in Puyallup, WA. There was no running gear, and the car only had a bill of sale (and no title).

Published Dec 7th, 2015
More Classic Car News & Article Categories:
Related Articles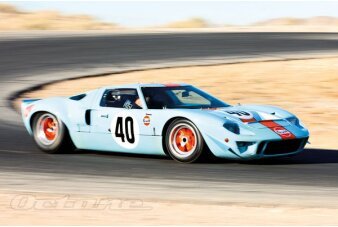 While every factory Ford GT40 is special, some are more special than others.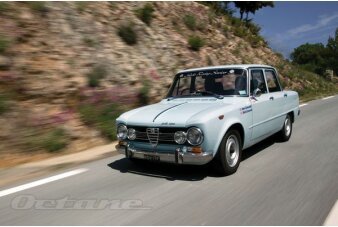 For the Linwoods historic rallying seems to come naturally.
×
1956-62 Corvette Buyer's Guide