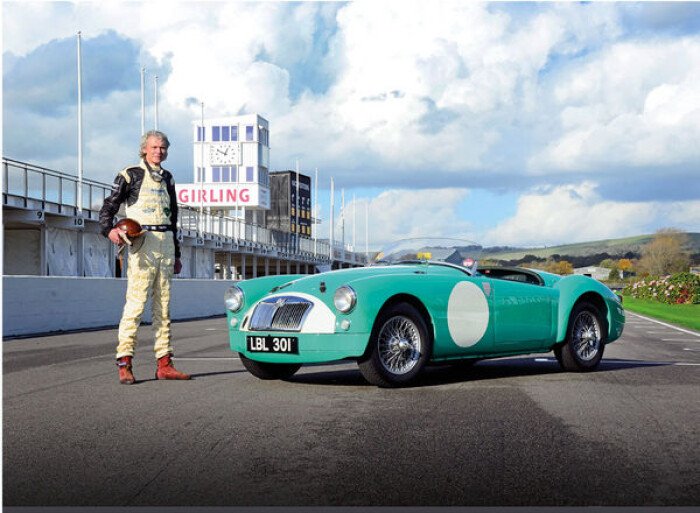 This one would make a good feature for Detective Monthly magazine, if such a thing exists. It's the story of MG EX182/38, originally a 1955 Le Mans MG team car – and a very complicated story it is, too. Ex-works cars attract a substantial premium, and most prized are obviously those preserved in something close to original condition. The trouble is that those old works teams altered their competition cars frequently, and in many cases fundamentally. Restoring a car with such a muddled history can present a puzzle.
When the present owner, Jon Savage of Rhode Island, USA, first saw LBL 301 in 2004, it was in Jerry Goguen's collection on the Vermont/New Hampshire border. Goguen, who died in 2002, was a great enthusiast and his museum was regarded as the world's largest private collection of MGs. The car, described there as 'Le Mans car EX182/38 driven by Ted Lund/Hans Waeffler', was for sale at the time and had attracted plenty of attention. Many had come to inspect it, but all had declined to make an offer. It's no secret that when he was alive Goguen was asking a very high price, and it's equally public knowledge that EX182/38 had perplexed the experts for years. For a start, it wasn't the Lund/Waeffler car at all…
Jon, an amateur enthusiast clued up on MG history, was just as puzzled as all the others when he got to inspect it closely. It just didn't seem to add up. It looked like a 1955 Le Mans MG but the body was steel, not aluminium, and it was missing the four-wheel disc brakes that he suspected had been fitted later on. The Le Mans dashboard was there, however, as were the proper seats, along with some internal aluminium panels, and signs that the correct 20-gallon fuel tank had once been fitted.
Jon was intrigued but it was his sons, Justin and Jeremy, who encouraged him to buy it. Back at home, they set about inspecting it closely and immediately found an important serial number marked on the transmission: EXP5, indicating Le Mans 1955. They still did not know what their car really was, but it was important enough to get in touch with one of the world's leading MG competition car experts, Bob West. As it happened, Bob had previously visited Goguen's museum, and had been as nonplussed by EX182/38 as everybody else. In 2006, the car was shipped to Bob's workshop in East Hardwick, Yorkshire, to be fully dismantled and investigated.
Step by step, evidence was accumulated, with even the Yorkshire Police being called in to check the chassis. Using forensic equipment, they found a serial number that Bob recognised: it proved the chassis to be an Abingdon Competitions Department replacement made in September 1956. Traces of original British Racing Green paint on the oil cooler confirmed the 1955 Le Mans history of that part, while similar traces of brighter green paint on the remaining inner aluminium panels and on the chassis showed that EX182/38 had been one of the Fitzwilliam Racing Team cars in 1957.
They were getting there, but the picture was still sketchy. Studying old race reports, they realised it must be the same MGA that had seen success in the 1959 British club racing season, driven by an American whose name was given as Major WJH Southam. And so, logically, Jon set about tracking down this Major Southam.
Yet there was nothing about him in US military records. Jon's son Jeremy then researched every W Southam in the USA. He found 84 of them and, on New Year's Day in 2006, the Savage family began calling each W Southam on the list. They reasoned that nearly everybody would be at home that day, but all they managed to do was to reunite a lot of surprised Southam relatives.
Not one of those Southams turned out to be their man, so they tried the same tactic with the Canadian telephone book. Goguen had bought the car in Ontario, and just one of the 31 Canadian W Southams they found was located there. They rang his number first, asking whether he was the Major WJH Southam who had raced at Goodwood in 1959.
He said: 'I don't know where you got that "Major" thing, and WJH Southam was my great, great uncle… but I'm Wilson Southam and I raced an MGA at Goodwood in 1959.' Bingo.
Jon, his two sons and Bob West went to Ontario to visit Wilson Southam, a lively old boy who recalled his time at Oxford University. He had been a wealthy young man from a family that owned newspapers, and radio and TV stations right across Canada. He acquired the MG after taking his Austin-Healey to the BMC Competitions Department for repairs in 1958; a friend had crashed it some time before and the handling was never right after that. When Southam returned to collect his car a few days later, Marcus Chambers, the BMC competitions manager, gave him the bad news: the 'Healey's chassis was too badly damaged; Southam would not be racing it that weekend.
Not one to miss a trick, for the young Canadian was clearly a man of means, Marcus Chambers told Southam to wait. Chambers disappeared for some time; when he returned he took Southam to meet MG's director and general manager, John Thornley. A deal was offered in which Southam might be loaned one of the ex-Le Mans cars. Since its return from the Fitzwilliam Racing Team at the end of 1957 it had been under a tarp at Abingdon. The chassis was EX182/38.
Southam accepted the terms offered and raced the car in England in 1958 and 1959. Two British friends, Chris Spender and Nicholas Ouroussoff, were engineering undergraduates at Oxford who volunteered their services as mechanics. Bob recently took the car to show it to Ouroussoff at his home in Gloucestershire, and he recalled being in the Competitions Department while the MGA was receiving attention. Ouroussoff remembered seeing an original, somewhat battered aluminium body hanging up in a sling, still in Fitzwilliam Racing Team colours. A new steel body, in red, was fitted for Southam before the start of the 1959 season, and Bill Boddy's report in Motor Sport after the Goodwood meeting on 14 March referred to 'Southam's Le Mans ex-Carnegie MG, now rebodied…' Southam had bought the car from MG in February 1959 and took it home to Canada at the end of that year.
So far, so good. It's on record that Southam later traded the car in Hamilton, Ontario. In the early 1960s Louis Gehring acquired it and around '73 or '74 sold it to retired teacher and MG enthusiast Gordon Whatley. Former Abingdon works team mechanic Henry Stone advised Whatley to rebuild it to resemble its 1955 Le Mans appearance, and helped in that work. Whatley sold it to Goguen in 1981.
Jon's next job was to find out exactly what had happened to the car before Southam bought it. With so much information already pinned down, the detective work was becoming easier, but it's still befuddling for us as outsiders, partly because of a cock-up at Abingdon in 1955. Some chassis numbers and registration numbers were muddled up in Competition Department records, so we need to go back to the start of the EX182 MGA programme to see what really went on.
In the early 1950s, John Thornley and the MG Car Company had been frustrated in their attempts to replace the old T-series MGs, which still looked distinctly pre-war. They knew a modern, more aerodynamic MG was needed urgently, but internal politics at BMC forced them to hold their fire – MG had to leave the way clear for the new Austin-Healey 100.
When they were finally given the green light, the EX182 cars they built looked like the new MGA, but they were specially built prototypes designed for racing, each having Dunlop alloy racing wheels, thin aluminium body, full-length undershield, metal tonneau over the passenger area, and a single racing screen for the driver. The engines were 1489cc BMC B-series four-cylinders, fitted with Weslake-developed cylinder heads that raised the power from 69bhp (as fitted to the Magnette) to 82.5bhp. Other special parts included the 20-gallon fuel tank and a long-range lamp within the grille. A differential oil cooler was fitted, with an air scoop for it under the car. The brakes were still drums all-round, with competition linings, and the overall weight was incredibly low, only 724kg (1596lb).
Thornley's plan was to enter them for the 1955 Le Mans 24 Hours, coinciding with the launch of the new MGA road car. When that launch was delayed for three months by production difficulties at Morris Bodies, he bravely went ahead with the Le Mans race anyway. This gained him good publicity in the motoring press, especially from former racer and technical editor of Autosport John Bolster, whose glowing reports of the EX182 helped to create keen demand for the MGA.
Four EX182 MGs were taken to Le Mans, one as a spare. The most successful of the three that raced – driven we know now by Miles and Lockett – was this car, which finished 12th. The MGs were timed at 117mph on the straight and could lap at over 90mph. The next best EX182 MG finished 17th, driven by Ted Lund and Hans Waeffler, but the third car was effectively destroyed in Dick Jacobs' horrific accident at White House Corner, which ended his driving career. It has never been satisfactorily explained. Although spectacular, the crash attracted little publicity, happening as it did just after the infamous 1955 accident opposite the pits, still the worst disaster in motor racing history.
If you try to check chassis numbers and registration numbers against race numbers for the EX182 cars at Le Mans in 1955, you will find conflicting information in a wide variety of sources. It's confusing that the registration number LBL 301 was apparently assigned to Dick Jacobs' car. That was simply an administrative mistake – in fact, LBL 301 always belonged to this car, EX182/38.
Soon after Le Mans in 1955, three EX182 cars were prepared for the Ulster TT at Dundrod, with EX182/38 driven there by Ron Flockhart and Johnny Lockett. It was fitted, just for that weekend, with experimental low-drag front bodywork featuring smaller, low headlights, a prototype 110bhp Morris Engines twin-cam with Weber carburettors, and early Girling prototype discs. Incredibly, Flockhart was tailing Carroll Shelby's class-leading Porsche 550 Spyder in the race, but he was forced to retire. Engine failure was the nominal reason, but a photograph taken at Dundrod straight after that race reveals extensive damage. No mention of a crash has been found, but Rodney Walkerley of The Motor reported that the car 'went out of the race at Leathemstown', and Bob West (pictured left, on right, with Jon Savage) has recently and unexpectedly been promised revealing home movie footage of EX182/38's accident, held by the nephew of star Jaguar D-type driver Desmond Titterington.
At some point, probably late in 1956, EX182/38 was rebuilt, and that was almost certainly when the replacement chassis was fitted. Just four EX182 cars were completed but experts now agree that enough parts, including aluminium bodies, were assembled for six. This particular EX182 has endured an adventurous history but there can be no doubt whatsoever that it evolved from the original EX182/38. The Competitions Department chopped it, changed it and repaired it in the late 1950s, and many different engines have been fitted to it over the ages, all pushrod jobs except for that one race at Dundrod. But it has been EX182/38 all along.
After the Le Mans tragedy and the 1955 Dundrod TT, in which three drivers died, the works team did not enter the EX182s in any further races – a great pity, as MG was really onto something good with EX182/38's specification at Dundrod. Some of the cars were used for European rally testing but EX182/38 appears to have sat under a sheet at Abingdon through 1956, awaiting repair before becoming one of two 1955 Le Mans cars loaned to the Fitzwilliam Racing Team for 1957. Shortly before the cars were handed over, the works fitted them with the latest prototype Dunlop brakes, discs all round.
Richard Fitzwilliam was a playboy of mysterious means with aristocratic Scottish origins, but he had a serious go at motor racing in the 1950s, even if he was allegedly rather more focused on girls and booze. Fitzwilliam shared his cars with several drivers, and throughout 1957 Robin Carnegie (later the 13th Earl of Northesk) usually drove EX182/38 for the team. Results were mixed but Carnegie drove brilliantly in the 1957 Mille Miglia, crossing the line 31st overall, fourth in class behind three 550 RS Porsches, and six places ahead of the next fastest British car.
That is the story of EX182/38 up to the point at which Jon Savage bought it in 2004. Once Jon and Bob had completed their detective work, that tricky question arose: how should it be restored? Without its first chassis and aluminium body, and with those disc brakes (which came with the car in a separate box, and have been refitted), it would hardly have been right to paint it in British Racing Green and parade it around as an original 1955 Le Mans works team car.
They decided, probably wisely, to make it resemble its appearance on the 1957 Mille Miglia, hence its vivid green colour. The white section on the nose was originally intended to distinguish EX182/38 from the other Fitzwilliam Racing Team cars. It was a tricky one, but Jon Savage has done well to solve the puzzles and rescue this car.
He was kind enough to turn it over to me for a few laps in the sunshine at Goodwood. A good competition MGA feels happily at home on that circuit and, after Bob West's rebuild, EX182/38 is a very good competition MGA. Thanks to a knowledge of B-series engines that has been built up over six decades, this one now produces about 100bhp. The car feels lively, responsive and light at the controls, though I wonder what it would be like if it still had that 1955 aluminium racing body, which was about 200kg lighter. Even so, this car today is a fair bit lighter than your average MGA, and a lot quicker. The handling is so easy to balance in a neutral way and the close-ratio gearbox is a pleasure to use, while the unique Dunlop disc brakes are light in feel and the best I have known in an MGA. A racing MGB may be a far quicker machine but the delicate feel of its relatively antique predecessor is always an engaging pleasure.
Last summer, Jon took EX182/38 back to Le Mans for the 2012 Classic, sharing the driving with Barry Sidery-Smith. A record crowd saw them qualify well, bagging a spot in the middle of the 74-car grid. They finished an excellent 32nd overall in the first race, before falling to 55th in the second, at night. They were going well in the third and final race on the Sunday when Barry pulled the car up with a terrible vibration. He feared that something catastrophic had happened. The original radiator fan had thrown off one of its blades, with no further damage caused. That's all it was. They will be back.
Published Dec 7th, 2015
More Classic Car News & Article Categories:
Related Articles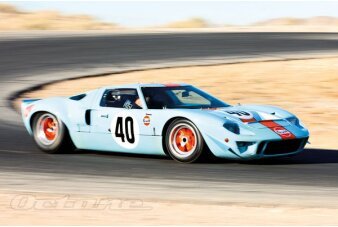 While every factory Ford GT40 is special, some are more special than others.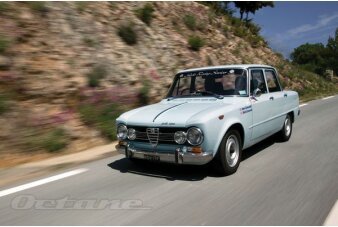 For the Linwoods historic rallying seems to come naturally.
×
1955 MGA At Le Mans