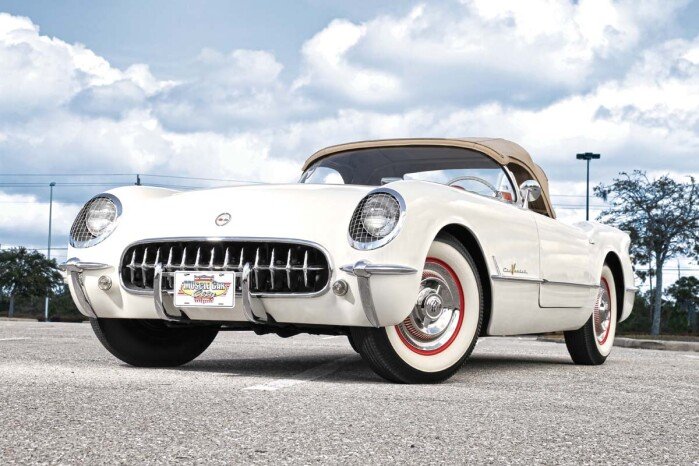 Photos by Ryan Merrill


The year 1955 must have been difficult for GM's chief engineer Ed Cole. His baby, the Corvette, was entering its third year of production with a less than a stellar sales record. While sales of the 1954 model increased to 3,640, a tenfold improvement from 1953, the number still wasn't close to Chevrolet's projected goal of selling 10,000 Corvettes per year. At the start of the 1955 model, about 1,000 unsold 1954 units were still sitting on dealer's lots. Things weren't looking good for America's only true sports car.

Chevy considered making several visual changes for 1955. Styling proposed replacing the shark-tooth grille with an egg-crate grille, similar to the one that would be used on the 1955 full-size Chevrolet line. A prototype was mocked up with the proposed grille, a revised hood (for V-8 models) with a functional air scoop, and four vents inset into the front fenders. The changes would assuredly differentiate the new model from the earlier model. But the facelift never happened. The Corvette program was in deep financial trouble, and Chevrolet wasn't willing to spend additional money on the vehicle. Ultimately, the only visual changes for 1955 were new interior and exterior colors and a revised front fender script with a gold "V" in the word "cheVrolet" on Corvettes equipped with the new V-8.

While offering nothing new on the outside to help bring customers into the showroom, Chevrolet's powertrain engineers had a few tricks up their sleeve, hoping to assist in improving sales. Until this time, Corvette's only engine was a modified version of the stove-bolt six, not exactly the ultimate setup for a sports car. To make things worse, the Corvette was available only with a two-speed Powerglide transmission. However things were about to change, big time. Chevrolet had developed a new lightweight, small-block V-8. Small in size and 41 pounds lighter than the Blue Flame Six, the 265 cubic-inch engine would take Chevrolet to the front of the performance pack. Chevrolet's entire lineup would certainly benefit from the new engine, but it was clear Corvette would benefit the most. With a high-lift cam and four-barrel carburetor, the Corvette version pumped out 195 horsepower, 50 more than the Corvette six-cylinder and 15 more than the most powerful version offered in Chevrolet's full-size line. Chevrolet was banking on this more powerful V-8 to jump-start Corvette sales.

Production of the 1955 model began in November 1954. The six-cylinder engine was carried over from 1954, but with a five-horsepower increase via a revised camshaft. Chevrolet's two-speed Powerglide remained the only transmission available but late in the model year, a Saginaw three-speed manual transmission would make its way onto the option list. The rear axle housed a 3.55:1 ring and pinion. Later, a 3.27:1 ratio became available for stick-shift cars.

Sadly, Chevrolet's new V-8 and the availability of a manual trans did nothing for sales. By the end of the model year, only 700 Corvettes made their way into customers' hands. The bean counters were preparing to pull the plug on the program, but the visionaries at Chevrolet circled the wagons and won the fight. And today, over 50 years later, the Corvette continues to be America's only true sports car.


Fuel For Thought
First year for the famous small-block V-8
First year for manual transmission
V-8s had a 12-volt electrical system, six-cylinders continued with 6-volt
Convertible tops available in canvas or vinyl
Last year for six-cylinder


Specifications
Number built – 700
Construction – Body-on-Frame
Engine – 235 cubic-inch six-cylinder, 265 cubic-inch V-8
Power/Torque – 235 cubic-inch six-cylinder, 150 horsepower, 223 lb-ft torque, 265 cubic-inch V-8, 195 horsepower, 260 lb-ft torque
Transmissions – Three-speed manual, two-speed automatic Powerglide
Suspension front – Independent with upper and lower A-arms, unequal-length wishbones, coil springs, and anti-roll bar
Suspension rear – Live axle on semi-elliptic leaf springs
Steering – Worm and sector
Brakes – 11-inch front and rear drums
Length/width/height – 167.0/72.2/51.2 inches
Wheelbase – 102 inches
Weight – 2,805 lbs. (V-8)
0-60mph/quarter-mile – 8.7 seconds, 16.3 seconds at 84 mph (Road and Track, July 1955)
Top speed – 119 mph
MPG – 18 - 22 mpg
Price – MSRP - $2,901; Today – $51,200 - $122,900


Insurance cost
Insurance cost is $571/year for a $89,300 1955 Corvette. This is based on 3,000 miles per year of pleasure driving.
*Based on a quote from Heacock Classic Car Insurance, www.heacockclassic.com


Engine – Chevrolet's Blue Flame six-cylinder provided adequate acceleration and reliability. The outstanding design of the new small-block V-8 ushered in a new era of factory performance engines. The 1955 version included a Carter four-barrel carburetor, 8.0:1 compression, and dual exhaust.


Handling – The 1955 Corvette's low center of gravity and nearly 50/50 weight distribution allowed it to handle well even when pushed to the limit. Corvettes equipped with the V-8 handled even better due to a reduction of 41 pounds from the front end. The weakest point in the handling department–not surprisingly–were the 6.70x15 bias-ply tires.


Alternative
1955 Thunderbird
Number built – 16,155
0-60/quarter-mile – 11.5 seconds, 18.6 seconds at 76 mph
Top speed – 110 mph
Price – MSRP - $2,695; Today – $13,750 - $42,700

Alternative
1954 Jaguar XK120 convertible
Number built – 3,365 (U.S. sales)
0-60/quarter-mile – 11.7 seconds, 18.3 seconds at 74 mph
Top speed – 122 mph
Price – MSRP - $4,099; Today – $40,200 - $78,600


Strong Points
Excellent appreciation
Parts readily available
Only year with six-cylinder and V-8 engines
V-8 provided good performance


Weak Points
Very expensive to purchase
Few comfort features
Interior gets hot
Difficult to get NOS parts


Vehicle Category
The 1955 Corvette falls into the serious collector car category. Very few are driven on a regular or semi-regular basis. As they continue to increase in value, fewer cars are seen at local car shows. It was the first generation of America's only true American sports car. Few if any cars can match its appeal and heritage.


What To Pay
1955 CORVETTE
MSRP – $2,901
Low – $51,200
Average – $89,300
High – $122,900
*Based on prices from the Classic Cars and Parts Price Guide, fueled by NADA and available wherever Corvette & Chevy magazines are sold.


Parts Prices
Rear bumper $322.95
Steering wheel $603.99
Oil pump $28.99
Fuel tank $259.95
Front suspension rebuild kit $399.99
Convertible top frame $2,331.99
*Based on information from Corvette America
800-458-3475
www.corvetteamerica.com


Websites
www.ncrs.org
www.corvettemuseum.com
www.c1registry.com
www.corvetteactioncenter.com


Books
Chevrolet Corvette: Gold Portfolio by R. M. Clarke
Corvette by Mike Mueller
Corvette: American Legend 1954-55 Production by Noland Adams
Corvette by the Numbers by Alan Colvin
Corvette Fifty Years by Randy Leffingwell


Review
The 1955 Corvette became the foundation for factory high-performance vehicles. The 265 cubic-inch V-8 started the horsepower war that continues to rage today. Although it had few comfort features, the 1955 Corvette provided performance enthusiasts an outstanding value. The combination of great performance and stylish lines put the Corvette in a class of its own.
Published Dec 7th, 2015
More Classic Car News & Article Categories:
Related Articles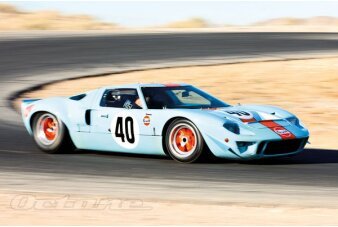 While every factory Ford GT40 is special, some are more special than others.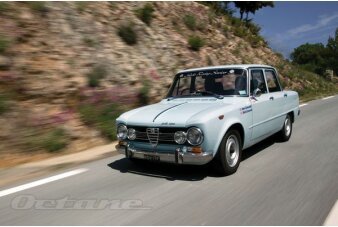 For the Linwoods historic rallying seems to come naturally.
×
1955 Chevrolet Corvette Guide