‹ Go back
1954 Alfa Romeo Super Sprint Zagato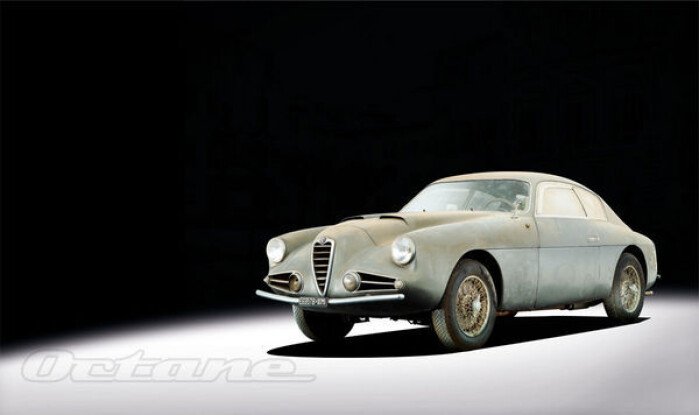 'When the time came to collect it, I chose to make the trip alone. I knew that the long journey home would be special, and I wanted to be able to pull over whenever the fancy took me – just to stare at the car for a little while.' When you hear Corrado Lopresto talking like this, you tend to sit up and take notice. The Italian architect and renowned collector has won more than 150 trophies at concours events around the world, and there are very few cars that can still make him go weak at the knees. The Alfa Romeo 1900 Super Sprint Zagato is one of them.
Now almost universally regarded as one of the most beautiful Alfas ever, the 1900 SSZ left many slack-jawed in admiration when it first appeared, too. On September 28, 1954 a certain Ruggero Ricci became the envy of gentleman drivers and wealthy playboys everywhere when he took ownership of one of the very first SSZs, almost four years to the day after the 1900 saloon on which the Zagato car was based had been unveiled at the 1950 Paris motor show.
Said saloon announced the post-war revival of Alfa Romeo, and it proved sufficiently popular that production continued until 1959. The Orazio Satta Puliga-penned car featured an 1884cc, four-cylinder DOHC alloy engine, and suspension courtesy of technical designer Giuseppe Busso. While relatively cheap to build, it was a joy to drive and a fine competition car, too – every inch a real Alfa.
Despite notable successes in the Targa Florio and the Stella Alpina Rally, though, the 1900 saloon was always destined to be regarded as a family car first and a racer second, so in 1951 Alfa Romeo announced the 1900 Sprint, a short-wheelbase coupe that was seen for the first time at the Geneva motor show. Under the hood, little had been changed, but the Touring bodywork was a beautifully bold and aggressive take on that of the saloon.
The Sprint was received enthusiastically by the racing community, prompting Alfa Romeo to introduce an uprated TI model boasting a 100bhp powerplant, bigger drum brakes and twin exhaust pipes. In 1955 the Sprint became the Super Sprint, with the engine bored out to 1975cc to produce 115bhp and the standard four-speed gearbox replaced by a new five-speed transmission. Touring was again called on to body the coupe (the cabriolet was made by Pinin Farina) but, across town, the car had attracted the attention of another Milanese coachbuilder: Carrozzeria Zagato.
Founded in 1919 by Ugo Zagato, the company aimed to introduce to the world of car design some of the lightweight construction techniques common in the manufacture of aeroplanes. It had quickly acquired a reputation for building feather-light, streamlined vehicles, and after Word War Two it became famous for its 'double-bubble' roof, which allowed for a sensible amount of headroom in even the lowest-slung car. In one of the more curious episodes in Italian car-making history, Zagato managed to complete development of its own version of the Super Sprint a good six months before Alfa Romeo officially launched the Touring-bodied model, meaning that Signor Ricci's purchase was not only one of the first 1900 SSZs sold, but one of the first Super Sprints of any sort to find an owner.
His car (chassis number AR1900C01845, engine 1308.00917), left the Alfa Romeo factory plant at the very end of July 1954 and was delivered to Zagato headquarters just down the road, where it was dressed and painted in a matter of weeks. It then left the carrozzeria on 24 September, bound for the Grande Garage Internazionale in Lucca, north-west of Tuscany. It was in all likelihood originally painted green, like the majority of the 38 SSZs that followed it, but it is hard to be certain, says Paolo Di Taranto, marketing manager and archivist at Zagato.
'Our records of the car are incomplete and, although its color is noted as green, we're not sure whether the note was written in 1954 or later on following a respray here at Zagato. The dash and interior metal trim are light blue, and we know that green/blue was a standard combination. So, too, was blue/blue, but looking at the earliest black-and-white photographs of the car, it appears too dark to have been painted light blue.'
The odd detail notwithstanding, we know far more about the car than its first owner. 'The car was the seventh made, and, despite its "SSZ" designation, was actually built on a Sprint chassis. It doesn't have the double-bubble roof, incidentally; that feature found its way into only six of the 39 SSZs made. It was first registered LU20404, which tells us that Signor Ricci lived in Lucca, but that's about as much as we've been able to find out about him.'
Poring through old issues of Auto Italia, we discover that he was apparently happy to share his new toy with others right away, letting Otello Biagiotti drive the SSZ in the 24 October Florence-Siena race, a 70km dash along public roads. Biagiotti finished first in his class (1300cc-plus GT cars) and fifth overall, some way behind the victorious Eugenio Castellotti and his 3.3-liter Lancia Sport, but just ahead of the SSZ of Elio Zagato, Ugo's son.
Biagiotti must have been impressed with the car, because he bought it from Ruggero Ricci just a few months later, in February 1955, with the intention of racing it in that year's Mille Miglia. For reasons unknown, however, he did not make the start line, and sold the car in June. Fortunately for chassis 01845, it was acquired not by another hell-for-leather racer, but by the family of Maria Laura Pelliccia, and became a seldom-used runabout in Florence.
It changed hands again in '57, '63 and '68 before finally finding a long-term owner in September of 1969, when it was snapped up by a Signor Strippoli and transported to Rome. There it was treated to an engine rebuild and new bumpers before being stashed away – for more than 40 years.
It will come as no surprise, then, to learn that 01845 remains spectacularly original, nor to discover that it has long been lusted after by Alfa Romeo enthusiasts. 'We've known about the car for years,' says Lorenzo Marzullo of the Registro Italiano Alfa Romeo (RIAR). 'Plenty have tried to buy it, but Signor Strippoli has always maintained that he has no interest in selling.' That he had, but upon meeting him through a mutual friend, this writer sensed that he might be open to letting the SSZ go to the right home, and there is no better home for a historic Alfa Romeo than the collection of Corrado Lopresto.
Corrado and I arranged to see the car in person and travelled to Strippoli's lock-up in Rome full of anticipation, but when we pulled open the doors to the garage we could see only piles of junk. We shifted boxes, moved decades' worth of odds and ends and, suddenly, there it was: a dust-covered automotive time capsule of quite extraordinary beauty. We fell head over heels in love.
The garage was dark and dry, so the years had been relatively kind to the car. 'When Signor Lopresto first showed us the car, we were really surprised,' says Di Taranto. 'It's not every day that you see an SSZ preserved as well as this one.' Of the 39 examples built, around half are thought to survive, but for every car documented in the Zagato archives, there are two or three more that claim to be original. 'Generally it is easy to spot the replicas: the shape of the nose is extremely difficult to get right, as are the plexiglass side windows – you have to be very, very good to produce something that might fool a real expert.'
There is no question that 01845 is the real deal, though, and Di Taranto admits that the car has taught Zagato a thing or two about its own production history. 'I suspect it will become an important reference point for those restoring other examples, and with a bit of work it could easily become the benchmark example against which others are measured.'
Corrado, however, has no intention of turning the car into just another shiny concours peacock. 'By the time I got the car home I had resolved that it wouldn't be restored. I changed the oil, water and battery, and with a little fresh gas in the carbs the engine started immediately. I'll clean the tank, change the leaky fuel line and refurbish the brakes. That's all. As far as we know, this is the most original 1900 Super Sprint Zagato in the world, and it should be kept – and shown – that way.'
Its first public appearance will be at the Louwman Museum in the Netherlands, where it will be displayed alongside other significant Alfa Romeos as part of an exhibition titled 'Style Icons: Passione per il Design Italiano'. No doubt many will be drawn in by cars such as the showy 1938 8C-2900B Le Mans Speciale and the gleaming 1940 Count Trossi 6C-2500SS, but I suspect it will be the dusty 1900 SSZ that lights up the museum, for Corrado's newest old car has the sort of charisma that you can't polish in.


1954 Alfa Romeo Super Sprint Zagato
Engine 1975cc four-cylinder, DOHC, twin Solex 40 PII carburetors
Power 115bhp @ 5500rpm
Transmission Five-speed manual, rear-wheel drive
Steering Worm and roller
Suspension Front: double wishbones, coil springs, hydraulic dampers. Rear: live axle, coil springs, hydraulic dampers
Brakes Alloy drums
Weight 1153kg
Performance Top speed 118-134mph, depending on gearing
Published Dec 7th, 2015
More Classic Car News & Article Categories:
Related Articles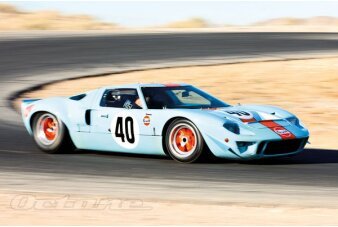 While every factory Ford GT40 is special, some are more special than others.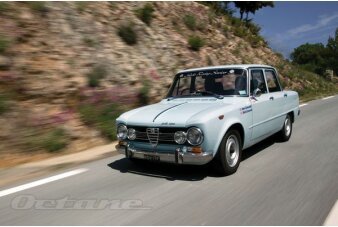 For the Linwoods historic rallying seems to come naturally.
×
1954 Alfa Romeo Super Sprint Zagato