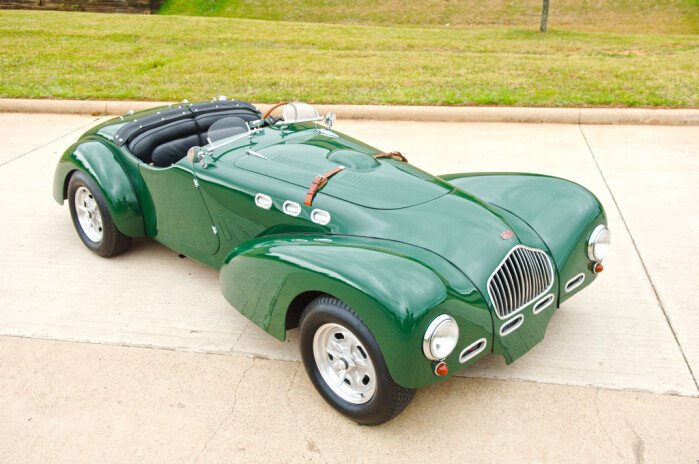 Killer performance, incredible handling, futuristic styling; that's a brief description of the 1951 Cad-Allard. These incredible sports and touring cars arrived on our shores through the courtesy of Sidney Allard, a British entrepreneur who made his living building low-volume British rally cars. His passion and racing successes led him to up the ante in performance with the development of Allards like the sporty J2 and this month's cover car, the elegant K2.

Produced at his factory outside of London from July 1949 through early 1951, the J2 was built for one reason only, and that was to win races. The sleek, two-seat roadster rode on a short, 100-inch wheelbase. A modified Ford flathead V-8 powered early cars. While the flathead was a decent performer in the 1,700-pound J2, the engine design limited its potential as a high-powered sports car.

The touring-friendly K2 got a longer 106-inch wheelbase and was a full 168 inches long. This added a few more pounds, with the beautiful K2 tipping the scales around 2,400.

Sidney Allard used small, 200-odd-cube flatheads, but he also kept abreast of the new OHV engines available in America, and recognized the need to update his powertrains.

One of the engines Allard used was the 331 cubic-inch Cadillac mill, as seen in the K2 in these photos. This high-tech powertrain offered 40 more horsepower than the modified flathead. But unlike vehicles ordered with the factory-installed flathead, Allards ordered for delivery in America with an OHV engine were shipped without powertrains. Allard distributors would do the installation for the customer.

Few sports cars of the time provided were as complete a package as the J2. The chassis consisted of open channel outer sections and four tubular crossmembers that proved to be extremely strong and free of flex. With the engine set back, more than 50 percent of its weight was positioned over the rear wheels. It was like driving a high-powered go-cart.

Their aluminum bodies were sleek, with aggressive front and rear fenders and a large bulge protruding on top of the hood to accommodate the Cadillac mill. A soft convertible roof was standard equipment but no side curtains were available, making it a tough car to drive in inclement weather. The very small trunk had enough space for a spare tire but little more. After all, this was a race car not a luxury car.

Other than the OHV powertrain, most mechanical components were of Ford decent. Allard was at the time one of the largest Ford distributors in England, and because of that he had the ability to procure parts at reasonable prices. He also knew that Ford parts were available worldwide, which limited his company from keeping a facility of specialty parts on hand for service.

The unique split beam, swing arm, independent front suspension consisted of a modified Ford I beam axle that was cut in two and pivoted at the inner ends. Coil springs moved the I beams vertically. The steering system provided fast cornering, turning lock to lock in 2.5 turns of the wheel. The rear suspension was radical for its time, yet it was made primarily of vintage Ford parts. Allard designed a low-cost version of a deDion axle assembly that allowed the rear wheels to travel up and down, while keeping the wheels vertical at all times. As with the front, coil springs were used.

Allard focused on providing a total performance vehicle that not only accelerated but also stopped well. Disc brakes weren't on the horizon yet, but Allard installed 12-inch drum brakes all around to make braking a non-fade event unless pushed extremely hard.

Front drum brakes were cooled through air scoops designed into the body, and aluminum fins were bonded into the cast drum surface to help conduct heat to the outside air.

As is the case with such timeless classics, very few were ever manufactured during their short runs: 90 J2s and 119 K2s. In its heyday, the Cad-Allard positioned itself as the epitome of road-racing and grand-touring machines. Today, these very rare icons are loved and admired by sports car enthusiasts worldwide.


Fuel For Thought
Could be ordered with a Cadillac or Chrysler Hemi engine
Low ground clearance required an 8-quart, dry sump oil system
First factory Cad powered J2 took Third in 1952 LeMans race
Price of an Allard J2, minus engine, was $2,619
Could be ordered domestically as a right- or left-hand drive


Specifications
Number built – 90 (J2), 119 (K2)
Construction – Body-on-frame
Engine – 331 cubic-inch, OHV Cadillac V-8
Power/Torque – 331 cubic-inch V-8, 160 horsepower, 312 lb-ft torque
Transmission – Three-speed manual
Suspension Front – Split beam, swing arm, independent axle with coil springs
Suspension Rear – Modified deDion design with coil springs
Steering – Marles design worm and roller
Brakes – 12-inch, four-wheel drums front and rear
Length/width/height – 148/63/N/A inches (J2), 168/N/A/N/A (K2)
Wheelbase – 100 inches (J2), 106 (K2)
Weight – 1,700 lbs. (J2), 2,400 (K2)
0-60mph/quarter mile – 7.4 seconds, 16.2 seconds at 88 mph (J2, The Motor, 1950)
Top speed – 110 mph (J2, The Motor, 1950)
MPG – 17.8 mpg at a steady 60 mph
Price – MSRP - $2,739 (K2, without engine); Today – $88,400 - $205,900


Insurance cost
Insurance cost is $761/year for a $130,000 1951 Cad-Allard K2. This is based on 3,000 miles per year of pleasure driving.
*Based on a quote from Heacock Classic Car Insurance, www.heacockclassic.com


Engine – The Cadillac powertrain provided exhilarating performance, yet high-speed runs were limited by lifter float.

Handling – The Allards' handling was perhaps one of the best attributes of the cars. With great weight distribution and a unique front and rear suspension, the Allards were among the best handling cars in America.


Alternative
1951 Jaguar XK120 OTS Roadster
Number built – 12,000 (1948-54)
0-60/quarter mile – 10 seconds, N/A seconds at N/A mph
Top speed – 125 mph
Price – MSRP - $3,909; Today – $43,500 - $125,000

Alternative
1951 Cunningham C-1 Prototype
Number built – 1
0-60/quarter mile – 6.3 seconds, 17.0 seconds at N/A mph
Top speed – 124 mph
Price – MSRP – N/A; Today – N/A


Strong Points
Very rare
Exciting performance and handling
Mechanical parts readily available
Cool factor

Weak Points
Few remain
Replacement body parts must be hand made
Expensive
Room for two


Vehicle Category
This Allard's value and rarity is simply too high to use as a driver. Perhaps a few owners might take their Allards out once in awhile, but most cars are taken to shows locked safely away until the car reaches its destination. There is a small group that continues to race vintage Allards.

What To Pay
1951 Cad-Allard K2
MSRP – $2,739
Low – $88,400
Average – $130,000
High – $205,900
*Based on prices from NADA.


Parts Prices
Some mechanical parts are available; most other parts must be handmade.


Websites
www.allardregister.org
www.allardmotorcompany.co.uk
www.allardownersclub.org


Books
Red Wheels and White Sidewalls: Confessions of an Allard Racer by Bill Pollack
Allard by David Kinsella
Allard: The Inside Story by Tom Lush


Review
The Cad-Allards were some of the finest sports and touring cars produced. The combination of a high-powered American engine, low center of gravity, and tremendous styling made them some of the best packages of their time.

Published Dec 7th, 2015
More Classic Car News & Article Categories:
Related Articles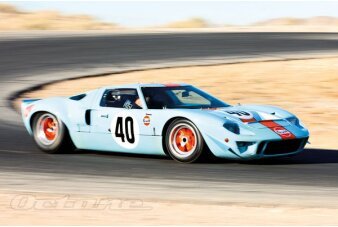 While every factory Ford GT40 is special, some are more special than others.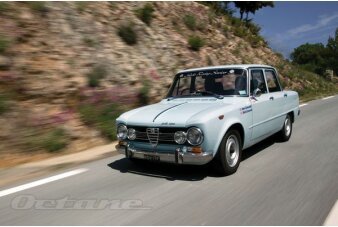 For the Linwoods historic rallying seems to come naturally.
×
1951 Cad-Allard