‹ Go back
1937 Ford - One Top-Notch Tail Dragger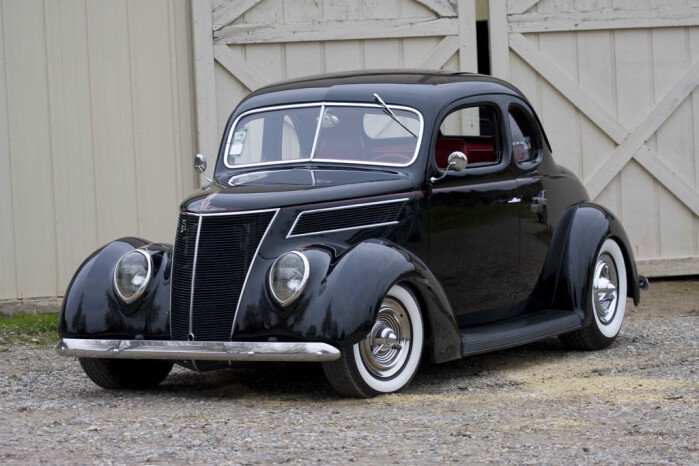 Henry Ford wasn't one who embraced change. His Model T changed little from 1908 until 1928, when it was replaced with the Model A. But with over 15 million Model T's sold, Henry's philosophy of keeping things simple apparently worked, or at least it did during the early years. However, times were changing, and although Ford's much improved Model A was a good seller, Chevrolet, with its overhead valve engine and modern styling, outsold Ford by 150,000 vehicles in 1928. The failure to overtake Chevrolet in sales finally convinced Henry that styling, comfort and performance were now what the public wanted.  

With the assistance of Henry's son Edsel, Ford products became more refined. A new body style and the famous flathead V-8 were brought out for 1932. Over the next few years, additional mechanical and styling improvements kept buyers in the showroom, but Ford was still having a tough time keeping up with Chevrolet in sales.

The newly-styled 1937 Ford was designed to impress the masses. Ford needed a shot in the arm to help dealers push sales of the new car, with the hopes of once again becoming first in the market. On November 6, 1936, Ford sales manager William C. Cowling brought 8,000 dealers together at the Detroit Coliseum to preview the new and improved Ford. After seeing the new car, the dealers were quite impressed.

There were 17 distinct models offered within the Standard and Deluxe series. Typical with vehicles of the time, Briggs, a Ford supplier, rather than Ford itself, was mostly responsible for the body design changes. The 1937 Ford was considered one of the best looking cars of the decade, with state of the art styling. Exterior changes included a first for Ford: the all-steel stamped roof, which replaced the fabric roof inserts of prior years. Front fenders included molded-in headlamp assemblies, which replaced separate units. The hood was now hinged in the rear and opened like a clamshell. The front grille grew wider at the top and, based on the model, was either black or chrome. Standard models included only one windshield wiper, one taillight and a single sun visor. It was considered too spartan for many, but it was also a way to encourage people to buy the higher-priced Deluxe model, which added a mere $60 to the price of a Standard model.

Several changes were apparent on the inside. The new dash was more refined and included additional chrome moldings. Twin pods housed the speedometer and other necessary gauges, and a starter button was added to the left side of the dash.

Powertrain options increased with the addition of a smaller version of the flathead V-8. The 136 cubic-inch engine was originally designed for European products that were taxed on displacement. Called the V8-60 because of its 60 horsepower, the small version provided good fuel economy but wasn't very popular with the American public. Ford continued to offer the 85hp 221ci flathead V-8 for those who wanted more speed.

Ride and comfort were enhanced with an improved steering ratio, newly-designed front and rear springs, better body mounts and added body insulation. While the ride was improved, most other manufacturers updated their vehicles to independent front suspension and longitudinal rear leaf springs, and Ford's antiquated front and rear buggy springs allowed excessive body lean on corners. Ford continued to use mechanical brakes, but steel cables encased in flexible steel conduits replaced earlier cars' solid actuating rods. While the system required less brake pedal pressure, the cables were prone to corrosion.

Ford's new styling was well received, but the changes weren't enough to overtake Chevrolet, who went on to outsell Ford by nearly 20,000 vehicles during the model year.


Specifications
Number built – 848,608 units
Construction – Body-on-frame
Engine – 136ci and 221ci flathead V-8
Power/Torque – 60/94 - 85/153
Transmission – Three-speed manual
Suspension front – Transverse leaf springs with straight front axle
Suspension rear – Transverse leaf springs with live axle
Steering – Worm & roller
Brakes – Four-wheel 12-inch drum, mechanical
Length/width/height – 179.5/55.5 treadwidth/68 5/8 inches
Wheelbase – 112 inches
Weight – 2,275 lbs. shipping weight
0-60mph – 7-25 mph, 7.5 seconds; 10-60 mph, 23 seconds (V-8 Times, November/December 2009)
Top speed – 85.6 mph mph (V-8 Times, November/December 2009)
MPG – 14-16 mpg est.
Price – MSRP – $658 (Series 78 Deluxe Coupe); Today – $8,500-$19,700

Fuel For Thought
First year for V8-60 engine
Deluxe models included dual tail-lamps and dual wipers
Phaeton and roadster models included leather seats
Water pump capacity was improved by 45%
Ford made $6.76 million in 1937

Engine – Ford's legendary flathead V-8 was their consummate powertain for over 20 years. It has a long history of reliability, and was the basis for hot rodding until the 1950s. The engine had no particular design issues but was, however, prone to overheating. It eventually grew to 239 cubic-inches for later Ford models.

Handling – Handling was not one of Ford's best aspects. The front and rear transverse buggy springs did little to assist in cornering, leaning quite a bit and persuading the car to skid sideways, especially on wet or slippery pavement.

Strong Points
Excellent performance for a low price vehicle
Aftermarket parts readily available
Great styling

Weak Points
Mechanical brakes
Poor handling on corners

What to Pay
1937 Ford Two-Door Deluxe Coupe
MSRP – $658
Low – $8,500
Average – $12,350
High – $19,700
*Prices courtesy of NADA, www.nadaguides.com

Insurance cost
Insurance cost is $148/year for a stock 1937 Ford coupe valued at $12,350. For a modified vehicle, insurance cost is $250/year. This is based on 3,000 miles per year of pleasure driving. Based on a quote from Heacock Classic Car Insurance, www.heacockclassic.com.

Parts Prices
Brake lining and rivet set - $57.50
Replacement carburetor - $219.95
Rear fender - $379.00
Windshield wiper motor - $41.95
Front door glass - $75.00
Door panel patch - $195.00
*Based on information from MAC'S Auto Parts, www.macsautoparts.com

Alternative
1937 Chevrolet
Number built – 868,250
Price – MSRP – $618 (GB Master Two-Door Coupe); Today – $5,425-$15,800

Alternative
1937 Plymouth
Number built – 566,128 units
Price – MSRP – $580 (P3 Two-Door Coupe); Today – $5,200-$10,350

Vehicle Category
Ford owners enjoy driving their vehicles. Weekend drivers to highly restored cars are often seen taking on the road. Very few are trailer queens.

Books
Refurbishing Manual for Early Ford V8 Cars by Motorbooks
Flathead Tuning Manual by Mike Davidson
Edsel Ford and E.T. Gregorie: The Remarkable Design Team and Their Classic Fords of the 1930s and 1940s by Henry L. Dominguez
Ford Hot Rods (Enthusiast Color) by Dain Gingerelli

Websites
www.earlyfordv8.org
www.fomoco-clubs.org
www.fordv8foundation.org
www.flatheaddrag.com

Review
The 1937 Ford was a marriage of great styling and excellent performance from its tried and true flathead V-8. With a large variety of models, styles and price ranges, it provided dependable, low-cost transportation to the growing legion of automobile owners.
Featured Owner - Alex Test
Go West, Young Man!

Driving a vintage custom street rod across the country to attend a car show in California has always been one of Alex Test's dreams. His original dream saw him in a 1940 Ford, but when this 1937 came into his life, the trip of his dreams was starting to come together.

For the five years that Alex owned the car, the tired paint was redone and the tires/wheels combination was changed. The car was pretty much then driven "as is" for an additional 17,000 miles, with numerous trips to car shows in Michigan/Ohio/Indiana, but the desire to drive to California stayed in the back of his mind. So this past spring, Alex began to make some serious travel plans. He had boarded a plane to attend the West Coast Customs show in San Marino California 2 years previously, but this time he was driving the route.

With 6 weeks before the car, Alex wanted to upgrade the trans from the stock 350 Chevy to a 700R4 with overdrive. In order to do this, he and his crew removed the 350 Chevy engine and trans from the car. While the engine was out, it was suggested that its lower end be checked. The crew removed the oil pan to pull the crank and found that the journals were scored. The California trip seemed to be slipping away. Donna, his loving wife and business partner, could tell something was wrong just by Alex's look. "So what's wrong?" she asked. Alex replied that he needed a new engine! Donna made his day by telling him to just go get one. With all the talent in the shop, this shouldn't stop the trip.

The new engine selected was a Jasper 350 Chevy, which would be mated to the new 700R4 trans. This power train combination was longer than its predecessor, so the floor tunnel and interior needed to be modified to fit and the drive shaft shortened. But of course the car had to "look good" as well as run good, so Alex decided to lower the car with air shocks and add fender skirts to give the old school "tail dragger" look. To lower the car and add air shocks, the frame was C-notched.  

Once it was all assembled, it was time to test the car up and down the road a few times. Because of the crew's efforts, only minor bugs were found, including an electric cooling fan and an AC recharge.

So early Monday evening (with the show starting Friday), with 98 miles on the newly refurbished ride and leaving later than originally planned (due to another AC problem), Alex and cousin Mike took off for the show. Alex wasn't taking any chances, so Mike, besides being a cousin and best friend, is also a master mechanic.

The first day's run was from Taylor, Michigan (near Detroit) to Indianapolis. The car got its 500 mile break-in at 60 mph with no problems. While in Indiana, the car was taken to a local oil change place for service. Alex chuckled as it took five mechanics 45 minutes to change the oil, since "everyone in the place wanted to work on the car." With no problems from that point, and after several states and a lot of highway, the 1937 arrived at the show Thursday afternoon and was entered as a non-judged participant. Alex felt as though he and Mike were treated like royalty, saying "Everybody likes an old car!"

Sunday after the show, the 1937 started home. It developed a miss just before reaching the desert. The problem was found to be 2 spark plug wires that had been touching the headers. The damaged wires were replaced, and the trip home continued. The next issue was the AC acting up again, which found the car in Needles, California needing a recharge.

In Flagstaff, while having lunch, Alex and Mike talked about a 92 year old uncle who they had not seen in quite some time who lived in Arizona. "How nice it would be to see him!" they thought. Finally, they decided, "We've come this far, let's go!" The uncle lived 17 miles south of Wilcox, Arizona, near the Mexican border, about 350 miles south of Flagstaff. Alex called Donna to get the address and pointed the 1937 south. The 17 miles from Wilcox to Uncle Tom's house is sparsely populated, with only about five or six houses. Alex and Mike prayed that the 1937 wanted to see their uncle as much as they did. Apparently, she did, as she ran just fine. According to Alex, this memorable visit was the highlight of the 6100 mile trip.


1937 Ford Coupe
Original steel body coupe

Engine:
350 Gen 1 Engine bored to 358ci
288/288 @ .050
.480/.480 lift
S/S heads by Dart
9:1 compression
Edelbrock Performer RPM with 650cfm Edelbrock Carb Engine built by JASPER Engine & Transmissions

Trans: 700R4 w/A&A internals and hardened shell, Kevlar 3rd frictions, Performance Transmission custom shift kit Precision torque converter

Differential: Ford 9" rear end with 3.50 gears

Suspension: Mustang II front with stabilizers rather than shocks – heavy modded/fabbed mounts in rear for Monroe Air Shocks to enable on-call "Tail Dragger"

Brakes: Disc up front and drums in the rear

Wheels and Tires: 15" Coker whitewalls all the way around
Published Dec 7th, 2015
More Classic Car News & Article Categories:
Related Articles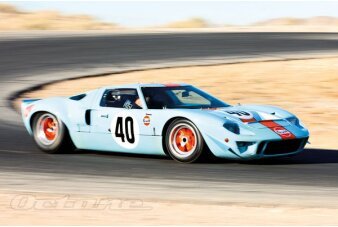 While every factory Ford GT40 is special, some are more special than others.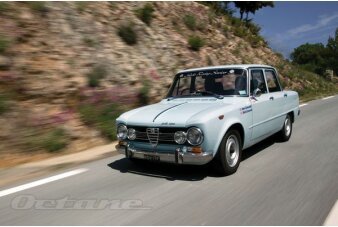 For the Linwoods historic rallying seems to come naturally.
×
1937 Ford - One Top-Notch Tail Dragger