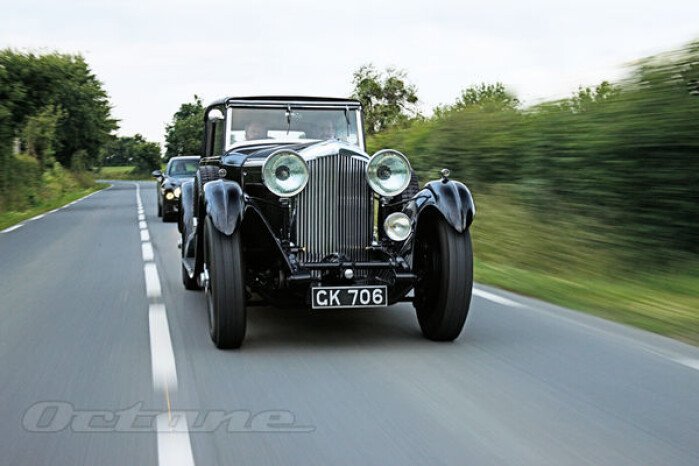 On the wall of the Bentley Drivers' Club meeting room, in the grand club HQ just outside Banbury, Oxfordshire, is a painting by Roy Nockolds. It depicts the view from inside a longhooded Bentley, a vintage one (just), its prow thrusting forwards along a tree-lined route nationale to… where? Le Mans?
The left hand on the steering wheel is that of W.O. Bentley himself. The eyes in the rear-view mirror are also his. The image is clear; 'W.O.' wasn't smoking his pipe when this scene was captured. It's a sad picture, because the 1930 8 Liter he was driving was his last company Bentley, his last creation for Bentley as a separate, independent marque, and his chosen transport during the bleak period immediately after the Rolls-Royce takeover in 1931.
In 1932 W.O. was appointed assistant to Rolls-Royce's chief engineer, a role that didn't last long because working for the company that now controlled his own was too much to bear. It was while in this job that W.O. drove his 8 Liter for the last time, a journey that took him and it to dealer Jack Barclay, to whom it was sold. Thus ended Walter Owen Bentley's association with the company that bore his name.
Now, 79 years on, if the ghost of Roy Nockolds were again to inhabit the 8 Liter's back seat, the eyes he would see in the mirror would be mine. Ahead lie long French roads, along which I am driving that same Bentley to this year's Le Mans 24 Hours, eight decades after Bentley's racing glory days (early Noughties revival apart) ended. We – that is, Bentley's own historic mastermind Richard Charlesworth and I – are en route from Cherbourg to a ch΢teau just outside Le Mans, in the little village of Fillé sur Sarthe. And it's all going extremely well.
How well? The six pistons under that hood together displace 7983cc of cylinder volume, and once they are turning their crankshaft at 3500rpm there is 225bhp on tap. True, that corresponds to a meagre 28bhp per liter (a compression ratio of just 5.5:1 plays a part here), and there are two-and-a-half tons of Bentley to haul, but the 8 Litre still gets along pretty smartly. We've seen 78mph on the speedometer, and W.O. promised at least 100mph for his giant masterpiece regardless of body style. After all, at 75mph the engine is turning over at just 2500rpm.
This car, chassis number YF 5002 and registration number GK 706, was the second 8 Liter out of the 100 made. The first went to a music hall star, 'Gentleman' Jack Buchanan, and was a saloon with an HJ Mulliner body on a 13ft wheelbase. W.O. favoured something sportier, so the same coachbuilder created this abbreviated, square-cut saloon on the alternative 12ft wheelbase. That's still a long, long wheelbase; it puts the wheels squarely at each corner, like a Mini's, except the whole car seems almost twice as long, with the hood seemingly occupying a good half of that length ahead of the block-vertical windscreen. The side windows slide in two sections like an early Mini's, too. And there the comparison ends.
We've just filled up at Saint Lo, after some anxiety brought on by the minimal petrol showing on the vertical, thermometer-like gauge, the voracious fuel thirst (Bentley itself quoted 11.5mpg) and the lack of filling stations. That's around €200 converted into combustible liquid, with a dollop of Valvemaster for peace of mind, even though such a low-revving engine is unlikely to see its valve seats recede. And now it's my turn to conduct this larger-than-life motor car.
Motor car? When Bentley and his engineers were testing the 8 Liter in France prior to launch, they came upon some Rolls-Royce engineers testing their own 'motor cars'. So they sampled each other's machines, as engineers often do in such circumstances, and the Rolls-Royce engineers pronounced the 8 Liter the superior motor car (but whether they honoured the Bentley with the 'motor' prefix is not recorded). No wonder R-R swooped in when Bentley Motors failed.
So here I am, sitting in the same seat in which W.O. sat, the backrest (if not the cushion) still upholstered in the same leather. This is an honour; we get to drive some wonderfully historic machines in this job, but to sit where a car's creator sat is particularly special. The engine starts easily with ignition retarded and a touch of hand throttle via steering-column quadrants, then some advance is reinstated as soon as it's running and we're off. Off to Vire, by N174 if all goes according to navigational plan.
Unlike some vintage cars, the 8 Liter has pedals in the normal places, so that's one thing less to think about. It also has huge drum brakes, so drama-free stopping should be feasible. Richard, however, has set me a challenge: to change into second gear, from either direction, without noises of teeth-clashing protest. 'I haven't managed it yet,' he says, 'no matter what I do.'
Into second, after a polite pause in neutral for revs to drop. K-k-k-krunch. Damn. Now, a roundabout which reveals two more reasons why GK 706's delights are best served at speed. The steering is monstrously heavy at urban pace, and the long wheelbase ensures the turning circle is hopeless. Too bad. I'll just have to go faster.
GK 706 is happy to oblige. To my great delight, although no sabotage was intended, we seem to have missed the N174 and we're travelling on minor D-roads, full of sweeping bends and empty of traffic. This is a baptism of fire, but the engine is pulling with authoritative ease and a deep, larger-than-life, straight-six hum. The higher gears are easily found with a correctly-judged pause or double-declutch as needed, the lever by my right knee moving with a precision as mechanical as it can possibly be, and we're scything through Normandy at least as quickly as the local law allows. At least.
Plenty of instruments keep us in touch with what's going on. The speedometer, a creation of the AT Speedometer Co Ltd, Nth Circular Rd NW2, is far to the left, while Weston gauges for both amps and volts are on the far right. There are not one but two water thermometers, one each for cylinder head and radiator outlet (the latter should show colder water), and another for oil. The clock has Roman numerals, the oil pressure gauge shows a precise 52psi at 70mph. No hidden mechanical secrets here.
A long, fast bend approaches. Now we'll see what over two tons does when four 6.75/7.00-21 eight-ply crossplies have to support it laterally as well as vertically. So far the Bentley has felt admirably all-of-a-piece, but now the first haul on the wheel does that typical vintage thing of merely taking up the slack and the springiness. Duly tensioned, the steering nudges the nose round; large forces are at work and I'm holding on tight. Gathering up a slide in this car might call for more upper-body strength than I can muster; once it's set on a course it doesn't feel very keen to adopt another one.
Phew. We're through. Most drivers of modern cars could never imagine how physical a car like this can be. And now the engine note seems deeper and the smells are more laced with burnt hydrocarbons. We've arrived outside Vire, and it's time for some maintenance because the manifold-to-downpipe nuts have come loose. Ace mechanic Frank Meakin leaps to the task, one he has tackled several times before, although this is the longest run the 8 Liter has had since its 'conservation' – Bentley doesn't like to call it a restoration because it sounds too invasive – was completed in 2009.
Time, then, to take in some more details: front friction dampers each with not one but three packs of friction pads (one main, a smaller one at each mounting point), giant headlights with Carl Zeiss lenses – and a spare wheel on each wide running board, a board so wide that autoroute toll machines can be fed only by leaning out of an open door. At the back we find beautiful cast aluminum covers over the rear spring shackles, and an equally beautiful set of tools in wooden boxes neatly slotted into the boot.
Under the hood, on the side Frank isn't working at, hide two giant black-and-aluminum SU 'square throat' carburettors, duplicate coils and distributors to feed the two plugs per cylinder, and an Autovac to maintain fuel pressure. All seem, again, larger than life. Elsewhere, nickel-plated detailing abounds. The way the screwlocks for the sliding windows are shaped to fit the thumb and forefinger is particularly thoughtful.
Exhaust system healthy again, we're back on the road with those Zeiss headlights starting to make an impression now the light is fading. We're running in the company of a new Bentley Mulsanne, one of several being driven to France to meet the mayor and residents of Mulsanne village (near the eponymous racetrack straight) the next day. It will mark the new model's arrival and reprise the launch of the earlier Mulsanne in 1980: its 1982 Turbo version re-established the thendying Bentley brand with a properly sporting car distinct from a Rolls-Royce.
On straighter roads there's some effortlessly torquepropelled overtaking to do, and in the streets of Domfront I finally manage a silent first-to-second shift, to my co-driver's admiration. A noiseless third-tosecond soon follows, then because I'm thinking too hard it all goes crunchy again. That's the trick, it seems: let your subconscious take over, but for that to be a reliable approach I'd need to own the Bentley. And that is not about to happen.
Richard takes over again for the last autoroute run to Le Mans and a fiddle through the back roads to Fille. It's well past midnight by the time we arrive at Chateau la Beneche where rillettes du Mans and wine await, and the petrol tank is near-empty again, but apart from the expiring manifold nuts GK 706 has behaved impeccably. Even the engine-oil level has barely sunk.
Tomorrow it will take centre stage in Mulsanne's village square, flanked by new Mulsannes. Monsieur Ferré, the mayor, will welcome Bentley back with a fine civic reception, a commemorative medal and the hope that Bentley will race again at Le Mans, as more vintage Bentleys, and a replica of the 2003 Speed Eight Le Mans winner, assemble outside. The villagers love Bentley; there's even a Bentley Square on the outskirts, an arboretum opened in 1993.
People of all ages will cluster round the mighty 8 Liter and marvel at how an 81-year-old car can be driven so confidently from Crewe to Le Mans. Well, the 'conservation' aimed to return GK 706 to exactly the condition it was in when W.O. drove it. So if it could drive speedily and reliably through France then, it can do so now. Why not?
Thanks to Richard Charlesworth, Stephanie-Rose Lefevre and all at Bentley Motors.


The Mulsanne in Mulsanne
Driving Bentley's modern super-saloon
It's much more rounded now, but the link between today's new Bentley Mulsanne and the 1980 original is clear. Both have the proportions of an old-school, three-box saloon, but Xeroxed-up to the point that, from the outside, the occupants' heads seem unsettlingly small.
There's commonality under the hood, too, in an engine able to trace its lineage right back to the original 1959 Rolls/Bentley pushrod V8. Nowadays, however, four of those cylinders can be turned off under gentle running to save fuel, creating a 3375cc V4 whose four cylinders sequentially reposition themselves to keep the catalysts hot.
Today's power, helped by two turbos, is 512bhp at a lazy 4200rpm. Torque is a monstrous 752lb ft at 1750rpm, its delivery like water released from a raging dam: it just surges effortlessly, ultimately to 62mph in 5.3sec and on to 184mph through its eight automatic gears.
Once used to the size you'll love the Mulsanne's surprising wieldiness, even though Franz-Josef Paefgen (Bentley boss until recently) said he had deliberately avoided too much weight-saving because a Bentley should feel a heavy car. Of course, it's beautifully finished and supremely comfortable. The inhabitants of Mulsanne loved it. W.O. would have approved.

Specifications
1930 Bentley 8 Liter
Engine 7983cc straight-six, OHC, 24-valve, two SU 'square throat' 2.25in carburettors
Power 225bhp @ 3500rpm
torque N/a
Transmission Four-speed non-synchro manual, rear-wheel drive
Steering Worm and sector
Suspension Front: beam axle, leaf springs, friction dampers. Rear: live axle, leaf springs, friction dampers
Brakes Drums, rod-and shaft operated
Weight 2300kg (approx)
Performance Top speed over 100mph
Published Dec 7th, 2015
More Classic Car News & Article Categories:
Related Articles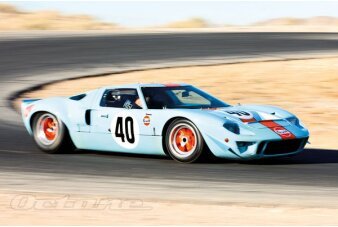 While every factory Ford GT40 is special, some are more special than others.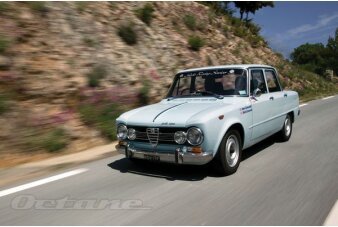 For the Linwoods historic rallying seems to come naturally.
×
1930 Bentley 8 Liter Blitzer