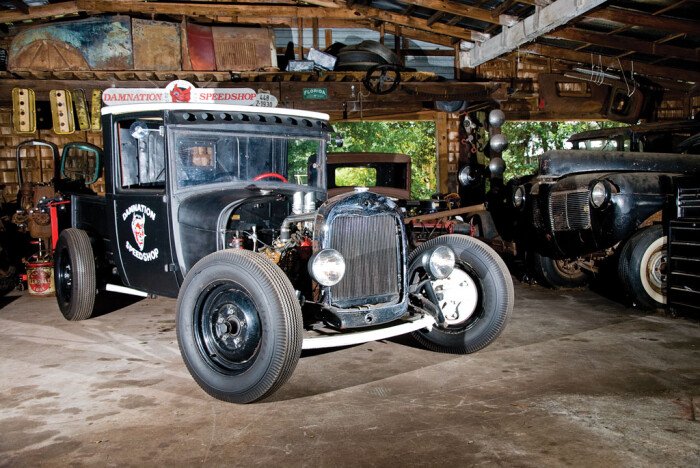 Photos by Tony Firpi


Ford's entry into the pickup truck world began in 1917 with the Ford Model TT one ton chassis. This truck proved to be a low cost, dependable means of transporting commodities for farmers and businessmen nationwide. While it was successful, Henry Ford saw the need for a lighter duty truck. In his desire to keep the price low, he designed a truck that would use most components of the upcoming Model A Ford passenger car. However, the Model A pickup was the first truck actually designed as a truck, rather than a reworked car.

On October 20, 1927, the first Model A passenger cars rolled off the assembly line at the Rouge Plant in Dearborn, Michigan. Built on the same line as Ford's passenger cars, the Model A truck became a quick success. Initially, only the open cab truck was available. The cab, built by the Briggs Manufacturing Company, was designed with a non-retractable top and side curtains made of canvas. The closed cab model became available on August 28, 1928. It was more comfortable than the open cab version, with standard roll-up windows and improved weather protection for the occupants. When the 1929 truck was shown to the public, it had only minor changes, including exterior door handles on the open cab models and new exterior colors for buyers to choose from.

All sheet metal forward of the windshield was shared with the Model A passenger car. The grille shell and headlamp buckets, while the same design as the car, were painted black, as was the one taillight housing located on the driver's side of the vehicle. Front and rear fenders and running boards were carried over from the Model A car. A front bumper was standard, while the rear bumper was available at an additional cost. All trucks included a spare tire located on the left front fender, tool kit and a hand operated windshield wiper.

The chassis was a carryover from 1928. The Model A pickup was considered a ¼ ton vehicle, but was beefed up with additional front and rear springs to add increased load capacity. But the price of the added capacity had it riding like a buckboard, especially over the rough roads of the time. Eleven-inch front and rear mechanical drum brakes stopped the truck adequately, as long as the brake rods were kept in proper adjustment.

Power came from the same engine used in the Model A passenger car. The 200ci, 40hp, flathead four-cylinder engine doubled the horsepower of the Model T truck. A new three-speed H pattern transmission replaced the multi-pedal shifting of the Model T, making the Model A truck considerably easier to drive. Power was more than adequate, and with a top speed of about 65 mph, quite peppy for those days.

During its four year run, the Model A truck proved to be a dependable and roadworthy commercial vehicle. Model year sales for 1929 tripled to 77,900 units. Today, these pickups have a large following among collectors.


Fuel For Thought
First truck designed as a truck rather than a modified passenger car
Tilt out windshield
Pickup bed size is 41 x 56 inches
Optional passenger side spare tire available


Specifications
Number built – 77,900 units
Construction – Body-on-frame
Engine –- Four-cylinder flathead
Power/Torque – 40 horsepower/128 lb-ft torque
Transmission – Three-speed manual with floor shift
Suspension front – Straight front axle with transverse spring
Suspension rear – Solid axle with transverse spring
Steering – Worm and sector, 13 to 1 ratio
Brakes – 11-inch four-wheel drum, mechanically operated, total of 225 ½ square inches of total braking surface
Length/width/height – 165 inches/67 inches/N/A
Wheelbase – 103.5 inches
Weight – 2,380 lbs.
0-60mph/quarter mile – 29.0 seconds, quarter mile 23.0 seconds at 55 mph (Road and Track, February 1957)
Top speed – 63 mph
MPG – 17-20 mpg (Road and Track, February 1957)
Price – $460, Today – $8,450 - $24,700

Engine – The L-head, 4-cylinder Model A engine was fed by a Zenith one-barrel updraft carburetor. The multiple coil ignition system of the Model T was replaced with the traditional breaker point distributor and a single coil. Its forty horsepower enabled a top speed of 65 mph. Over the years, the Model A engine proved to be a reliable powertrain.

Handling – Handling of Ford's pickup truck was harsh at best, with its 10 leaf rear springs and 12 leaf front springs. Unless a big load was in the bed, the shocks received no workout, as the truck would just bounce over ruts and rough roads, jostling the driver and passenger around the truck.


Strong Points
Not your typical coupe or roadster
Still available at a reasonable price
The best of both worlds, it's a car with space for hauling cargo
Parts are available at a reasonable cost


Weak Points
Mechanical brakes
Rough ride


What To Pay
1929 Ford Model A Pickup
MSRP – $460
Low – $8,450
Average – $12,600
High – $24,700
*Prices courtesy of NADA,
www.nadaguides.com


Insurance Cost
Insurance cost is $154/year for a stock 1929 Ford pickup truck valued at $12,600. For a modified vehicle, insurance cost is $250/year. This is based on 3,000 miles per year of pleasure driving. Based on a quote from Heacock Classic Car Insurance, www.heacockclassic.com


Parts Prices
Front bumper - $235.00
Hood - $440.00
Brake drum - $95.00
Muffler - $200.00
Radiator - $585.00
*Based on information from Snyder's Antique Auto Parts, www.snydersantiqueauto.com


Alternative
1929 Dodge pickup
Number built – 47,014
0-60/quarter mile – 26.5 seconds, quarter mile 22.5 seconds at 57 mph est.
Top speed – 67 mph est.
Price – MSRP – $545; Today – $5,475 - $14,350


Alternative
1929 Chevrolet pickup
Number built – N/A
0-60/quarter mile – 24.5 seconds/21.7 seconds at 57 mph est.
Top speed – 67 mph
Price – MSRP – $400; Today – $7,400 - $27,000


Vehicle Category
Most Model A pickups are enjoyed regularly as weekend drivers.


Books
Ford Pickup Trucks (Gallery) by Mike Mueller
Ford Pickup Trucks (Enthusiast Color) by Steve Statham
Standard Catalog of Light-Duty Ford Trucks by John Gunnell


Websites
www.fordtruckclub.com
www.ahooga.com
www.mafca.com
www.modelaford.org
www.model-a.org
www.yesterdays-cars.com/modelaclub.htm
www.modelarestorers.org


Review
The Model A pickup truck represented excellent value for the money. The closed cab version offered a comfortable interior and was a pleasure to drive, although it gave a rough ride on rural roads.




Featured Vehicle:
1929 Ford Model A Pickup
Owner: Jon Phillips

Engine: 1951 Mercury Flathead V8
3/4 race cam, Sharp heads, Offenhauser dual intake, two Stromberg 93 carbs, ported and relieved block

Paint: Black Krylon spraypaint

Interior:
Upholstery: Vinyl red metalflake
Gauges: Autometer

Body work: Body channeled 4 inches, frame stretched 3 inches

Chassis:
Front suspension: Dropped straight axel (original Dago axel), split 1940 Ford wishbones
Rear Suspension: Transverse leaf spring, split Ford wishbones
Rear axles: 8-inch Ford axle
Front shocks: Speedway tube shocks on Ford F-1 mounts

Front & Rear Tires: Coker, Firestone bias ply

Wheels: 1940 Ford steel wheels

Steering: Ford F-1

Brakes: 1940 Ford drums in front, Ford Mustang drums in the rear.

From the owner: "I saw this car at an NSRA show in Tampa…It was in the swap area, and was too far gone for anyone to take an interest in it. I bought it a couple of weeks later for way less than the asking price. Once I started working on it, the rust wasn't nearly as bad as it appeared. The body only needed two patch panels. After I purchased the truck, a picture of it on the trailer at the swap meet appeared in Rodder's Digest with a caption that read something like: 'You would have to want a Model A truck real bad to buy this one, but a good metal man could get it back in shape.'"

A tip for anyone interested in getting one of their own: "Make sure it comes with doors! They are very pricey if missing!"
Published Dec 7th, 2015
More Classic Car News & Article Categories:
Related Articles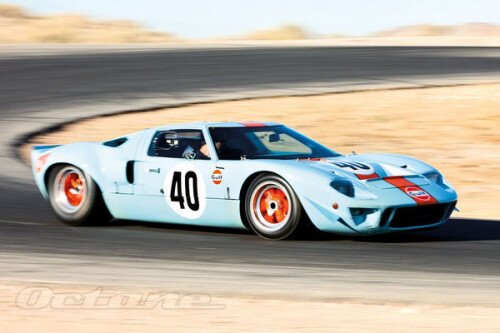 While every factory Ford GT40 is special, some are more special than others. The dazzling example featured here, chassis GT40P/1074, earns bonus points for at least three reasons..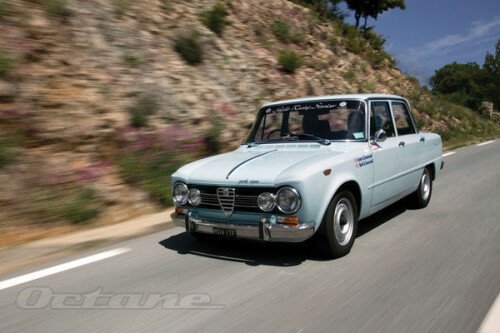 Not long after their first event together, Bob bought a standard road-going 1968 Alfa Romeo Giulia Super, and had it restored by Classicarco in Manchester. We spend a pleasant afternoon tossing it around the French countryside for Martyn's camera, Bob and I swapping the wheel like two duffers on the practice green trying out the same putter.
Advertisement
×
1929 Ford Model A Pickup Truck