‹ Go back
10 Budget Classics You Should Buy Now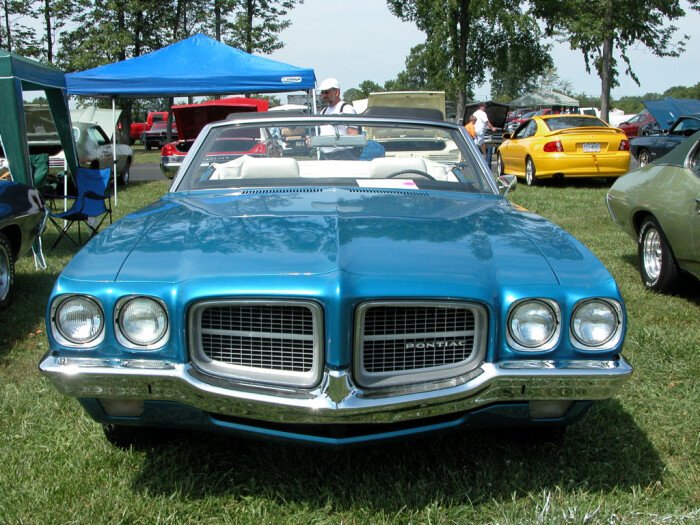 There's a very serious debate going on in the muscle car world about the future of the hobby. Despite a recent, serious market correction in prices, most "headline" muscle cars–Hemi Mopars, Boss Mustangs, SS Chevys–are still valued beyond the reach of mere mortals who work for a living. That goes double for younger enthusiasts, who have watched helplessly as prices for those Detroit classics from the 1960s and early 1970s zoomed into the stratosphere.
It will likely be years before the Baby Boomers who drove up the prices age out of the hobby, and the market floods with countless big-block Camaros. That should drive down prices, but for those looking to enjoy a muscle car-era cruiser today, there are some left-of-center cars to consider. For the most part, their affordability lies in being an off-brand make or non-performance model–a regular Cutlass instead of a 442, for example.
We've compiled a list of what we believe are the best examples for affordable entries in the muscle car world. Besides being relatively cheap to buy into, the cars on our list also lend themselves to period modifications and more modern, pro touring-style upgrades. They'll drive like the more expensive top-line models, but at a substantially lower cost.
Of course, like everything in life, there's no upside without the corresponding downside. For these cars, their relative affordability means you're not likely to recoup your investment if you spend a great amount on restoration or modifications. A restored Cougar will never approach the value of a Mustang Boss 302, even if they've received similar investments in restoration.
Our advice is to find the best driver example you can, fix it up, modify it to your liking, and simply enjoy it. You'll spice up the local cruise night with something other than a red Chevelle SS, and you'll have just as much fun.
Listed prices were averaged from information at www.nadaguides.com. They are based on "good" condition examples–cars that are drivable and with no serious problems, but likely requiring attention commensurate with their age. The prices should be viewed as estimates, not hard-and-fast values.
1969-70 Mercury Cougar
$6,000-$19,000
With a slightly longer wheelbase than its Mustang cousin, the 1969-70 Cougar offers greater rear seat room, which is a strong consideration for an enthusiast with a family to share car events. But while their wheelbases differ, the rest of the drivetrain components are essentially identical between the Mustang and Cougar. That means you can use the plentiful and cheap Mustang resto parts for the engine, suspension, brakes, etc.–and all Cougars came with a V-8, so there's no worrying about swapping out a six. The Cougar also has a decidedly different body style, with features including hidden headlamps and sequential rear turn signals giving it distinction.
Like all Ford-produced cars of the era, the Cougar suffers from spotty build quality, so the interior trim must be carefully inspected for fit. Check the action of the heavy doors on their hinges, too. Rust is common in the lower body and the cowl area. Don't be surprised if headlamp doors are partially or fully up when you inspect the car, that's common. But they should close immediately when the engine is started. If they don't, there's a problem.
Convertibles are comparatively rare and therefore, more costly. XR7 models are more expensive and the top-end Eliminator model is among the top-shelf, expensive muscle car models.

1968-72 Pontiac T-37/Tempest/LeMans
$5,000-$14,000
The platform of a GTO, but without the price. That's the advantage of the lower-rung Pontiac A-bodies, and they make excellent automotive canvasses on which to express your automotive personality. No, not all of the GTO's engines were available in these cars, but they are easily swapped. But why even bother with that, when you can easily build a more powerful 400 or even 350 engine with readily available aftermarket parts. All of the other suspension/drivetrain parts are interchangeable.
Front-end styling is the biggest distinguishing difference between the GTO and its entry-level stablemates, but the Goat's nose is easily swapped if desired–just don't try to pass the car off as the real deal. As part of GM's A-body family, there are almost limitless options when it comes to modifying these cars, so the sky is the limit.
These cars were built in significant quantities, and many good, affordable examples are still out there. In fact, with the predominance of the GTO in the Pontiac world, the cars are largely overlooked in the market. Check for rust in the lower front and rear fenders, as well as around the rear window–especially if it has or had a vinyl top. Also, check for blue oil smoke at start-up. It's a common problem on Pontiac V-8s that indicates engine wear.
1968-70 Dodge Coronet and Plymouth Satellite/Belvedere
$3,500-$17,000
If you've watched any televised auctions or attended any in person in the last five years, you probably think that all Mopars are priced beyond reality. That's an understandable perception, but we're here to say there are still a few affordable options out there. The Dodge Coronet and Plymouth Satellite/Belvedere models share the same platforms as their more valuable cousins, but can still be had for comparatively reasonable prices.
The key to finding an affordable example is buying one with a Slant Six or 318 V-8 engine, as they were at the bottom end of the performance scale. The larger the engines, the more expensive Mopars get. Your biggest obstacle will be the well-heeled buyer who's looking for a cheap donor for a Hemi clone.
Keep your search to cars in or directly imported from the dryer climates of the western United States, because rust isn't merely a concern with these cars, it's a certainty. Also, if you buy a Slant Six-powered car and plan on a V-8 conversion, you'll need a V-8 K-member to mount it.
1979-81 Pontiac Trans Am
$8,000-$15,000
Once shunned by Trans Am aficionados, the 1979-81 Trans Ams are quickly gaining acceptance, thanks largely to affordability and styling that has come back into vogue. As part of the second-generation F-body platform, the body and interior are essentially the same as those introduced in 1970, but performance is what you'd expect for anything from the end of the decade.
No, the split headlamp design doesn't have the visual impact of the "Smokey and the Bandit" models circa 1977-78, and that's why the cars are so much more affordable–despite having essentially the same engine, suspension, and interior features. For the 1979 models, those with the Pontiac 400 engine (it was the engine's final production year) rather than the Oldsmobile-supplied 403 V-8 are worth substantially more to Pontiac purists, although performance between the engines is comparable. You can tell at a glance by the nomenclature on the shaker hood scoop: "T/A 6.6" means it's a Pontiac 400, while "6.6 Litre" means it's the Olds engine.
Second-gen cars weren't the best built, so find the lowest-mileage, most original example you can–and check to make sure nobody has screwed around with the original emissions equipment. T-top cars generally bring rattles and a general feeling of looseness. A low-mile, solid-roof 403-powered car is a great way to get the Trans Am experience for cheap.
1972-79 Ford Ranchero GT
$2,500-$9,000
This pick of ours is probably the most controversial, but it's also about the most affordable on the list. The Ranchero, of course, was Ford's car-based pickup that competed with the Chevy El Camino, but it was a lot less popular with enthusiasts. Make no mistake, these vehicles are large, heavy, and underpowered–but they accept any small-block or big-block Blue Oval engine you can think of with room to spare. They're also kind of good looking in that oddball, 1970s way.
There were base, Squire, and GT models offered, but the only thing distinguishing the GT models was their tape-stripe graphics. But they tended to be the best-equipped models, too, with 351 or 400M engines, Magnum-style wheels, and plush cabins. The GTs were made in large quantities, too, so they're easy to find.
As with all cars of the era rust is a concern, but these vehicles weren't the biggest rust buckets of their day. Look closer for heavily used and beat-up pickup beds. Carpet, graphics, and other fix-up parts are surprisingly easy to find, making a budget restoration cheap and easy. For $5,000-$6,000, you can easily have a show winner–and probably the only Ranchero GT in the show.
1971-74 Buick Skylark
$3,500-$8,500
As the accompanying photos show, these are the ultimate clone canvasses, with their affordability enabling modifications and personalization without affecting collector value. The Gran Sport (GS) and GSX models draw all the attention in the admittedly limited boundaries of the Buick realm. That means the non-performance models are all but ignored–except for restorers looking for a donor vehicle to assist in a GS/GSX project.
Like the Tempest and LeMans models mentioned earlier, the 1971-72 Skylark models share the GM A-body platform and benefit from the plethora of aftermarket parts for it. We've included the 1973-74 models here too, even though they're built on the different "Colonnade" platform. That's because the same reasons to purchase the A-body versions apply to the mid-1970s examples, too.
The biggest obstacle to Skylark ownership is finding one. Compared to the other GM intermediates, few have survived; and as mentioned above, many have been cannibalized for GS/GSX restorations. Check the common rust areas in the quarter panels and around the rear window. Resto parts basically don't exist for the Colonnade cars, so make sure you find an example that doesn't need much.
1969-72 Pontiac Grand Prix
$5,500-$15,000
Among the cars on our list, the 1969-72 Pontiac Grand Prixs are those most primed for a solid collector value bump upward. Right now they're affordable and relatively plentiful, and they make excellent drivers. In our opinion, the 1969-70 models with quad headlamps look better than the 1971-72 models with only a pair of headlamps, but all share long, classic body lines and excellent proportions. They look particularly good in black.
Pontiac's trusty 400, 428, and 455 engines were available in these full-size cruisers, although you'll logically pay more for the big-cube examples. Garden-variety, 400-powered cars are plentiful, and a mildly built version of the engine won't severely affect the car's value. In fact, it may enhance it to someone who can't find a 455-powered car.
Unfortunately, there aren't many restoration parts for these cars, so it's important to find one without a lot of needs. Locate yourself a low-mileage original and you're likely to make a wise investment.
1968-74 AMC Javelin
$4,000-$20,000
AMC's weapon in the pony car wars was the Javelin. It had a long, narrow proportion that gave the car a light-on-its-feet appearance, and it could be had with a variety of the company's V-8 engines–from the 304 to 390.
There are two generations of the car: the 1968-70 models and the curvier, 1971-74 models. Arguably, the later cars with their blistered fenders are more visually appealing, and they even offered the nameplate's most powerful engine–a 335-hp, 401 V-8. The earlier cars tend to bring more money, too, and the price spread for Javelins is quite wide. With comparatively few on the road, you're bound to have the only one at the car show, and you'll draw plenty of questions about it.
You'll be surprised at the number of parts available for the car, and frustrated by the number that aren't. The AMC world is a tightly knit one and once you're in the inner circle, you'll be able to get the information on the parts you need–if they're available.
1968-71 Ford Torino
$3,300-$15,000
Ford's midsize Torino just didn't have the cache of GM's intermediates and those Mopar midsizers–and to be honest, it still doesn't. But if you're a Ford guy that's just fine, because there are plenty of plain-Jane Torinos out there just begging for a healthy 351 swap, a set of Magnum 500s, and a Competition Orange paint job.
There are pricey, collectable examples of the Torino, especially any equipped with a 429, Drag Pak equipment, etc. You'll be warned off them by the high asking price, but your everyday 302-powered, ex-commuter special is dirt cheap. The 1968-69 and 1970-71 look vastly different, but are largely the same underneath. Also, both body styles offered fastback and more formal sedan styling. Not surprisingly, the fastback examples are more popular and pricier.
Like our advice for checking out Cougars, take a close look at the wear-prone parts, like the door hinges, interior controls, etc. You'll also want to check for rust in hidden areas, like the lower portions of the trunk.
1968-72 Oldsmobile Cutlass
$4,000-$16,000
The addition of the Cutlass completes our inclusion of all non-Chevy GM A-bodies on the list. Like the Buick and Pontiac models, the base Cutlass had the style and basic drivetrain in common with the popular 442 and Hurst Olds models, but in a plain brown wrapper.
It very easy to build a great looking, personalized Cutlass cruiser that mixes elements of readily obtainable restoration parts, including the 442 grille, graphics, and rear wing. Build yourself a healthy Olds engine to go with it and you'll experience everything of the originals, but at a much lower investment. You can also go the whole-hog hot rod route, such as the car in our accompanying photo, without worrying about drawing the wrath of purists.
Like all A-bodies, lower-panel rust and rear-window rust is common. It can also be difficult to find some trim parts, which may mean injecting some 442 elements is all but mandatory. That's not a bad thing, however, as a nicely detailed Cutlass will always draw a crowd.
HONORABLE MENTIONS
Here are a few more bargain muscle cars that were this close to making our list–you might consider one of 'em!
Mercury Cyclone/Montego and Comet–The Cyclone/Montego is Mercury's version of the Torino, while the Comet matched Ford's Falcon (and later, the Fairlane). Good-condition drivers can be difficult to find, and restoration parts can be an even tougher problem. As our photos show, there are excellent examples out there, and they make great alternatives to the other cookie-cutter muscle cars of the world.
AMC Rambler–The Rambler is somewhat of a cult car. It's a very pedestrian vehicle, with very basic styling, but those traits have made it ironically popular with hot rodders looking for a low-cost foundation for their projects. It's just about impossible to kill the value with modifications, so have at it with these compact canvasses of personalization.
Published Dec 7th, 2015
More Classic Car News & Article Categories:
Related Articles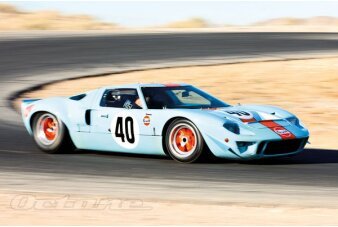 While every factory Ford GT40 is special, some are more special than others.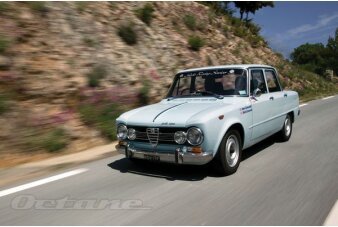 For the Linwoods historic rallying seems to come naturally.
×
10 Budget Classics You Should Buy Now